No Offence, Channel 4 - TV review: Shameless creators serve up a gleefully outrageous cop show
Paul Abbott's special talent is to write characters who are larger than life and yet somehow completely true to life at the same time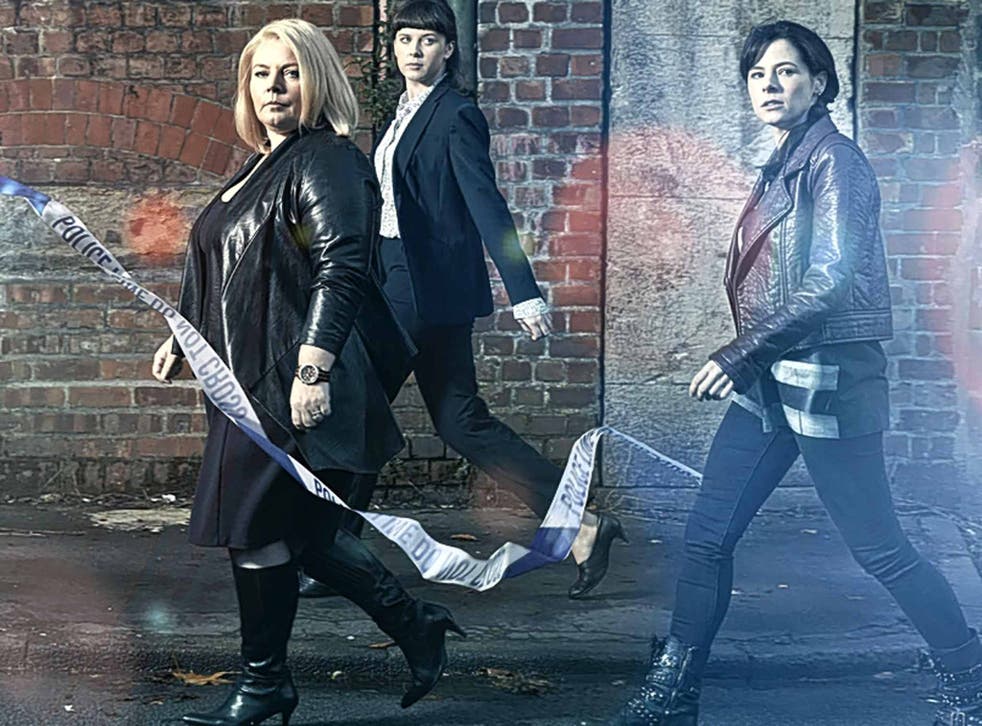 No Offence, the new comedy cop show from Shameless writer Paul Abbott is everything Shameless fans could have hoped for and more. That was obvious right from the off, thanks to a bloody brilliant (and simply bloody) opening sequence.
Did you assume that the tipsy, argumentative woman in the back of the cab was a vulnerable, soon-to-be victim of crime? In No Offence, she's the crime fighter and instigator of a thrilling stockinged-feet chase, which ended in a grisly shock for the fleeing suspect.
From there on in, the officers at Manchester's Friday Street station continued to casually up-end our expectations. Like a funnier, Northern take on The Bill, this is an ensemble cast of uniformed officers and detectives all working alongside each other to track down a serial killer. Only The Bill would never have had the bottle to portray the killer's Down's syndrome victims as nuanced, potential criminals in their own right, as this show did. Offended? No offence, but you might be waiting a while for an apology.
Abbott's special talent is to write characters who are larger than life and yet somehow completely true to life at the same time. The Frank Gallagher here is the blonde bombshell boss DI Vivienne Deering, an absolute gift of a role for a great comic actress like Joanna Scanlan (The Thick of It, Getting On).
Deering is responsible for this episode's most gleefully outrageous moments, such as the scene in which she prepared for a meeting with a senior officer by spraying breath-freshener in her mouth and air freshener up her skirt. "I'll have to go via the loos," she then announced to the unnerved male colleague standing by. "I used the sprays the wrong way round."
Shameless gave us James McAvoy and Anne-Marie Duff and No Offence looks set to move a few more actors' careers up to the next level. As forensics expert Miller, Paul Ritter (Friday Night Dinner, The Game) is almost too quick-witted to follow, Alexandra Roach (Becky from Utopia) makes timid female detective DS Joy Freers likeable and DC Dinah Kowalska (Elaine Cassidy) is the ballsy, spontaneous colleague who's up for the same promotion. Together they've made an hour of riotously enjoyable television.
It's the sort of show that has you spending the first half wondering what the hell's going on, and the second hoping that, whatever it is, will never, ever end. So if you're recovered in time for next week's episode, DI Deering's advice to her troops should be appropriate: "Get some scran, then ready your bones for the other side of midnight in Manchester."
Register for free to continue reading
Registration is a free and easy way to support our truly independent journalism
By registering, you will also enjoy limited access to Premium articles, exclusive newsletters, commenting, and virtual events with our leading journalists
Already have an account? sign in
Register for free to continue reading
Registration is a free and easy way to support our truly independent journalism
By registering, you will also enjoy limited access to Premium articles, exclusive newsletters, commenting, and virtual events with our leading journalists
Already have an account? sign in
Join our new commenting forum
Join thought-provoking conversations, follow other Independent readers and see their replies