Olive Kitteridge, Sky Atlantic - TV review: The most magnificently miserable show on television in a long time
There will be many viewers for whom a middle-aged female curmudgeon makes an appealing anti-hero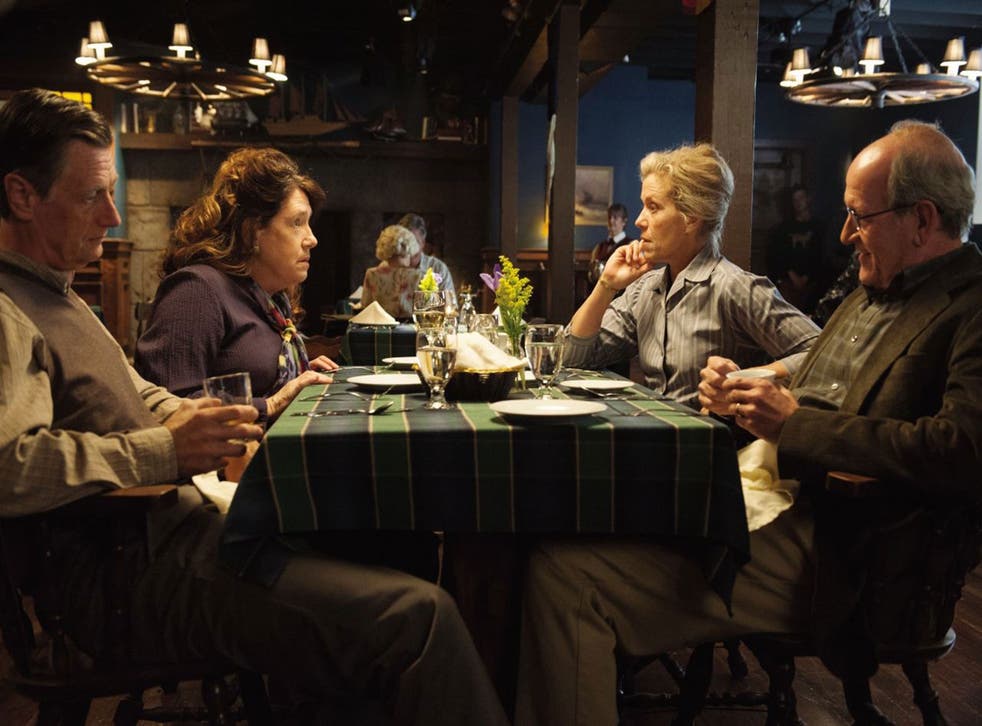 This is what is meant by "prestige drama": Olive Kitteridge, the four-part HBO mini-series that aired parts one and two on Sky Atlantic last night, spans 25 years in the life of a fictional New England town. Based on the Pulitzer Prize-winning novel by Elizabeth Strout, it is a beautiful tapestry of autumnal tones, Seventies interiors and human understanding.
It also has one helluva cast – you'll excuse me the Americanism, those Maine accents are very infectious – headed up by Frances McDormand as abrasive schoolteacher Olive. Her mellower husband, town pharmacist Henry (the under-appreciated Richard Jenkins) is a man teetering on the brink of infidelity, without even knowing it. There's also singer-songwriter Martha Wainwright in a recurring role as the barroom singer, and we can look forward to Bill Murray in parts three and four, airing this evening.
Make no mistake, however, the real draw here is McDormand. Her reputation was founded on an Oscar-winning portrayal of police chief Marge Gunderson in the 1996 film Fargo, and like Marge, Olive has a simple, small-town manner that conceals a whirlpool of intelligence. But while Gunderson was widely liked, Olive has a more ambivalent relationship with her community. Some US critics, too, have described the character as dislikeable but there will be many viewers for whom a middle-aged, female curmudgeon makes an appealing anti-hero.
The pace of the drama is deliberate, but far from uneventful. People fell in love and fell in the sea, others lost their minds or control of their vehicles and suicides were scattered throughout. Olive's own attempted suicide framed the narrative, but she was also often a blunt but compassionate source of comfort to others in distress. "My boy hates me too," she told depressed neighbour Mrs Coulson (Rosemarie DeWitt), "Doesn't mean we should oblige them by killing ourselves."
While Olive Kitteridge had a lot of sympathy for the Mrs Coulsons of this world, it wasn't maudlin. The point where grief segues into soppiness was carefully delineated in the character of Denise, the object of Henry's extra-marital affections. "I have no one left to send greeting cards to," she wailed, "Except for my Aunt Jean, and she's blind."
Is all this unhappiness the necessary contrivance of a television drama? Or just the ordinary quotient visited on a small town over two decades? Olive Kitteridge is accomplished enough to make it seem like the latter, even if, really, the former is the case. It's certainly the most magnificently miserable show on television in a long-time and, for those that like that sort of thing, worth the Sky Atlantic subscription fee alone.
Join our new commenting forum
Join thought-provoking conversations, follow other Independent readers and see their replies