Poldark series 3 episode 1 review: Pantomime-worthy baddies, new blood and a baby helped the atmospheric drama gallop out of the starting blocks
It was Poldarks versus Warleggans in this action-filled opener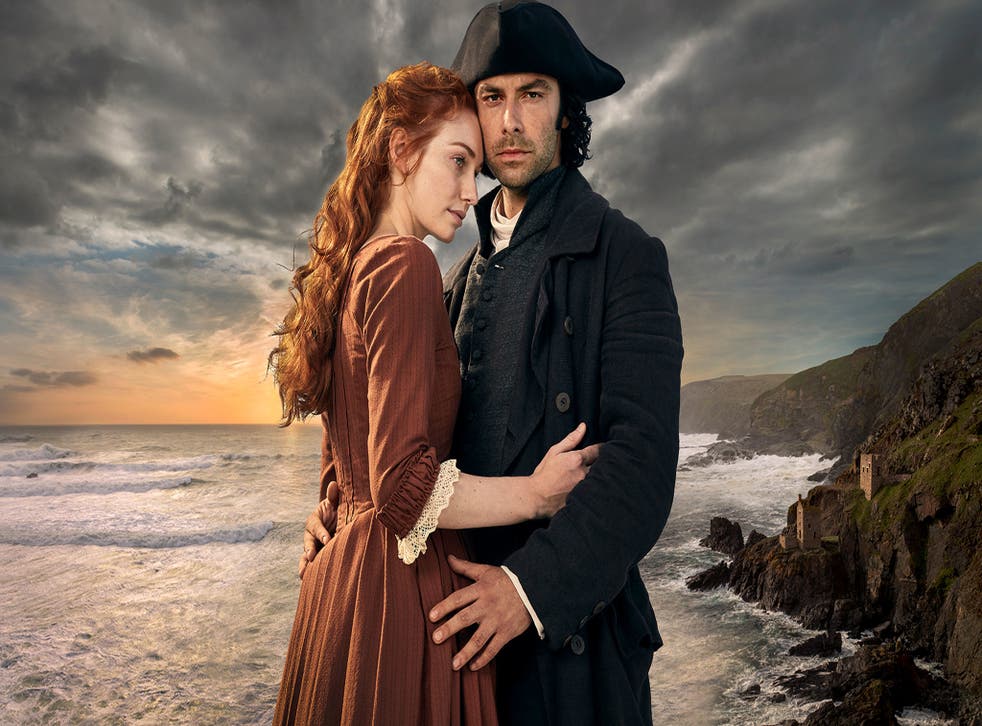 Poldark is back and the pace was set by Elizabeth's bolting steed in the opening scenes and continued at some speed for the rest of the episode. By the end of proceedings, we'd had a birth, a wedding, three new characters and a fast-escalating French Revolution. Time moves quickly down those Cornish parts.
Telly-wise, it is a very welcome addition to the June schedules. Moved from autumn to avoid a clash with ITV's Victoria, it's an absorbing, atmospheric antidote to the spray tans and gymbots preening all over our screens on summer staples like Love Island and Big Brother, reality shows populated by characters who wouldn't know what to do with a scythe or pickaxe, even if Ross Poldark himself gave them a tutorial.
For anyone needing a quick refresher, we last saw Ross (Aidan Turner) and Demelza (Eleanor Tomlinson) reeling from Ross' illicit, and not entirely consensual, night with former love Elizabeth (Heida Reed), who is now married to his sworn enemy, banker George Warleggan (Jack Farthing).
This opened with a pregnant Elizabeth ready to drop and George going full pantomime villain on stepson Geoffery Charles (played brilliantly by Harry Marcus). GC, as I think I shall call him, responded with some sass. He had no time for his sinister stepfather and defied his Poldark ban to visit Uncle Ross at the mine. Given it's where his father Francis died, I do wish there was some 'elf and safety - please someone give the boy a hard hat next time. George's even more evil uncle wanted GC packed off to boarding school so that Elizabeth could focus on the new heir. Instead, GC got a governess, Elizabeth's cousin, Morwenna Chynoweth (Ellise Chappell).
Ross, meanwhile, appeared to be having a rather less tumultuous time than usual. In a meeting with his bank manager, we heard that his mine was making money for a change, his land doing well and things appeared more or less back on track with Demelza after his dalliance with Elizabeth. But he wouldn't be our favourite tricorn-wearing renegade hero without angst bubbling away beneath the surface. Topless scything watchers – obviously I'd never be so shallow – would have been pleased to see plenty of frenzied farm labouring and tension-releasing mining going on in this episode.
Elsewhere, Demelza's genetically blessed brothers rocked up. Drake (played by Harry Richardson) and the devoutly religious Sam (Tom York) came to warn her that their cruel father was dying and had asked for his daughter. When his time was up, the brothers, free from his shackles, set their sights on Nampara. Methodist Sam was determined to go and spread the love (of God, unfortunately for the women of Cornwall). Drake however, soon had Morwenna in his sights. I'm not sure his chat up line of "that's a lilting, musical name" would work on those Love Islanders
Poldark in pictures

Show all 37
Talking of romance, the man-saint that is Dwight Enys (Luke Norris) was on leave from doctoring in the Navy long enough for Demelza and Poldark to organise a swift marriage for him and wealthy heiress Caroline Penvenen (Gabriella Wilde). Their wedding night was rudely interrupted by Elizabeth's baby coming early, or perhaps on time, depending who the father is, and Caroline's ailing uncle taking a turn for the worse. Of course Ross couldn't not go and check up on Elizabeth at Trenwith and witnessed poor Aunt Agatha being strong-armed out the way by George's croanies while she cursed the lot of them and banged on about the evening's black moon.
I'm not sure I like the mysticism stuff but it is a reminder of Cornwall's pagan past, as is the haunting score. Cornwall itself is such a part of this show; the craggy coastline, expansive beaches and the cliff tops they are always galloping about on, dotted with those distinctive engine shafts. This is an area of the country whose story is determined by its geography, and it makes very welcome Sunday night telly. Though, I'm warning you, you will have booked a staycation in the south-west by July.
Register for free to continue reading
Registration is a free and easy way to support our truly independent journalism
By registering, you will also enjoy limited access to Premium articles, exclusive newsletters, commenting, and virtual events with our leading journalists
Already have an account? sign in
Register for free to continue reading
Registration is a free and easy way to support our truly independent journalism
By registering, you will also enjoy limited access to Premium articles, exclusive newsletters, commenting, and virtual events with our leading journalists
Already have an account? sign in
Join our new commenting forum
Join thought-provoking conversations, follow other Independent readers and see their replies