Rev, BBC2 - TV review: Praise the Lord, Adam and Alex are back
Irreverent Rev inspires devotion with inter-faith jesting and social comment
Ellen E. Jones
Tuesday 25 March 2014 01:00 Comments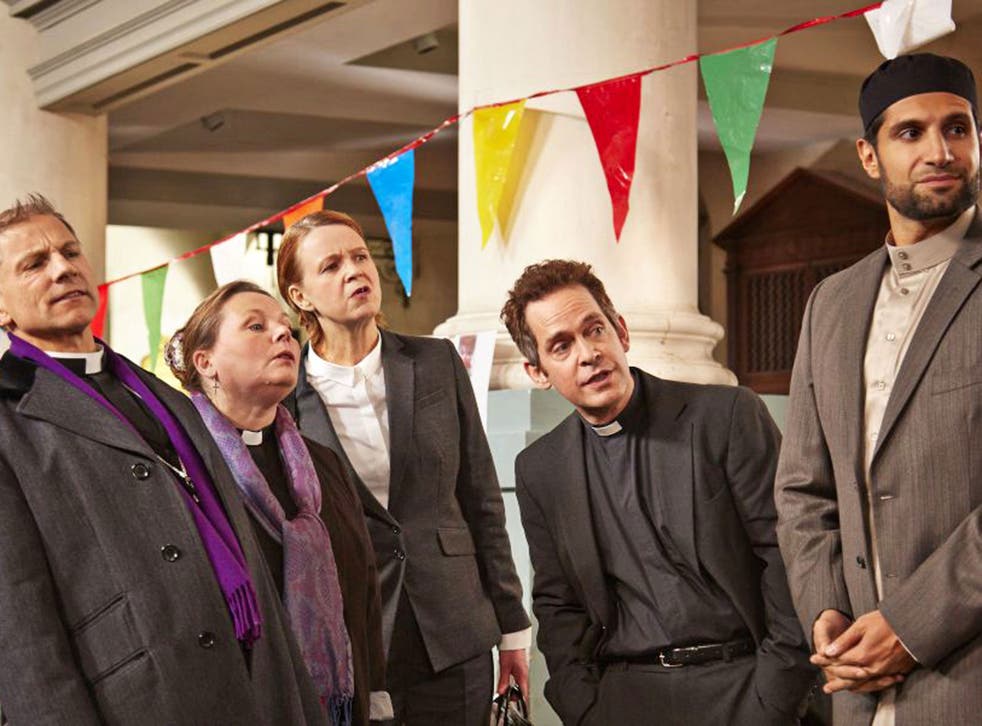 Praise the Lord, Rev is back for a third series on BBC2 and Adam's wife, Alex (Olivia Colman), has just given birth to their first child. Alex did go into labour in the back seat of Archdeacon Robert's cab, but baby Katie still wasn't the most exciting new arrival in the clerical sitcom.
That honour goes instead to local imam, Yussef Hassan (Kayvan Novak) whose bone-dry sense of humour kept Adam on his toes.
The pair had teamed up to fundraise for renovations on a local children's play-park. It was an opportunity for some inter-faith jesting – "Why don't you get one of your three Gods to do it?" suggested Yussef – but also to touch boldly on the topical stuff.
During a tour of Yussef's mosque (filmed at the gigantic East London Mosque in Tower Hamlets), Adam looked enviously at the teeming congregation and prayed: "Lord...why is Islam so much more popular?"
Rev's willingness to get stuck in has always set it apart from the bucolic likes of The Vicar of Dibley but also the funnier, yet surrealist, Father Ted.
Most admirable is that it never scruples to offend the churchy set in the front pews in pursuit of a punchline.
This series, Colin (Steve Evets) is still lurking in his grubby duffel, clutching a tinny and spreading Christ's love in his own inimitable way. "So is this drug money?" asked Adam after receiving Colin's cash donation. "No, not really. There was hardly any crack in what I sold. Let's call it detergent money."
Register for free to continue reading
Registration is a free and easy way to support our truly independent journalism
By registering, you will also enjoy limited access to Premium articles, exclusive newsletters, commenting, and virtual events with our leading journalists
Already have an account? sign in
Join our new commenting forum
Join thought-provoking conversations, follow other Independent readers and see their replies