Sherlock 'The Sign of Three' TV review: Bromance is in the air
The super-sleuth gave an unforgettable best man speech and managed to solve a murder at the same time
Neela Debnath
Sunday 05 January 2014 23:02 Comments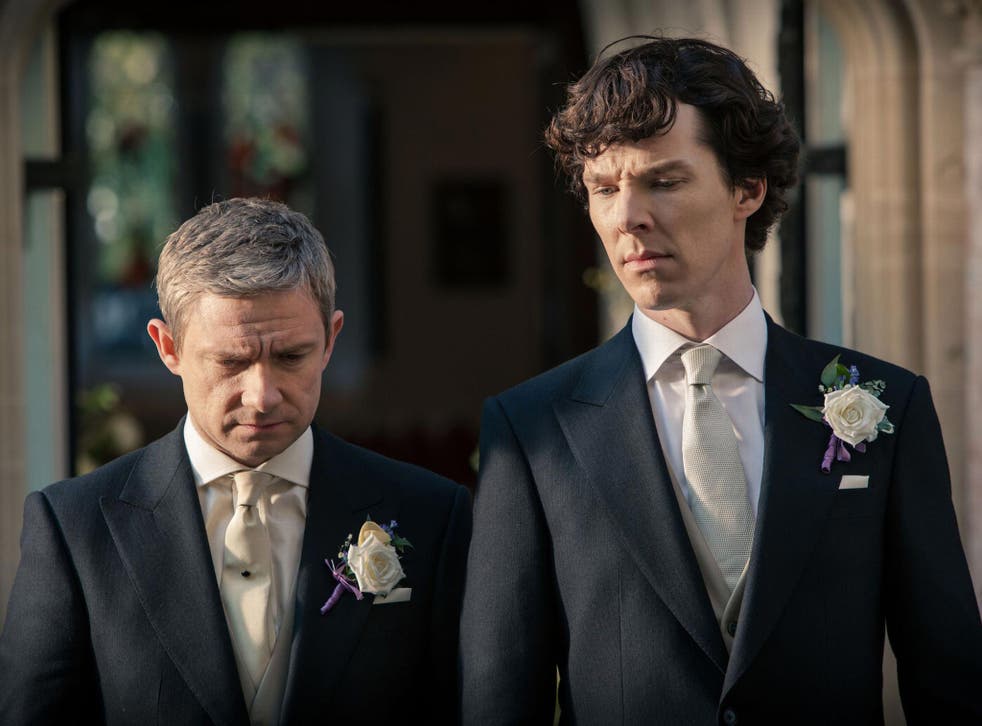 Following on from the hysterics of Sherlock's "resurrection" on New Year's Day, things were decidedly lighter - well, as light as it gets on this show. It was John and Mary's big day and Sherlock was charged with the role of best man. Sherlock Holmes and weddings. Who would have thought it?
Unlike the usual open and shut case, this week was made up of a compelling series of vignettes told via Sherlock's unorthodox best man speech. All the strands were delicately woven together by writer Stephen Thompson to create a strong story.
Thompson previously penned both The Blind Banker and The Reichenbach Fall. Just like those two instalments, the murder mystery elements were done well and kept viewers and wedding guests on the edge of their seats until the end.
The Sign of Three melded comedy with drama wonderfully, seguing from murder to matrimony with any disconnect. One moment a toast was raised to the happy couple and the next John, Mary and Sherlock were trying to talk Sholto out of killing himself.
Watch: Sherlock finale 'His Last Vow' trailer
Benedict Cumberbatch played the high-functioning sociopath super-sleuth with aplomb, treating viewers to an inebriated version of the detective – complete with falling asleep on a client's rug midway through an investigation before vomiting on it. Yes, even world class consulting detectives get a bit squiffy sometimes.
The dubstep remix of the Sherlock theme simply added to the overall skewed, beer goggled effect. It was not his finest hour but if Sherlock ever went to Ibiza, this is probably the state he'd end up in or worse given his history with drugs.
Sherlock the drunk was a welcome change to the usually slick, unshakable detective. But wait, there was more. The bromance hit an all-time high, even if it was John and Mary's big day. In a Sherlock first, John admitted to loving his best friend albeit in a platonic way – those hoping for the Watson/Holmes hook-up may be waiting a while yet. Plus fans already saw the Moriarty-Sherlock snog.
Sherlock series three in pictures

Show all 17
Despite his revulsion to any sort of sentiment or nostalgia, Sherlock's speech was at times quite touching and he revealed just how much John means to him. This is the most we have seen the pair express their feelings for one another, usually they are too busy saving the day to let something as trivial as emotion get in the way. Only Mrs Hudson really picks up on their deep friendship and comically misreads it.
While it is not the strongest story of the Sherlock saga, the writing is just as sharp and fresh, with the mind palace element toned down a few notches. The Sign of Three was packed to the rafters with wit and comedy. There was plenty to leave viewers howling with laughter, mainly thanks to Sherlock's general apathy towards humankind.
Access unlimited streaming of movies and TV shows with Amazon Prime Video Sign up now for a 30-day free trial
Sign up
With the sunlight hitting his face, Sherlock looked positively corpse-like and out of place among all the festivities and smiles. Sunshine and happiness are not his strong points, unless it's a piercingly bright winter sun and a wry, knowing sneer with a curled lip.
It was relief to see Sherlock don the coat once more, pull up his collar and return to Baker Street. After this brief, bright-ish interlude, the tone will no doubt darken again for next week's finale.
Register for free to continue reading
Registration is a free and easy way to support our truly independent journalism
By registering, you will also enjoy limited access to Premium articles, exclusive newsletters, commenting, and virtual events with our leading journalists
Already have an account? sign in
Join our new commenting forum
Join thought-provoking conversations, follow other Independent readers and see their replies