The Big Benefits Row, review: 'Live debate became one big Katie Hopkins Show'
Show was more a thinly veiled attempt to boost Channel 5's ratings
Jess Denham
Tuesday 04 February 2014 11:36 Comments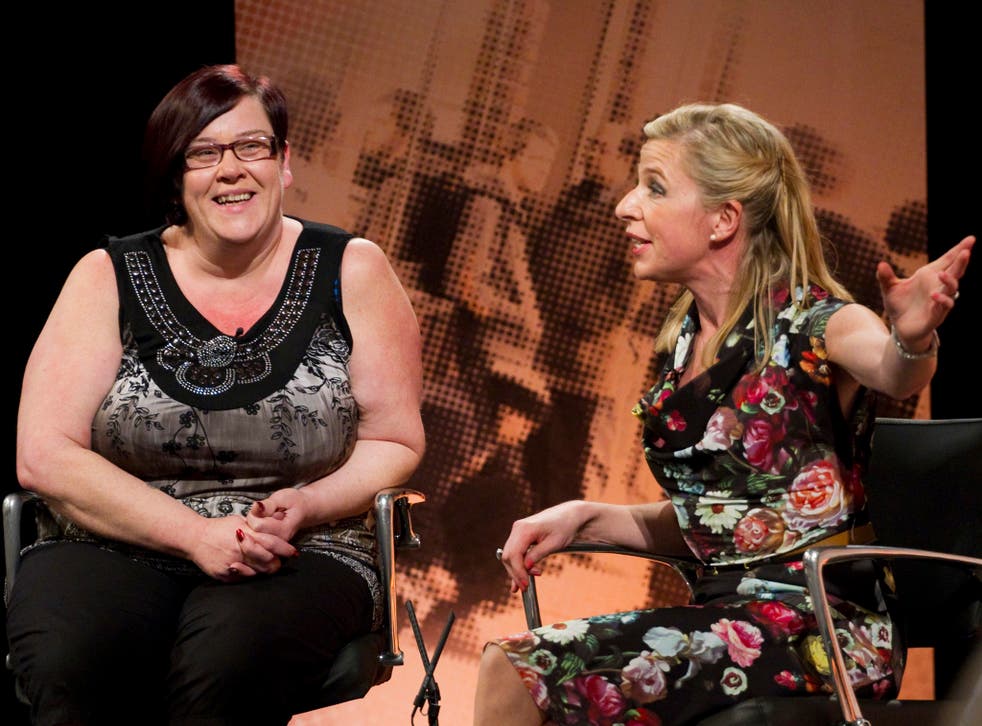 With a panel ranging from professional motormouth Katie Hopkins, "White Dee" from the controversial Channel 4 documentary Benefits Street and ex-Tory MP Edwina Currie, The Big Benefits Row: Live was never going to make for a gentle evening's viewing.
The main issue at hand - whether the benefits system should be changed – was, as expected, lost to the larger-than-life personality of former Apprentice contestant Katie Hopkins.
The title may as well have been changed to The Katie Hopkins Show. "I'll point where I like," she said, and point non-stop she did.
Hopkins' personal insults, misinformed views and "left-wing loons" name-calling dominated to such an extent that few could call the heated discussion a "debate".
"You would be really dangerous if you knew what you were talking about," ex-benefits claimant Annabel Giles pointedly hit back at Hopkins, after the television pundit labelled her "someone who wanted to be a model but didn't make it".
In contrast, Deirdre Kelly, best known as "White Dee" on the now famous James Turner Street in Birmingham, made a composed, articulate first live television appearance.
"I bet the bookmakers have lost a fortune, I bet they thought I'd be the first to swear," she joked to applause from the audience, the majority of which seemed strongly on her side, chanting at one point that "every mother is a working mother".
Take a look at what Britons think of benefits from the results of a recent YouGov poll:
"I haven't been on benefits my whole life," said Dee, 42. "It's just at the moment. I suffer from depression and I'm being assessed for bipolar disorder."
But Hopkins was straight in with an attack designed to reflect all attention, kicking and screaming, back on to her: "Do you not feel like the patron saint of druggies and drop-outs?" she asked Dee, dismissing her claims of being too unwell to work.
Access unlimited streaming of movies and TV shows with Amazon Prime Video Sign up now for a 30-day free trial
Sign up
The Reverend Steven Chalke added some important insight into the debate, revealing that children at the school seen on Benefits Street have been subjected to abuse from tourists since the series began.
A few other Benefits Street residents were also in the studio, yelling angry but unhelpful snippets along the lines of "My CV is in every single shop!" and "I do not sit on my bum all day!"
The Independent's columnist Owen Jones made an appearance after claiming that shows such as Benefits Street "demonise" those on benefits, but Hopkins took so much airtime from him, Spectator editor Fraser Nelson and poverty campaigner Jack Monroe, that their fact-based arguments were lost to the non-stop barrage of immature tempers.
Host Matthew Wright presented the live shout-off, asking provocative questions such as "What about tax avoidance?" that served more to heighten the noise levels than anything else.
The Big Benefits Row served up another fast-paced debate among celebrities, politicians, journalists and a studio audience.
But was it a meaningful one or a show designed to boost Channel 5's ratings? Regrettably, the latter.
---
Register for free to continue reading
Registration is a free and easy way to support our truly independent journalism
By registering, you will also enjoy limited access to Premium articles, exclusive newsletters, commenting, and virtual events with our leading journalists
Already have an account? sign in
Join our new commenting forum
Join thought-provoking conversations, follow other Independent readers and see their replies