The Handmaid's Tale season 2 episode 10 review: New realms of bleakness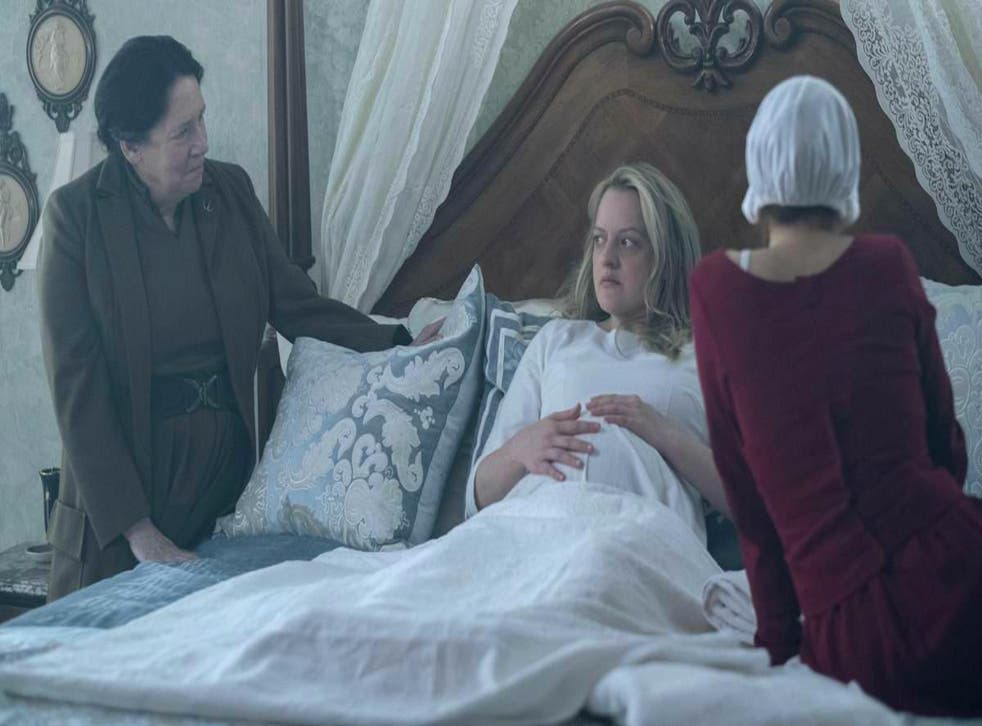 Savour Emily kicking her rapist in the dick at the opening of this week's episode of The Handmaid's Tale, as it is the only shard of joy in an otherwise unprecedentedly bleak episode.
There were no flashbacks this week and only a tiny bit of sub-plot as Nick's utter disinterest in arranged teen bride Eden finally caused her to break, Eden's kiss with Isaac getting no reaction from her husband, causing the poor, confused girl to burst into tears. Nick wasn't exactly comforting or elucidating on the matter, but maybe Eden will come to learn that silence and inward despair is probably the safest way to live in the Waterford house.
A few bedrooms away, June's contractions turned out to be a false alarm, and she relished the opportunity to toy with Serena's emotions for once. The episode came close to humour when talk turned to how best to induce June's labour, with Aunt Lydia maniacally exclaiming "spicy tea!" There was no time for mirth though, as the idea Fred, infuriated by June's request to see her daughter, settled on was to try and rape the baby out.
It was a sinister twist on the already horrifying ritualised rape scenes, and frustrating for those of us rooting for Serena's redemption. What will it take for her to flip?
Astonishingly, Fred appeared to feel bad about it the next morning, which was quite ominous as I'm not sure I buy him having a conscience. Nevertheless, he did grant June her meeting with Hannah, which proved to be bittersweet. A substantially larger portion of her life, the time since the separation had gone faster for Hannah, who is now known as Agnes and has been embedded into a different family, the Gilead indoctrination machine having already started work on her. She was confused and angry with her mother, but June at least expected this, managing, though it must have cut deep, to put Hannah's distance to one side and encourage her to stay safe, "enjoy your life and love your parents". Could have mentioned her father's still alive, though!
The episode wrapped, semi-off-camera, with Nick being apprehended (thorough breakdown here) and June left in the house where the meeting took place all on her own. If this week's events weren't scarring enough, I fear in the next episode she may have to get through labour unassisted.
An incredible performance this week from Elisabeth Moss, who has surely given over a sizeable amount of her soul to this show already, and another gripping, perfectly-crafted episode.
The Handmaid's Tale continues Wednesdays on Hulu in the US and is a few weeks behind on Channel 4 in the UK.
Register for free to continue reading
Registration is a free and easy way to support our truly independent journalism
By registering, you will also enjoy limited access to Premium articles, exclusive newsletters, commenting, and virtual events with our leading journalists
Already have an account? sign in
Register for free to continue reading
Registration is a free and easy way to support our truly independent journalism
By registering, you will also enjoy limited access to Premium articles, exclusive newsletters, commenting, and virtual events with our leading journalists
Already have an account? sign in
Join our new commenting forum
Join thought-provoking conversations, follow other Independent readers and see their replies