The Supervet, TV review: Chihuahua owner Jacquie cried four times - and that was at good news
The Supervet, now in its fourth series, has helped to establish Professor Noel Fitzpatrick as a pioneering animal surgeon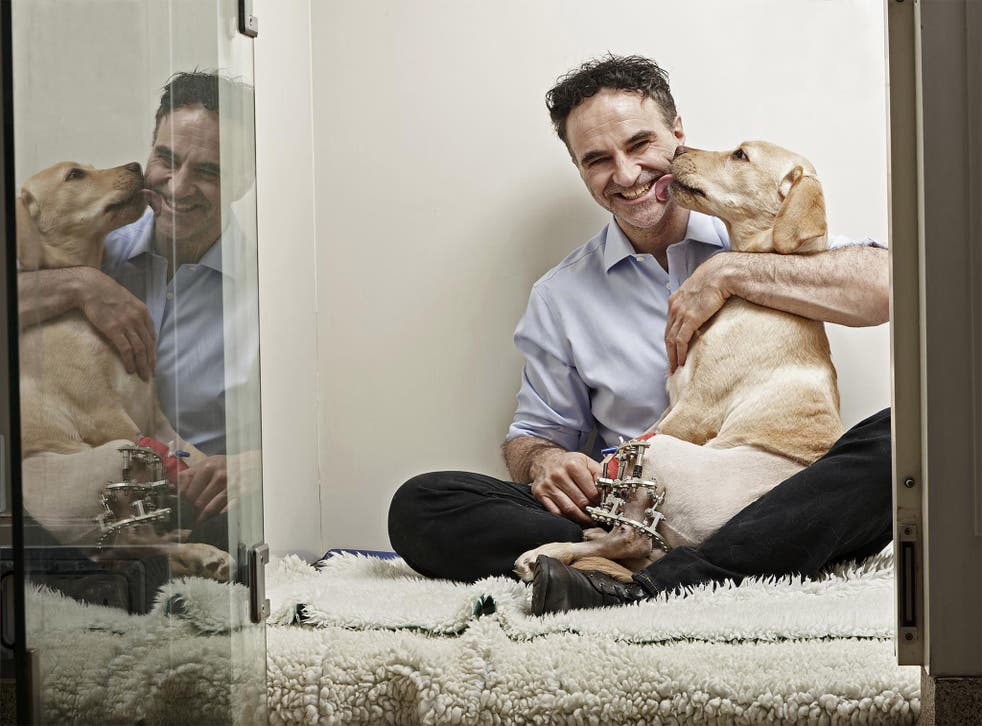 I always thought I loved animals. You know, like really loved them. Maybe even in a slightly unnatural prefer-them-to-people sort of way. But then I saw some of the pet owners on the new series of The Supervet and now I feel like a kitten-drowner by comparison.
Take Jacquie, who brought her chihuahua Maxi to Professor Noel Fitzpatrick's Surrey practice. She was so potty about her pet she'd lost the plot. She must have cried four times – and she never even had any bad news. Puppy Maxi's leg had failed to heal properly after a break (Jacquie was in Dubai when this happened, something she mentioned three times). Luckily, Professor Fitzpatrick, dubbed the "bionic vet", knew what to do – operate. This made Jacquie cry. When the surgery was a success, Noel called her at 1am to let her know. This made Jacquie cry. Maxi had to recuperate at the clinic. This made Jacquie (who had been sleeping with Maxi's blanket "because it smelled like him") cry. And when they were finally reunited, well, you get the picture.
Culture news in pictures

Show all 33
Less emotionally unstable, but only just, were Charles and Clarissa, the owners of cat Maya. Clarissa came close to having a panic attack, but it was only one and poor Maya had been attacked by a dog. What Noel was able to do for her was truly remarkable. After a gut-churning moment during which he demonstrated the extent of the damage by wiggling her loose jaw fragments from side to side, Professor Fitzpatrick set about doing what he does best – surgical problem solving. Having tried, and failed, to set the jaw with pins, he threaded individual wires through it and held it in place with a metal frame. The outcome was Maya looked like Bane from Batman but was eventually able to go home. This made Clarissa cry.
The Supervet, now in its fourth series, has helped to establish Professor Fitzpatrick as a pioneering animal surgeon. Watching him at work was fascinating – the intricate operations were executed on pets so tiny that it was as if he was performing miracles. Surgeons are notorious for their cold bedside manner but this guy hands out hugs like free newspapers.
The practice is a genuine one and the staff obviously love animals. They work hard – surgeries ran deep into the night – and, as in real life, there isn't always a happy ending. This was the case for labrador cross Spud. His owner, Chris, a former homeless man, had to rely on Noel's goodwill for the diagnosis (cancer) and surgery to remove his leg. Sadly, secondary cancer reared its head and Chris and Spud were sent home to enjoy their remaining time together. When the end credits rolled, so too did a dedication to the late Spud. This time, it was me who cried.
Register for free to continue reading
Registration is a free and easy way to support our truly independent journalism
By registering, you will also enjoy limited access to Premium articles, exclusive newsletters, commenting, and virtual events with our leading journalists
Already have an account? sign in
Register for free to continue reading
Registration is a free and easy way to support our truly independent journalism
By registering, you will also enjoy limited access to Premium articles, exclusive newsletters, commenting, and virtual events with our leading journalists
Already have an account? sign in
Join our new commenting forum
Join thought-provoking conversations, follow other Independent readers and see their replies