Timeshift: Spicing Up Britain - How Eating Out Went Exotic, TV review: Immigrants and Berni Inns rescued British cuisine
The programme claimed that the revolution in dining has taken British restaurants from international laughing stock to foodie destination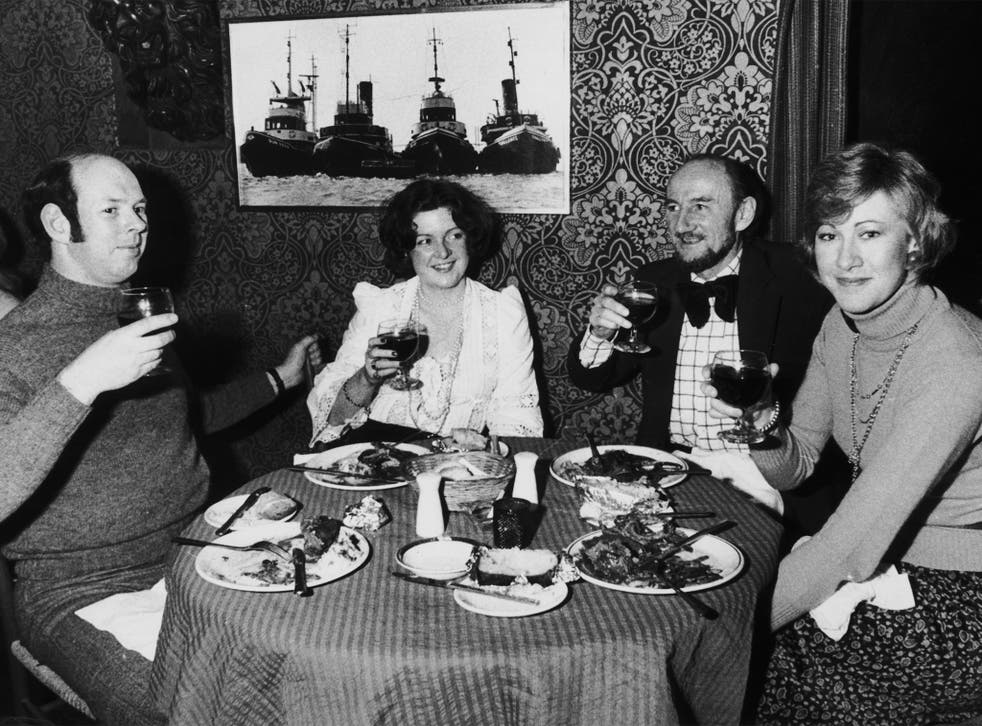 It was the best of times, it was the wurst of times. Yes, it wasn't that long ago that the peak of the dining out experience for the average British family was a slap-up steak dinner at the local Berni Inn. Those were the days, apparently.
For those like me, whose experience of eating out as a callow youth was Berni's descendant, Beefeater, Berni Inns exist solely within anecdotes about the dearth of places to eat out in the Seventies. Whereas we had Beefeater and Toby Carvery, so we were pretty spoilt.
But actually, rather than just providing asides in The Likely Lads, Berni Inns were actually the starting point of the revolution in dining that has taken British restaurants from international laughing stock to foodie destination. At least that was the argument put forward in last night's hugely enjoyable Timeshift: Spicing Up Britain – How Eating Out Went Exotic.
The Berni brothers, two Italian immigrants to the Welsh valleys, took a local love for Welsh-Italian cuisine – formed by the hundreds of Italian cafés there (dry-mouthed miners loved ice-cream) – and paired it with American chain-mentality to start, in 1955, Britain's first proper restaurant chain.
Before the Berni brothers opened their steakhouse at the Rummer in Bristol, "going for a meal outside of the home", explained narrator Rebecca Front, "was not something done for pleasure". A thought echoed by many visitors to this Scepter'd Isle over the past century. But not any more.
The change may really have started pre-Bernis with the wartime state-run canteens called – with a simplicity that almost seems affected – the British Restaurant. These 2,000 dining rooms maximised ingredients and fuel, feeding city-dwellers en masse during rationing. (Their initial name, Communal Feeding Centres, was dumped, presumably for out Stalining Stalin.)
From there, the idea that Britons could affordably head out for a meal, allied with the Bernis and the post-war waves of immigration from East Pakistan/Bangladesh and Hong Kong, changed the idea of eating out in Britain as we knew it.
Those immigrants found their most saleable skill was cooking their native cuisine for the Brits. Or at least a version of it that they could make with the ingredients to hand, which created the uniquely British cuisines we know as "Indian" and "Chinese" even though they're barely anything of the sort.
Some of the clips seemed otherworldly, despite being younger than most of the Cabinet. There were "Chinese eating competitions" at a holiday camp (people eating, with chopsticks); old Vesta curry ads; the schooners of sherry at the Berni Inns. I could have watched three hours' worth. The Timeshift strand is such a joy because there are few things better than poring over archive footage of ordinary Britons going about their lives. To promote the benefits of this BBC4 perennial to a younger audience, one might describe it as an hour of curated YouTube.
Access unlimited streaming of movies and TV shows with Amazon Prime Video Sign up now for a 30-day free trial
Sign up
Finally, I also like to imagine the Timeshift producers and researchers sharing elbow room in a dusty library with Adam Curtis as they argue over who gets to keep some dusty old Pathé clip of a fat bloke eating spaghetti. The Timeshift guys no doubt wanting to use it to demonstrate the social changes that led to Britons embracing Italian food and Curtis wanting to use it as a metaphor for a ringworm outbreak in the Korean DMZ.
Join our new commenting forum
Join thought-provoking conversations, follow other Independent readers and see their replies