Tommy Cooper: Not Like That, Like This, ITV - TV review: 'Tommy Cooper lives, but where did his early years disappear to?'
Ellen E. Jones
Tuesday 22 April 2014 09:39 Comments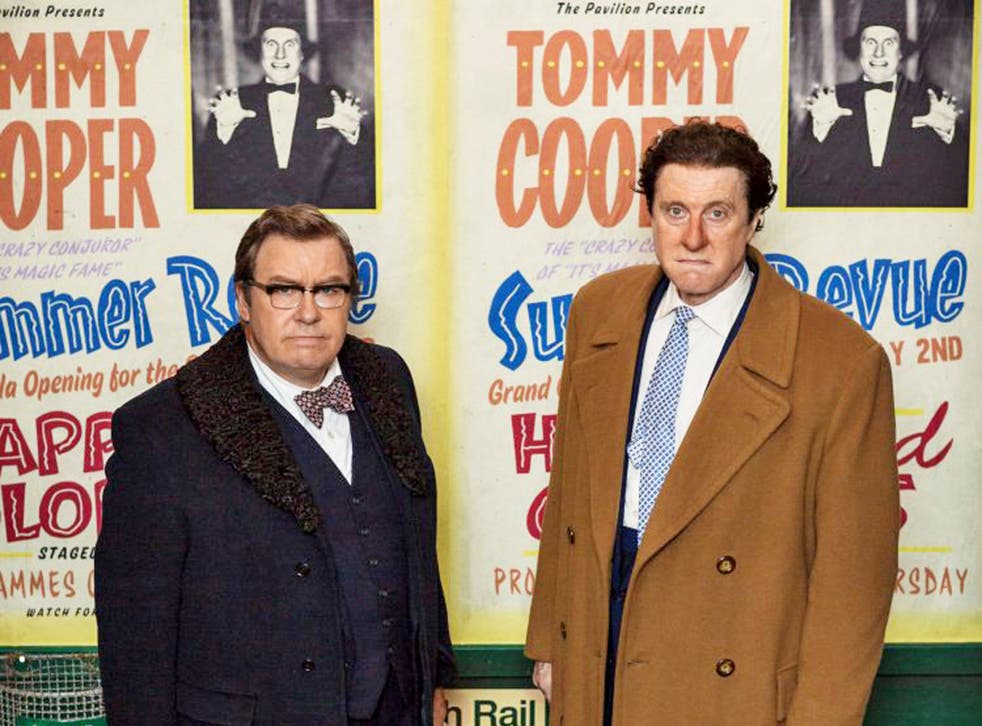 David Threlfall, the actor famous for playing deadbeat dad Frank Gallagher in Shameless, took the title role in Tommy Cooper: Not Like That, Like This, ITV's feature-length drama about the god of variety television. The role required him to stumble about drunkenly, brawl in the street and profess his love for his family, while simultaneously hurting his family – so, actually, it wasn't much of a departure.
Cooper's act often involved him conversing with imaginary off-stage interlocutors, but it was the people who really were watching and waiting behind the scenes that this film mainly concerned. His long-suffering agent Miff Ferrie (Rab C Nesbitt actor Gregor Fisher), the wife who "gave as good as she got", Gwen "Dove" Cooper (Amanda Redman) and his mistress of 17 years Mary Kay (Helen McCrory). All the performances were excellent, but there was something in the interactions between Redman and Threlfall, which captured a feisty, sweary, yet loving marriage particularly well.
When ITV revealed plans for this biopic, a representative of the Tommy Cooper Society expressed concerns that it would tarnish his memory, by delving into his episodes of alcoholism and violence. They needn't have worried.
The script, by Men Behaving Badly writer Simon Nye, was hardly feminist revisionism, and the closest it got to addressing domestic violence was a close-up of Cooper's clenched fist, which then cut to Mary, on a train the next day, wearing dark glasses. His death, by contrast, was depicted in minute-by-minute detail. This might seem a contradiction, until you consider how much the manner of Cooper's passing – on stage, during a live television performance – has added to his cult appeal. As admiring performers often say, he died doing what he loved best.
It's what was left out of this biopic, not what was put in, which rankled most. By picking the story up in 1966, when Cooper was already middle-aged, we lost insight into his fascination with magic tricks and how he honed his act while stationed in Egypt during the war (hence the fez). It's not like there wasn't time enough in a two-hour film to cover these sides of the man.
As it was, the line which best summed up this portrayal of Cooper was delivered by his exasperated son Tom Jr (Andy Rush) in reference to his infidelity: "So that was your biggest trick of all? Watch me have my cake and eat it?" That doesn't seem quite fair. We know Cooper had many more tricks, much better than that one.
Register for free to continue reading
Registration is a free and easy way to support our truly independent journalism
By registering, you will also enjoy limited access to Premium articles, exclusive newsletters, commenting, and virtual events with our leading journalists
Already have an account? sign in
Join our new commenting forum
Join thought-provoking conversations, follow other Independent readers and see their replies