TV preview: Sherlock, BBC1 Sunday 1 January; No Offence; Unforgotten; Silent Witness; Death in Paradise
Gerard Gilbert takes us through the TV detectives who aren't Benedict Cumberbatch on screen during the New Year week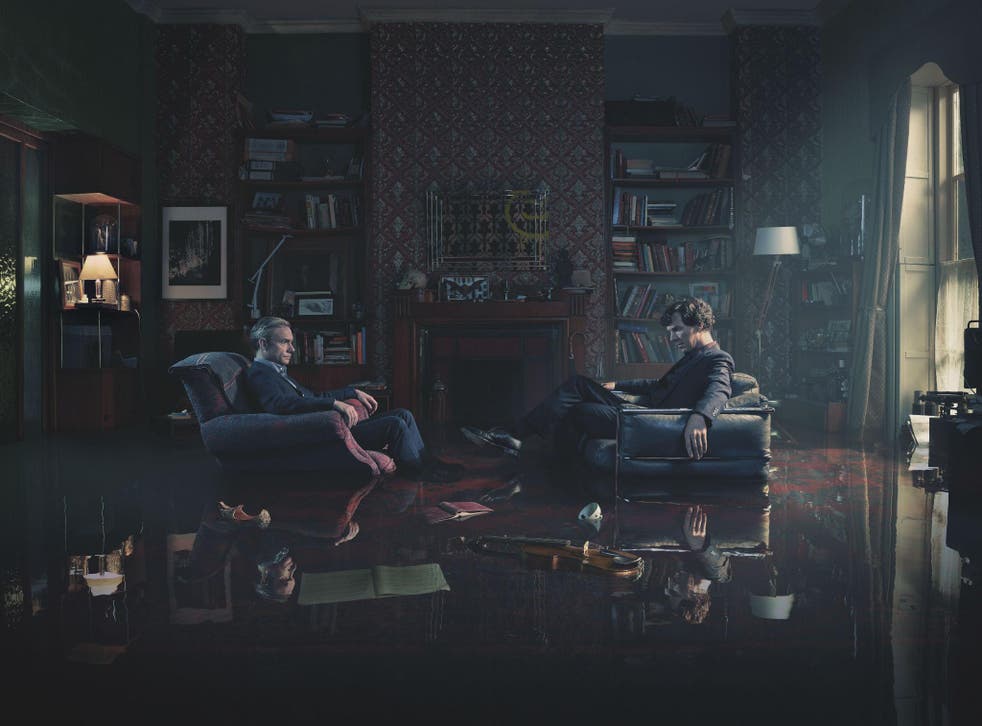 What can I possibly say about the new Sherlock episode on New Year's Day? Very little beyond its title, which you know already (The Six Thatchers), and that John and Mary Watson (Martin Freeman and Amanda Abbington) welcome their new baby daughter into the world, just as real-life partners Freeman and Abbington have let slip the news of their separation. Otherwise it's mum's the word, but Steven Moffat and Mark Gatiss's juggernaut Conan Doyle reboot isn't the only crime drama returning this coming week. Here, in descending order, are the TV detectives who aren't Benedict Cumberbatch.
No Offence, created and written (this opening episode at least) by Shameless's Paul Abbott, is almost as quip-heavy as Sherlock, although sadly it's difficult to see the fabulous Joanna Scanlan inspiring the sort of besotted fan-worship that follows Cumberbatch around like a cloud of pheromones. And the rest of the cast has Happy New Year written all over it – with Elaine Cassidy, Alexandra Roach, Will Mellor, Paul Ritter and, now, Sarah Solemani, all well up to the demands of Abbott's blackly humorous script.
But it's Scanlan who reigns supreme as DI Vivienne Deering, the sort of lady cop who, on emerging from a shower, is quite happy to towel her lady parts while continuing a conversation with a superior officer. That commanding officer is played by Solemani – the 'her' in Him & Her – who has been introduced as a stern, by-the-book foil to Deering, as the Manchester coppers investigate a bombing at a crematorium that unearths body parts and inspires the line (from Ritter's forensics technician), that it's "an Hieronymous Bosch job". Better than Moffat that, I'd say.
Unforgotten sees the re-teaming of Nicola Walker (Last Tango in Halifax) and Sanjeev Bhaskar (Goodness Gracious Me) as cold-case detectives DCI Cassie Stuart and DS Sunil "Sunny" Khan, the sort of inspired pairing that says this particular casting director deserved his or her fee. Chris Lang's creation is Waking the Dead meets Broadchurch, with one whodunnit spread over six episodes, as the perfectly preserved remains of a middle-aged man are fished out of the River Lee in Essex – while, as with the first series, the investigation links various suspects who would appear to have nothing in common. Once again the support cast is a cut or two above average, including Mark Bonar, Rosie Cavaliero, Douglas Hodge and Wendy Craig. Yes, Wendy Craig. As the least likely killer, my money is on her.
Silent Witness returns with a two-part storyline that is bang up to date, featuring Syrian refugees and people traffickers in Calais, but which I found a little hard to follow. If Emilia Fox's Dr Nikki Alexander barely ever cracks a smile, then that's perfectly understandable given that she spends her life poking around in chest cavities – but she could do with a bit more of Vivienne Deering's black humour. People whose jobs mean spending a lot of time with dead people tend to be on the earthy side.
If you are one of those who prefer to combine murder with sunny escapism, then Death in Paradise also returns with yet another guest cast full of actors who must have looked at the rain splattering their kitchen window, peered at the shooting schedule and thought, "A few weeks in the Caribbean, flights and accommodation paid... why not?"
Death in Paradise is a joint Anglo-French production which is why, I suppose, Kris Marshall's DI Humphrey Goodman is the sort of Englishman you might find in Midsomer Norton (the French adore Midsomer Murders) – a bit woolly, a bit posh and a bit sexless. The plot involves a seismologist who dies halfway up a volcano, but I wouldn't worry yourself too much about that. Just feel the tropical breeze and dream of escape.
Sherlock, BBC1 Sunday 1 January 8.30pm; No Offence, Channel 4 Wednesday 4 January 9pm; Unforgotten, ITV Thursday 5 January 9pm; Silent Witness, BBC1 Monday 2 January 9pm; Death in Paradise, BBC1 Thursday 5 January 9pm.
Join our new commenting forum
Join thought-provoking conversations, follow other Independent readers and see their replies