TV review: The Village gives viewers – finally – a proper, grown-up period drama
The Weekend's Viewing: The Village, Sun, BBC1 / Doctor Who, Sat, BBC1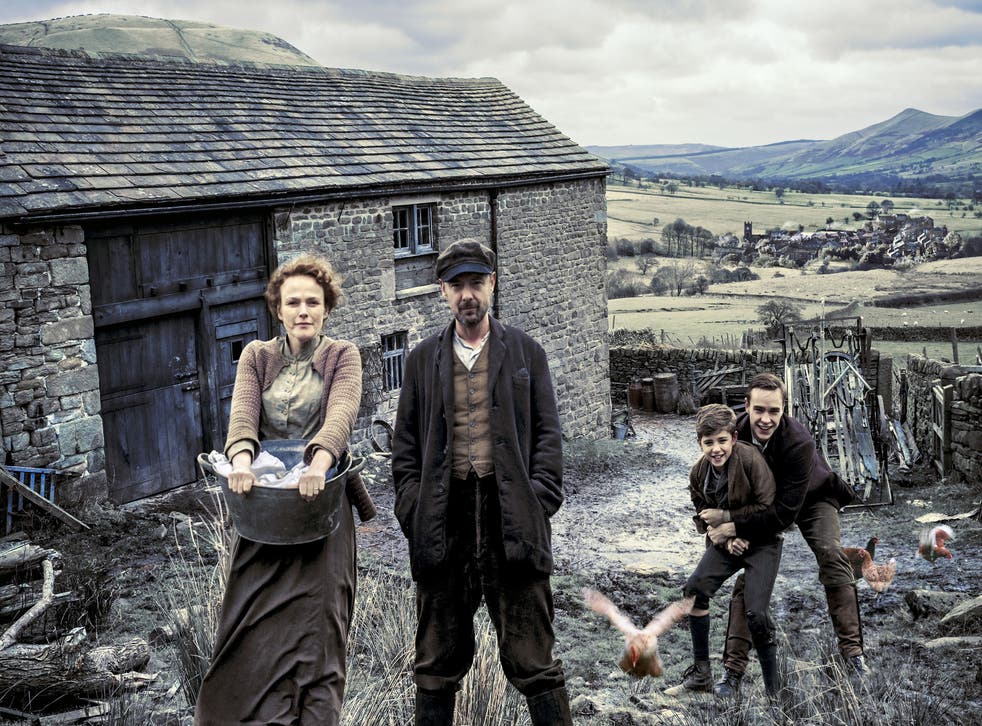 Before its first airing, The Village had been billed as Britain's answer to Heimat, the monumental German drama that spans across a century of rural life in 30 episodes.
All that hype and lofty comparison usually leads to only one thing: disappointment. Except that it didn't. Instead, it was a moving and mature period drama with a pitch-perfect star cast who play the Middleton family (Maxine Peake, the long-suffering mother, John Simm, the brutish father and Juliet Stevenson, who is the matriarch of the nearby manor). For starters, it was a welcome relief from those McCostume dramas (mentioning no names) that offer little more than a game of "dress-up" with a host of posh frocks and a repertoire of above/below stairs shenanigans. This disposed of gimmickry and formula, except for one clunky device – the voiceover of an elderly man whose wartime boyhood was being re-enacted. Thankfully, his voice melted away and we settled into a drama that – to make another lofty comparison – combined the same unsettling mix of nostalgia, fear and casual cruelty inflicted by adults on to children that was captured in Michael Haneke's The White Ribbon.
In its form, it followed the classic shape of the "heimatfilm" in which rural life plays out the bigger, fractious events of the nation. The microcosm here was a Peak District village gearing up for the First World War. "All the world was in our village," reflected the elderly Bert Middleton, looking back at his 12-year-old self, who was our young protagonist. Peter Moffat's taut, emotionally restrained script succeeded in bringing out the inner landscapes of each family member, who all seemed, in one way or another, to be locked into their own private pain: Peake's mother negotiated the wrath of her husband with the sacrificial love of her sons; teenager Joe was torn between the desire to escape the fury of his father with the urge to protect his little brother; and Bert himself was caught in the first hormonal flush of adolescence. Bert's role was primarily as child observer and innocent voyeur, a little like the boy from Dennis Potter's A Singing Detective, who watches the seamy goings-on of the adult world from a treetop in the Forest of Dean. If fault had to be found, it lay with Simm's emotionally stony father, who seems too narrowly locked in to a blinding state of bitterness as his farming fortunes dwindle into ignominy.
The story was ostensibly small and specific, revolving around the interior life of this family, and this village, but then it opened up, cinematically, to the world beyond with panoramic shots of the English countryside – vast acres of fields, hills and sky. These suddenly striking images gave it an epic quality. With a hundred years to span and 41 more episodes to go (if Moffat's ambition is to be realised) viewers can – finally – enjoy a proper, grown-up period drama.
Time travelling forward to the 21st century, Doctor Who offered a pertinent fantasy of a wi-fi-drenched society in which computer programmes uploaded people, rather than the other way around. Taking our growing addiction to the internet to its final, outlandish conclusion, this sharply entertaining episode saw the feisty, flirtatious Clara Oswald (Jenna-Louise Coleman) become trapped in the digital ether.
The plague of the internet virus had here morphed into a far more lethal variant that left people imprisoned in digital clouds, disembodied in their new existence. A great analogy, and some good lines along the way too: "Imagine that – human souls trapped like flies on the worldwide web, crying out for help," said the Doctor. Clara's response couldn't have been smarter: "Isn't that basically Twitter?" Coleman's fizzing chemistry and witty repartee with Matt Smith's Doctor will, no doubt, make her the perfect new companion in this seventh series.
Join our new commenting forum
Join thought-provoking conversations, follow other Independent readers and see their replies