On the set of Sherlock - why has this version of Conan Doyle chimed with audiences everywhere?
Steven Moffat and Mark Gatiss's modern-day re-working of the timeless detective stories has scooped 12 BAFTAs, seven Emmys and a Peabody Award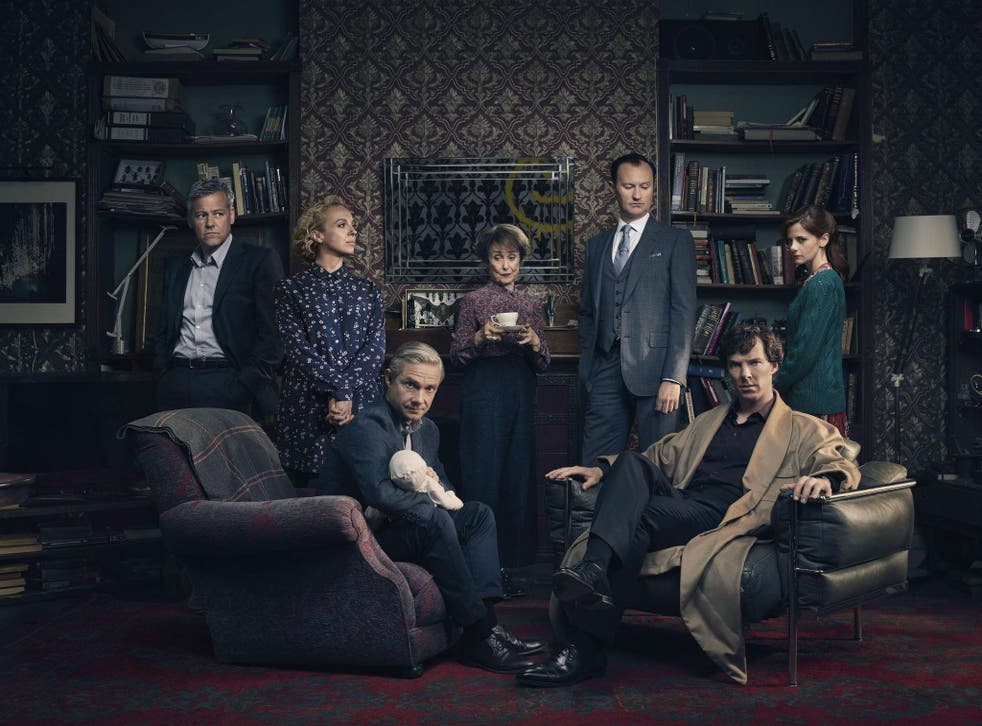 When the Prime Minister David Cameron undertook an official trip to China in December 2013, one question bothered the locals he met above all others: why can't you persuade the BBC to make more episodes of Sherlock?
That gives us an indication of the stature of a show that could, without much fear of contradiction, now be described as the most popular drama in the world.
Aired in 240 territories across the globe, Steven Moffat and Mark Gatiss's modern-day re-working of Sir Arthur Conan Doyle's timeless detective stories has scooped 12 BAFTAs, 7 Emmys and a prestigious Peabody Award. It has netted no fewer than 76 gongs around the world.
As is that wasn't already enough proof of what an international hit the show has become, the global Sherlock Facebook page now has more than five million fans. Oh yes, and the Korean pop group SHINee have recently released a single entitled "Sherlock", inspired by the BBC drama.
That popularity is merely underlined the day The Independent is on set in central London. We are watching the filming of the fourth series. Sherlock has become as essential a part of the festive season as a family row and the opening episode, "The Six Thatchers," goes out on BBC1 at 8.30pm on New Year's Day.
We are hemmed in behind portable metal barriers outside "221b Baker Street" (in fact, the nearby North Gower Street, which now looks much more like the Sherlock-esque Baker Street of popular imagination).
Next to us stand thousands of Sherlock aficionados, who have travelled from every corner of the globe to catch a glimpse of their heroes, Benedict Cumberbatch (who plays the title role), Martin Freeman (Sherlock's steadfast companion, Dr John Watson) and Amanda Abbington (John's wife with the shady past, Mary).
The fans are rewarded when Cumberbatch miraculously materialises from a side street – and is greeted by the sort of uninhibited cheering usually reserved for the stands at Wembley Stadium. Stopping to chat to people on the other side of the barrier, he is unfailingly polite to the legions of followers who track every move of the production on a website called "Setlock".
The actor, who is as charming and personable as his alter ego is detached and aloof, sits down with The Independent in a neighbouring hotel before filming to talk through all things Sherlock.
Access unlimited streaming of movies and TV shows with Amazon Prime Video Sign up now for a 30-day free trial
Sign up
He begins by considering why, more than a century after this unorthodox "consulting detective" first appeared in print, he still remains such a widely adored figure.
According to Cumberbatch, 40, "He's such an iconic character. He's been loved worldwide for the last 129 years. There is something very peculiar and eccentric about him that makes him essentially English and absolutely universal at the same time. He is the most filmed literary character of all time. It's a lot to live up to. No pressure, then!"
Since Sherlock was first broadcast on BBC1 in 2010, the magnitude of the fans' commitment has even taken the show's producers by surprise. Gatiss, who dreamt up the premise of relocating Sherlock from the Victorian era to the present day with Moffat on the train somewhere between their other job on the Doctor Who set in South Wales and their homes in London, takes up the theme. "I was actually answering some fan mail this morning.
"Some of it was so old, I was ashamed. I had to start telling lies about how packages of letters got mislaid! But from China to Russia, the devotion is astonishing. You get some very moving letters about how the show has affected people's lives. Some have had depression that has lifted or made friends through it. It's very gratifying to have had that effect – just by making 10 episodes!"
Gatiss, 50, who has also enjoyed success with the comedy troupe, The League of Gentlemen, adds that, "As huge Sherlock Holmes fans, Steven and I find it amazing that we have the privilege of holding the keys to Baker Street for a while and of making a show that has struck such a nerve. We could never have predicted the scale of it. Ever since the pilot, we've always been proud of it, but the international scope of it is mind-blowing and daunting!
"It's like bottled lightning. Something happened the moment the writing and the casting came together. It's just one of those shows. It will never happen again. We've all had hits before, but this is a phenomenon that sparked at just the right time."
So in a suitably Sherlockian manner, let us try to deduce the reasons why this particular version of Conan Doyle has chimed with audiences everywhere. Moffat thinks the casting of the two central characters is key. "We've probably got the moment on tape. Among several Watsons, Martin had a chance to audition with Benedict. The moment we saw them acting together for the first time, we knew that was the show right there."
That chemistry between the two leads is what continues to make this iteration of Sherlock so compelling. Cumberbatch, who has also recently starred in the new Marvel movie, Dr Strange, affirms that, "People just love the relationship between Sherlock and John.
"They're both very self-aware and affectionate, but also very truthful with one another. There are a really complementary team. John humanises Sherlock, and Sherlock gives John a shot of adrenaline and adventure and the chance to live a life less ordinary. That's a very potent combination."
Cumberbatch carries on that, "The relationship with John draws Sherlock back to the human realm, from which he has been distanced for a big portion of his life. It makes him a better detective and a better human being.
"I don't mean that Sherlock is suddenly interested in holding babies or eating frozen yoghurt. The great gift that Watson gives him is to make him more human. And if you're a better human being, the more likely you are to empathise and therefore be a more skilful detective."
45-year-old Freeman, who has also headlined in The Hobbit, Fargo and The Office, observes that it is the differences between Sherlock and John that bring them together. "Sherlock is the brains and John is the heart of the show. At the same time, Sherlock can be unpleasant. But I think given what we know about John's past and John's character, John likes action, John likes excitement. And again, John has a military background, so he's used to taking orders from people who he might not like.
"But in the end, he does like Sherlock because they complement each other in that friendship, as they both bring something to it. If he hadn't met Sherlock, John wouldn't be in the middle of the most fun, exciting stories happening in London, with proper death and proper peril and intrigue and all of that. So I think that's why John keeps coming back to Sherlock."
The actor, whose former off-screen partner Abbington plays his on-screen partner, Mary, continues that, "John is a very smart, capable, intelligent man. To come up against someone and to think, 'Christ, he's smarter than me by a long way,' is exciting for John.
"In real life, you end up being friends with people who are nothing like you at all, and John and Sherlock are not very similar as people. But I think that's part of the reason that they're friends."
The keenly anticipated new series opens with "The Six Thatchers", written by Gatiss and based on Conan Doyle's short story "The Adventures of the Six Napoleons". Quite inexplicably, plaster busts of Margaret Thatcher are being smashed with hammers – clearly a case for Sherlock.
Beyond that, all the main characters are having to come to terms with Mary and John's new baby daughter. Gatiss reveals that, "It changes everything. The unofficial title of the first episode is 'The Three Watsons' because the baby alters the dynamic, not in a cutesy way but because that is a different place to put the characters."
The other element in the new series that completely destabilises Sherlock and John is the arrival of a truly scary baddie in Culverton Smith (Toby Jones), the ruthless poisoner from the Conan Doyle story, "The Adventure of the Dying Detective."
Moffat, 55, discloses that, "He is completely different. He's the darkest villain we've had. There was always something charming and engaging about Moriarty. There was something fascinating and actually amoral, rather than immoral, about Charles Augustus Magnussen.
"But this guy is the purest evil. Sherlock is actually appalled by him. He's the most evil villain we've had. I don't think that when you see it, you will disagree. He's horrific."
The global clamour for more episodes of Sherlock will continue – as Cameron's Chinese questioners will testify. The excellent news is that everyone involved is up for making more.
Freeman reflects that, "My feeling is always that if you enjoy something, then let it breathe and give it a chance, but stop something when you're no longer enjoying it. But at the moment, I'm having a really good time!"
Ultimately, though, "The show is called Sherlock. The show is not called anybody else's name, so you know next time we'll probably all be dead and it will just be Ben. Because ultimately he is the thing that it can't go on without!"
Sherlock has done so well in this form, Freeman could even envisage a spin-off series taking off. "We really enjoyed being in the 1890s [for the last festive special, "The Abominable Bride"]. Occasionally I would look at Ben and then look at myself in the mirror and go, 'Thank God we're finally playing Holmes and Watson instead of John and Sherlock'. So we played them as Conan Doyle intended, and it was a lot of fun to do that."
So what period would Freeman like the characters to explore next? "I'd like to do 1066. It would be about how Sherlock and John handled the Norman Invasion!"
"The Six Thatchers," the opening episode of the new series of Sherlock, goes out on BBC1 at 8.30pm on New Year's Day
Join our new commenting forum
Join thought-provoking conversations, follow other Independent readers and see their replies