TV Review, Shetland (BBC1): This Sheltie noir adds to the list of fine but bleak cop dramas
Plus: Flatpack Empire (BBC2)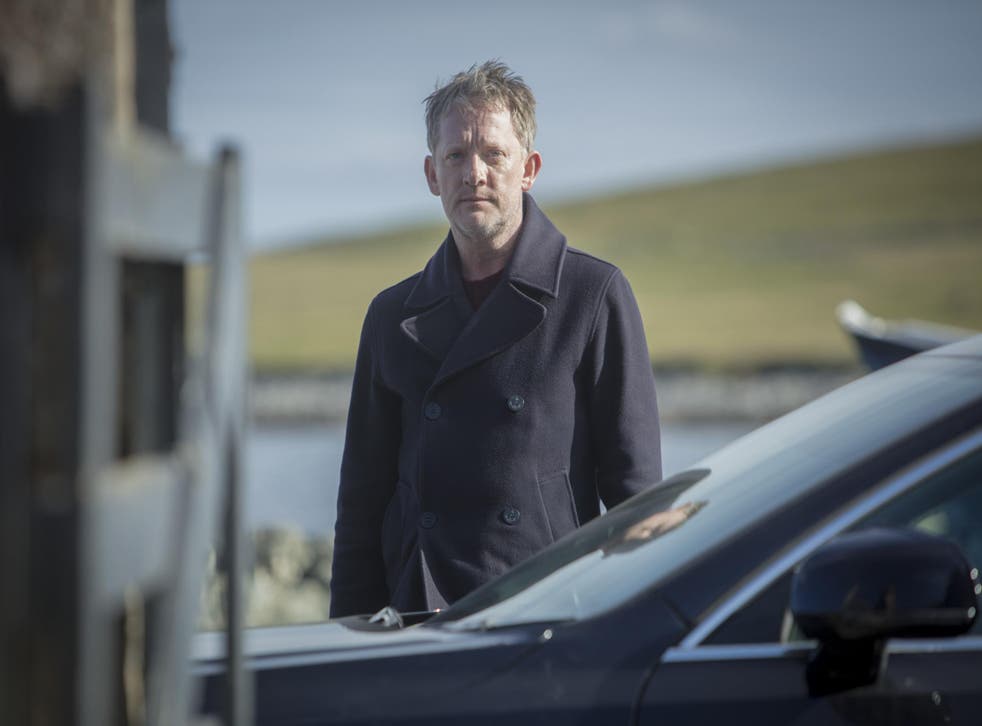 It's February, the second cruellest month of the year (after its immediate predecessor). It's cold and dank. There's sleet and there's Brexit. Surely that's enough.
So why all those bleak cop dramas? The Scandi noir boom shows no signs of fizzling out – the Swedish Before We Die is halfway through its run on Channel 4, for example. That flow has been conjoined by some interestingly underlit tributary Gaelic/Celtic noir productions (including the Welsh serials Hidden and Bang), and last night saw the return for a fourth series of Shetland, which I suppose we should dub "Sheltie noir". What next? Blackpool noir? Norwich noir?
DI Jimmy Perez is back, played with a natural-looking ease by Douglas Henshall, who has been an underestimated talent for too long, though his day in the sun (well, drizzle) seems to have arrived.
He is faced with trying to solve two murders, possibly intertwined – well, very likely, obviously. The first is a quarter of a century old, a young girl strangled with a scarf, apparently motiveless. A seemingly closed case, it is thrown open by the declaration of a mistrial. There are allegations of withholding of evidence to the legal defence team by ether lazy or malfeasant police (a topical line, there). The released convict, Thomas Malone (Stephen Walters), is a mess of facial hair, resentments, tattoos and special-strength lager. He has a voice so earthy you could grow Shetland Black potatoes in it, appropriately enough. He looks and sounds like a killer, which, traditionally, is the best reason for thinking he may not be.
But, while he might not be guilty of the first murder, is he also (or instead) guilty of a second, contemporary one – of the teenage daughter of the copper (Sean McGinley) who helped bang him up? She, by the way, was also strangled with a scarf. Was it Malone acting in revenge? Or was it someone framing him? Or a copycat? Or did a third party kill both girls?
Based on characters created by Ann Cleeves (also responsible for the more homely Vera), this is all good, intelligent stuff, extremely engaging even for those of us grown jaded by the detective noir genre. When DI Perez quotes a beautiful line of WB Yeats, we believe in it ("Now that my ladder's gone/I must lie down where all my ladders start/In the foul rag and bone shop of the heart"), just as we do when the vigilantes come to try and bury Malone alive. It works well.
The only issue I had with Shetland was the automotive "actors". The lead was played by a Volvo V60 estate car in what looked to be R-Design trim level, which was featured almost comically gratuitously in some scenes, from which the viewer will have subconsciously discerned the usefulness of its electric tailgate and sprightly performance in solving a double homicide. I was expecting DI Perez didn't turn to DS Alison "Tosh" McIntosh and say: "Aye, get forensics to see if they get fingerprints off that ticket. By the way, the Volvo V60 range starts at just £24,145, you know, and the T4 SE Nav model is currently available at 2.9 per cent APR representative with a £1,000 deposit contribution and three years complementary servicing when financed on personal contract purchase with Volvo car financial services, terms and conditions apply. DS Tosh."
Poor old Kia Motors, by contrast, were relegated to supplying "extras" – a background glimpse of a Sportage SUV dressed up as a police car, plus a Picanto hatch dumped in a field. Distracting, I must say, but they brightened things up a bit.
There's a joke gong round on Twitter that says the founder of Ikea was a chap called Billy Bookcase. OK, it's not that funny, but it's a bit more tasteful than most of what you find on what I have long called "anti-social media" (and I think events have proved me right on that, don't you?).
Access unlimited streaming of movies and TV shows with Amazon Prime Video Sign up now for a 30-day free trial
Sign up
With impeccable if accidental timing, the BBC's documentary on Ikea, Flatpack Empire, coincided with the death of its actual founder, Ingvar Kamprad, an obscure figure given his influence on everyday lives. The rather more famous Billy bookcase certainly kept his company going, with, so we learned, one sold every 11 seconds (and it'll take 11 days to get round to putting together).
But it's a funny old thing Ikea, because its paternalistic, social democratic image isn't quite right. Long-established Swedish suppliers to this Swedish giant, such as the original Billy bookcase makers, are being pitted against suppliers from China these days, and every year sees tougher cost and quality targets. Ikea is thus, like McDonald's, Coca Cola, Starbucks, Toyota or Google, one of the major engines behind the grinding homogenisation of the world, so that the 400th Ikea store we saw opening in Sheffield sells the same stuff in the same way as all the others from LA to Mumbai. When an Ikea designer declared that their business was about "creativity versus commercialism and finding that beautiful balance", she attempted to justify that by the production of some deliberately wonky vases.
All I can add is that you don't have to buy everything at Ikea. I, too, own and love my Billy bookcases, but, on the other hand, I would never chuck out my chintz (as the Ikea ads used to say). That's my beautiful balance, at any rate.
Join our new commenting forum
Join thought-provoking conversations, follow other Independent readers and see their replies