TV preview: The Trip to Spain (Sky Atlantic, Thursday 10pm) is a sort of quixotic journey
Plus: Timeshift: Roof Racks and Hatchbacks: the Family Car (BBC4, Monday 9pm), The Secret Surrealist: Desmond Morris (BBC4, Tuesday 10pm), How to be a Surrealist with Philippa Perry (BBC4, Tuesday 9pm), Un Chien Andalou (BBC4, Tuesday 10.30pm), Spike Milligan: Assorted Q (BBC4, Tuesday 10.45pm), The Voice (BBC1, Sunday 8.30pm), The Boat Races (BBC1, Sunday 4.35pm) 
Sean O'Grady
Thursday 30 March 2017 16:39 Comments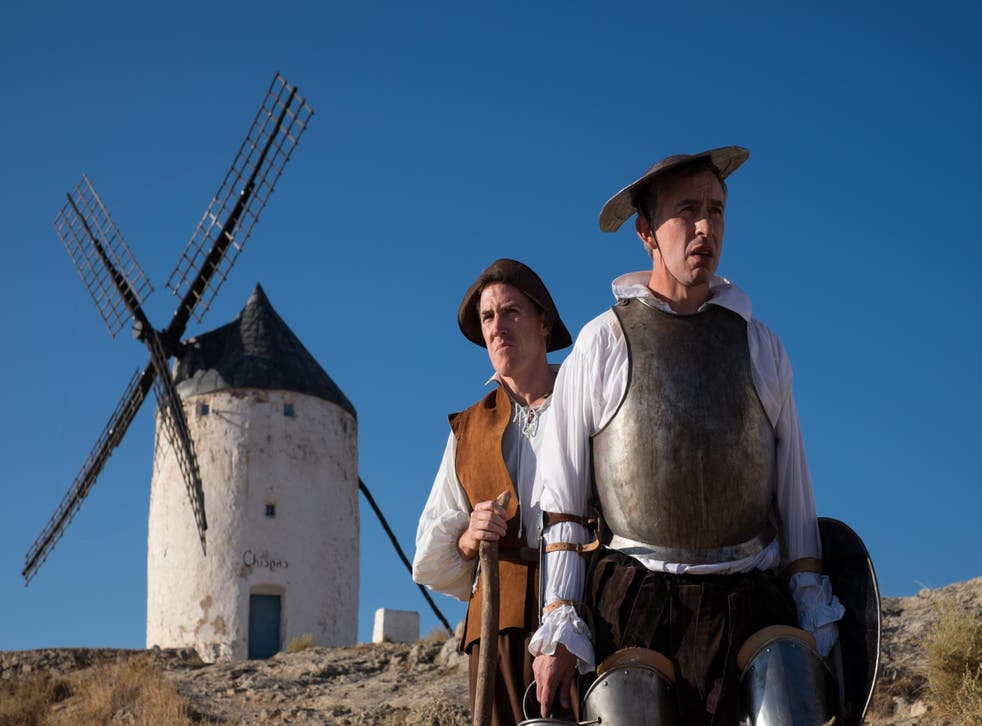 Every time I see Rob Brydon these days he seems to be on holiday somewhere, and sighing "this is the life". One minute he's doing dad-dancing in some ad for cruises – shot on some lovely location, I should say – or, as here in The Trip to Spain, he's off with his good friend Steve Coogan on some equally lovely road trip.
This time round they've taken the Range Rover and ferry route to Spain, where they explore caves, restaurants, some nice wines and the windmills of their middle-aged minds. As Coogan stresses to his travelling companion – they both "play" characters close to their own personae with what looks a lavish dressing of improvisation – at around 50 years of age they are at "the sweet spot of our lives – ripe".
As with other of their adventures, you have to be comfortable in the company of two men who luxuriate in their own comfortable cleverness and talent at mimicry, and not all of us have the confidence to do so, even remotely through a television screen. You'll enjoy the competitive anecdotage about beheadings, though. Well worth a Sky subscription. At some point at least one of them ought to sigh "this is the life", as a nod to the realities of commercial life as a sleb, even an intellectual one. We shall see, as this is part one of six half-hour episodes.
The highlight of my week would have to be Roof Racks and Hatchbacks: the Family Car. This is because I love archive footage, I love cars, and I love the way the BBC's Timeshift team use the material available to them – with a lot of time fruitfully spent in the edit suite. Anyway if you've ever wondered how we managed to get from standard family transport being a Ford Anglia, then, to a Land Rover, now, vastly larger and less green, then this will shed at least some light on that progression. It's of especial interest, oddly, to those of us who weren't rich enough to have a car, often forgotten in this age of automotive plenty.
Desmond Morris used to be hardly off our television screens and was a seemingly ubiquitous presence in our bookshops too, with his pioneering fun and engaging documentaries about anthropology: Manwatching and all that. Back in the 1970s, as families became self-consciously "modern" and "sophisticated", taking to their new European fondue sets, cars and fridges, Morris reminded us just how much we owed to apes, in terms of our social and sexual habits, and how like them we were, unselfconsciously. We were, as his great phrase went, merely naked apes.
Anyway, not quite forgotten and now approaching his 90th year, he makes a welcome return in The Secret Surrealist: Desmond Morris, an account of how the very civilised pursuit of surrealist art helps him make it through the night. Literally. He joins psychotherapist Philippa Perry in a surrealist double bill on Tuesday night, as she presents How to be a Surrealist. Your oh-so-weird evening is rounded off with Luis Bunuel and Salvador Dali's 1928 classic silent movie Un Chien Andalou (that the one where an eye gets sliced), and a compilation of Spike Milligan's Q sketches, which, to be honest, haven't aged quite so well.
Finally, your duty watches this week as a loyal citizen anxious to take part vicariously in moments of national pageantry comprise the final of The Voice this evening (with will.i.am) and the Oxbridge Boat Races (women's and men's, both with Clare Balding) tomorrow. I was rude about Red Nose Day lately, talking about national telly festivals, and I now realise I oughtn't to have been, because the endless hours of Russell Brand's failed rehabilitation, forced jollity and awkward juxtapositions also included a four-minute segment from the This Country team. So for that, Red Nose, all is forgiven.
Register for free to continue reading
Registration is a free and easy way to support our truly independent journalism
By registering, you will also enjoy limited access to Premium articles, exclusive newsletters, commenting, and virtual events with our leading journalists
Already have an account? sign in
Join our new commenting forum
Join thought-provoking conversations, follow other Independent readers and see their replies