China appoints new governor for Xinjiang known for defending Uyghur policies
Xinjiang's new governor is known for defending the Chinese government against allegations of human rights abuse in the province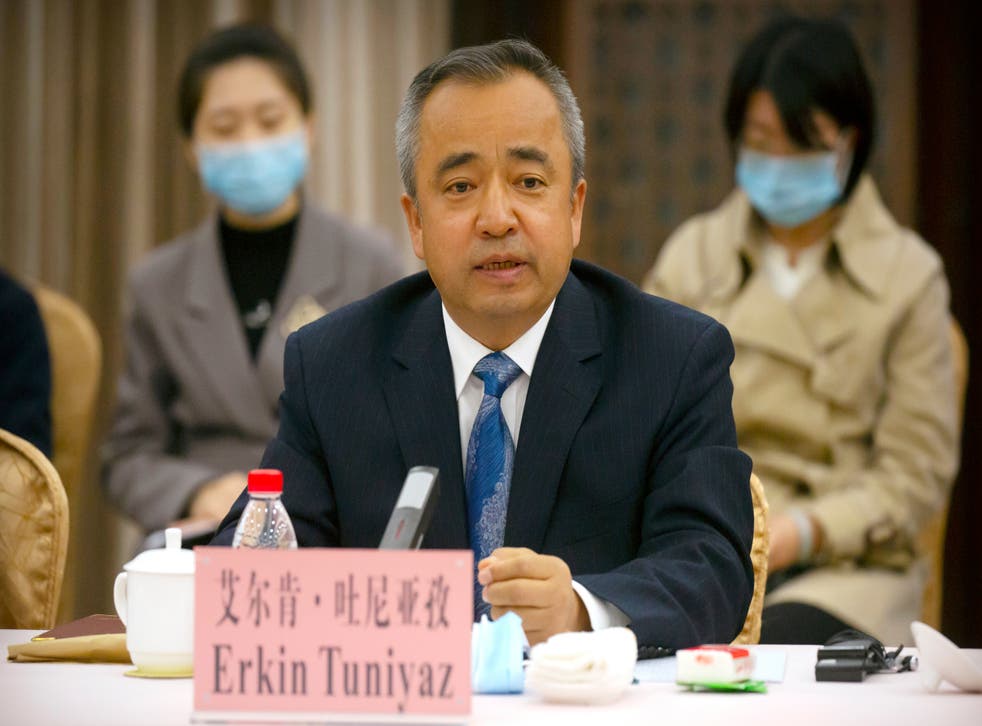 China on Thursday appointed a new governor for the northwest province of Xinjiang, where the government has been accused of torturing and sexually abusing Uyghur and other Muslim minority communities.
Beijing named Erkin Tuniyaz the acting governor of the region, replacing 68-year-old Shohrat Zakir, whose resignation was accepted by the 29th session of the standing committee of the 13th People's Congress of the Xinjiang Uyghur Autonomous Region.
The former governor held the post for seven years.
Mr Tuniyaz, 59, is the only Uyghur member of the Communist Party in Xinjiang and will hold the second-highest position in the province.
The region's most powerful official is Communist Party secretary Chen Quanguo, who is accused of overseeing mass detentions and has been included on the US's sanctions list over the alleged atrocities.
Mr Tuniyaz is a former vice governor and belongs to the ethnic Uyghur community. He studied economics and law and worked his way through the ranks in Xinjiang.
He is known for his vociferous defence of Beijing's policies and for pushing back against the alleged human rights violations in the province.
The ruling Communist Party has been accused of using facilities for detaining members of the minority community. Beijing claims these centres are intended for vocational training, deradicalisation and turning the region's residents away from terrorism and extremism.
In a video address to the UN in February, however, Mr Tuniyaz said "all trainees of these [detention] facilities had graduated" by October 2019 and now had "stable jobs and are living a normal life".
The centres "educated and rehabilitated people influenced by religious extremism and guilty of minor crimes in order to prevent them from falling victim to terrorism and extremism" and to protect citizens from infringement of their basic human rights, he added.
Over a million Uyghurs and people of other minority communities have been detained in the region. Under assimilation drives, Beijing has forced Uyghurs to undergo sterilisations and abortions, the Associated Press reported. The United States State Department and the parliaments of Canada and the Netherlands have determined that China's conduct against the Uyghurs constitutes genocide under international law. But Beijing has reportedly expanded the detention centres with more permanent facilities.
Many in the camps have been clandestinely sentenced to extrajudicial trials and transferred to high-security prisons for studying Islam and having contact with people overseas.
Amid the Covid-19 pandemic, the detainees were ordered to drink traditional Chinese medicines to combat the coronavirus.
Several western countries have imposed sanctions on officials in China over rights abuses in Xinjiang. Apart from sanctions, the countries have included a travel ban and ordered the freezing of assets to corner China.
Join our new commenting forum
Join thought-provoking conversations, follow other Independent readers and see their replies