Landmark ruling in Japan finds same-sex marriage ban 'unconstitutional'
A landmark judgement paves way for same-sex marriage in Japan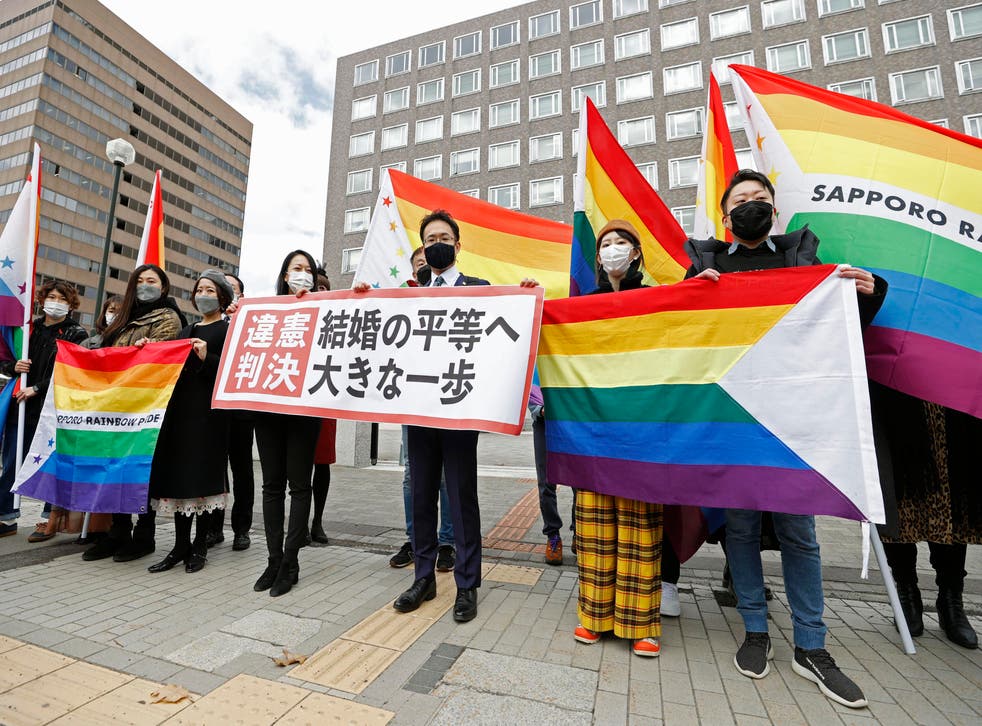 A district court in Japan on Wednesday termed the ban on same-sex marriages "unconstitutional" — a landmark judgement that LGBT+ activists believe could usher in a new era of marriage equality in the country.
Japan is the only G7 country that doesn't recognise either same-sex unions or same-sex marriages and this is the first time a court has ruled on the constitutionality of same-sex marriage in the country.
The Sapporo District Court in Japan said that "sexuality, like race and gender, is not a matter of individual preference," and hence the ban on same-sex couples "cannot be justified," the Associated Press reported.
News reports mentioned that the unprecedented ruling by the district court over a lawsuit brought by three same-sex couples in Hokkaido in north Japan, however, rejected the couples' demand for 1 million yen (£6,584) each for psychological damage caused by the country's ban on same-sex marriage.
According to Kyodo News, the three couples had tried to register their marriage with the local authorities in January 2019 but were rejected because same-sex marriage wasn't recognised in the country. They were among thirteen other couples who had filed similar lawsuits on Valentine's Day in 2019 in Sapporo, Tokyo, Osaka and Nagoya. "Another three same-sex couples filed a suit in Fukuoka in September that year," the reports said.
Read more:
In Japan currently, marriage should be "based on the mutual consent of both sexes" which is interpreted as allowing marriage only between a man and a woman. As of now, same-sex couples cannot inherit their partner's house and neither do they have any parental rights to the children their partners may have.
After the historic judgement by Judge Tomoko Takebe, a plaintiff in his 40s, told Kyodo News, "My tears didn't stop flowing. The court took us seriously." Another plaintiff said, "It's like a dream. Now the government only needs to act."
Local reports said that there was a queue outside the courtroom to get tickets to witness the historic verdict.
This ruling gives hope to other plaintiffs who have filed similar lawsuits in other parts of Japan. This ruling may indirectly influence the outcome of those by changing public opinion, Gon Matsunaka, director of activist group Marriage for All Japan and representative at Pride House Tokyo, told Reuters.
In Asia, Taiwan is the only country so far that has legalised same-sex marriage. In a statement issued on 18 September, 2018, by the American Chamber of Commerce in Japan — alongside four other  Chambers — recommended that the "Government of Japan recognises the right to marry to lesbian, gay, bisexual and transgender (LGBT) couples.
To do so would remove handicaps facing companies doing business in Japan in attracting and retaining talent and in treating the full diversity of their workforce equitably, which are foundational elements of a work environment conducive to maximum productivity."
According to Kodo News, "While marital status has not been granted to same-sex couples, 74 municipalities have enacted partnership ordinances as of January, with more than 1,500 couples signing up for certificates, according to Nijiiro Diversity, a pro-LGBT group."
It noted that the city of Sapporo started to issue partnership certificates in 2017, becoming the first major Japanese city to do so.
"I'm really happy. Until the ruling was announced, we didn't know this was what we'd get and I'm just overjoyed," Mr Matsunaka said.
Join our new commenting forum
Join thought-provoking conversations, follow other Independent readers and see their replies