North Korea tells the US to 'avoid causing a stink' if it wants good relations
North Korean leader Kim Jong-un's sister Kim Yo-jong issues stern warning to the US to avoid 'causing a stink'
Maroosha Muzaffar
Tuesday 16 March 2021 09:09 Comments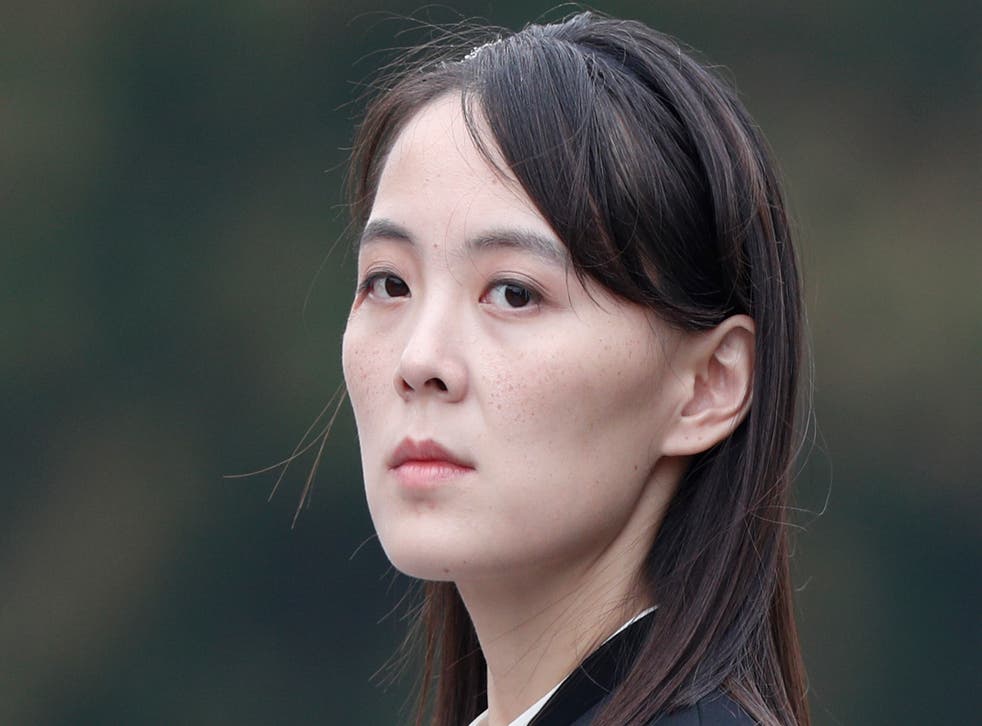 North Korea's leader Kim Jong-un's younger sister has sounded a warning to the new US government, advising it against "causing a stink at its first step" in the region, if it wished to "sleep well for the next four years."
The comments of Kim Yo-jong, who is a key figure in North Korean politics, came in the wake of US secretary of state Anthony Blinken's and defence secretary Lloyd Austin's visit to Tokyo and Seoul.
Ms Kim told Pyongyang's official state-controlled newspaper Rodong Sinmun, "a word of advice to the new administration of the United States that is struggling to spread the smell of gunpowder on our land from across the ocean."
"If it wants to sleep in peace for coming four years, it had better refrain from causing a stink at its first step," she said.
Ms Kim is a trusted ally of her brother Kim Jong-un and has been called a "propagandist in chief" of the state. Last year, in her first official statement, she called South Korea a "frightened barking dog" after it protested against a live-fire military exercise carried out by the North. She said that Seoul had no right to condemn the North's weapons test when South Korea was itself conducting military drills.
The visit by the US diplomats to Tokyo and Seoul is the first overseas trip by top cabinet members of the Joe Biden administration. Reuters reported that Mr Blinken addressed the US embassy staff in Tokyo and said that "We really come to reaffirm the fact that the alliance is as we'd like to say the cornerstone of our peace, security and prosperity."
Talking to a group of Japanese business leaders, he added, "The economic relationship between the United States and Japan is, as you know very well, one of the strongest in the world."
Ms Kim's statement in state media also marks the first time that North Korea has acknowledged the new president in Washington three months after the Joe Biden-Kamala Harris administration took charge.
Read more:
This visit to Japan and South Korea, which the US considers "key allies" is aimed at further strengthening their connection with "the Indo-Pacific partners to address the China challenge."
In an op-ed in the Washington Post, Mr Blinken and Mr Austin said, "our diplomats and defence leaders strategise together on how to confront shared threats such as North Korea's nuclear weapons and ballistic missile programs. We stand together in support of democratic values and will do so strongly wherever they are challenged. We collaborate on the full spectrum of new global security issues, including climate change, cybersecurity, and health security and pandemic preparedness."
Last week, the US and South Korea conducted their annual military exercise — although it was scaled back due to Covid-19 this year, and it, as expected, angered North Korea. According to news reports, North Korea called these exercises a "rehearsal for war."
In her statement after the US-Seoul military exercises, Ms Kim said, "It will not be easy for the warm spring days of three years ago to come back if the South Korean government follows whatever instructions of its master."
North Korea's nuclear ambitions are expected to be on top of the agenda for the two top US diplomat's visit to the Asian countries. In the Washington Post op-ed, they said, "The Indo-Pacific region is increasingly the centre of global geopolitics. It is home to billions of the world's people, several established and rising powers, and five of America's treaty allies. Plus, a great deal of the world's trade travels through its sea lanes."
Register for free to continue reading
Registration is a free and easy way to support our truly independent journalism
By registering, you will also enjoy limited access to Premium articles, exclusive newsletters, commenting, and virtual events with our leading journalists
Already have an account? sign in
Join our new commenting forum
Join thought-provoking conversations, follow other Independent readers and see their replies