'One in million' conjoined twins born in Odisha, India
Parents did not know they were carrying conjoined twins until the delivery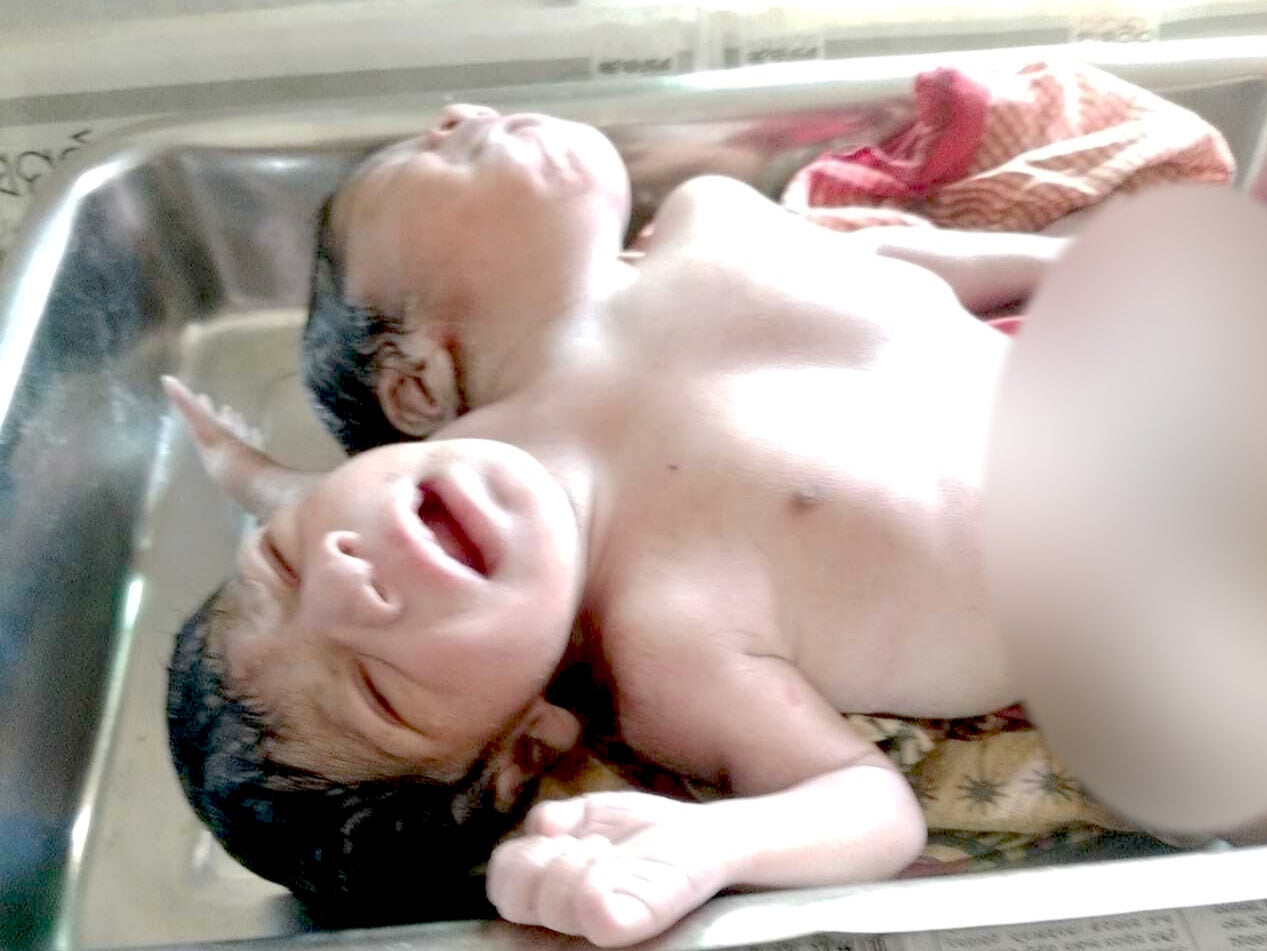 A very rare pair of conjoined twins with two heads, three arms and a shared torso were born to a farmer couple in India who say they cannot afford the "life-saving" surgery their daughters need.
Mother Ambika Parida, 32, from Kendrapara district in the eastern Indian state of Odisha, did not know that she was carrying conjoined twins until doctors at a private nursing home conducted the caesarean surgery to deliver the babies.
The daughters, born on Monday, are attached at the abdomen and share the same genitalia, as well as a the third arm that emerges from between their two heads.
Dr Debasish Sahu, the paediatrician at Kendrapara district hospital, said there was very little chance of survival and a normal life for children in such a condition.
"The conjoined twins are a rare congenital anomaly and are joined at the chest and abdomen. This happens only when the fetus in the womb of the woman does not develop properly," Dr Sahu said.
He described the condition as a "one in a million" event.
The twins were shifted to Sardar Vallabhbhai Patel Post Graduate Institute of Paediatrics (Sishu Bhawan) in Cuttack for further treatment while their condition remains stable.
The parents, Ms Ambika and Umakant Parida, who are farmers from a small village in the Rajnagar area, said they are seeking the state government's help to cover the surgery of their daughters, local journalist Pravat Kumar Parida told The Independent.
In 2017, conjoined twins Jaga and Kalia were successfully separated at the All India Institute of Medical Sciences (AIIMS) in Delhi after the Odisha government funded the surgery.
"The parents are very poor and said they would not be able to afford the surgery, even as doctors said the chances of survival are [little]," he said.
Ms Ambika, who is also a mother to a son, got scans done during the initial stage of her pregnancy. But doctors said nothing to her about the twins being conjoined at the time, Mr Pravat said.
Join our commenting forum
Join thought-provoking conversations, follow other Independent readers and see their replies