India coronavirus: Bodies piling up at Delhi crematoriums as human remains 'burned next to pavement'
Many burial grounds report Covid influx as hospitals run out of beds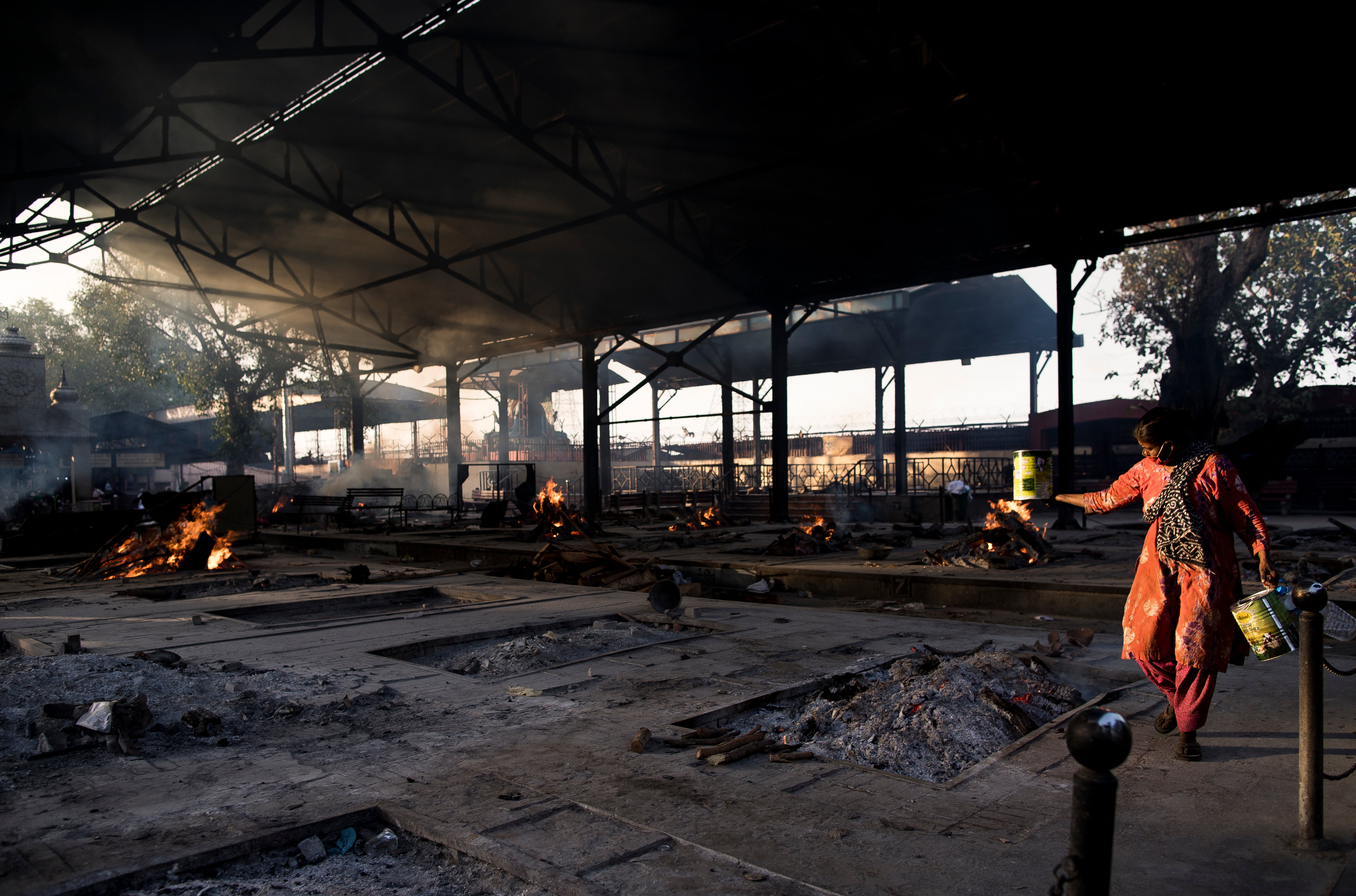 India's crematoriums and burial grounds are becoming overwhelmed amid a sharp rise in Covid-19 deaths, as the country suffers the world's worst surge in coronavirus cases.
In the national capital Delhi, the government has ordered cremation grounds to increase their capacity to double or more to meet increasing demand.
However, people have still been seen waiting outside for final rites with ambulances lined up and, in several places, dead bodies lying along the road for hours.
Nigambodh Ghat, one of the largest cremation grounds in Delhi and is connected to six Covid hospitals in the city, increased its capacity from 36 to 63 pyres, yet there are still hours-long waits for cremation of Covid bodies.
"Anyone who comes has to wait at least a few hours," a medical worker who brings bodies to the ground from a hospital said on condition of anonymity.
On Sunday night, a video of bodies being burnt near what looked like a footpath at Hindol Ghat in the city of Ghaziabad, a satellite city of Delhi, horrified many of social media. Rajiv Agrawal, a worker at the crematorium toldThe Independent that there was at least a 12-hour wait for the cremation of bodies that arrive at the ground. 
"We have a set some platforms aside for Covid bodies, each pyre takes two to three hours to burn," he said, stating that the number of deceased patients arriving at the ground was increasing day by day. "Anyone coming here has to wait for half a day or more to get the final rites done."
However, he denied the bodies were being burnt on the footpath, and said that there were platforms set for the cremation and it was done within the boundaries of the ground.
Officials at the Seemapuri crematorium, which is attached to two of Delhi's biggest Covid hospitals, said they had also witnessed an increase in the number of cremations.
Workers at several grounds have said the number of Covid-related dead bodies this year was much bigger than the same period in 2020. 
While India has so far been lauded for keeping Covid-19 fatality rates lower than much of the world, and for its efficient vaccine production, a more violent second wave is pushing the country into a grim state.
India is now reporting the world's highest daily increase of coronavirus cases, and has taken the spot of the world's second worst-hit nation after the US, having leapfrogged Brazil. 
On Monday, India recorded 273,810 fresh infections and 1,619 deaths in a new record high, taking the caseload to 10.5 million. It was the fifth straight day that over 200,000 cases were reported in the country. 
Social media has been flooded with people asking for help as many hospitals run out of space to accommodate new patients. There have also been reports of patients dying outside hospitals while waiting for admission, as availability of oxygen cylinders become scarce.
India's local media has been filled with grim accounts of bodies piling up in front of crematoriums and workers saying they have seen Covid-19 deaths climbing. Reports suggest the situation is more bleak than official statistics show.
According to Indian news organisation The Wire, while the government of the northern state of Uttar Pradesh, which is the second worst hit state of Covid-19, showed zero deaths in cities such as Agra, Ghaziabad and Jhansi in the past 24 hours, and just one death from Bareilly, there have been huge crowds at crematorium grounds in these districts with several people taking to social media asking for hospital beds. 
Arvind Kejriwal, Delhi's chief minister, said the city has almost run out of intensive care beds and was facing an acute shortage of medical oxygen with rising Covid-19 cases, as he announced a week-long lockdown.
The Narendra Modi-led federal government has faced strong criticism as it continues to organise large political rallies in the state of West Bengal during elections.
Mr Modi's administration has also allowed Kumbh Mela – considered the world's largest religious gathering, in which millions of devotees reached banks of River Ganges for a holy dip, after which many have tested positive – to be held.
Join our commenting forum
Join thought-provoking conversations, follow other Independent readers and see their replies