Surge in migrant workers leaving Delhi as spectre of another lockdown looms over India
Government has dismissed concerns of a new mass movement of people, after the disastrous exodus at beginning of lockdown last year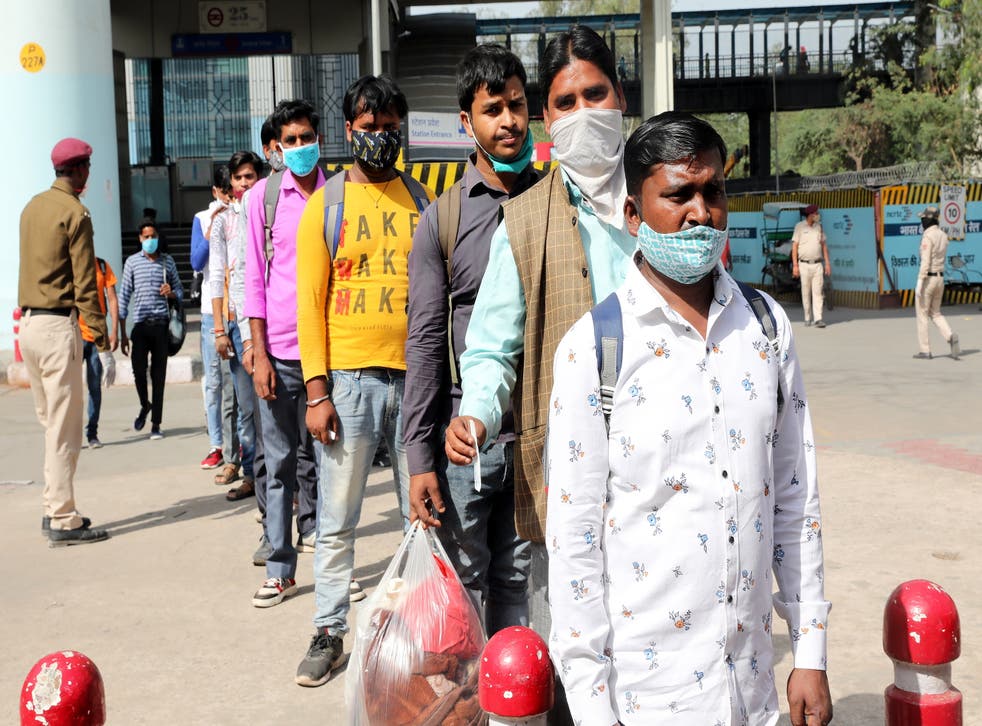 With India seeing soaring Covid case numbers and new restrictions being enforced state by state, migrant workers have started queuing up at Delhi's interstate terminals to return to their home towns and villages.
Those fleeing the capital fear a return to the kind of lockdown India saw imposed overnight in March last year, a decision that led to a massive and deadly exodus of migrant labourers from major cities across the country.
So far Delhi – which saw a record spike of 13,500 new infections on Tuesday – has ordered a night-time curfew for its 29 million residents which will be in place until 30 April, as well as a ban on large gatherings.
Still reeling from the financial impact of last year's lockdown, for Sadanand Kumar, 45, the imposition of a curfew by the Delhi government is a warning sign that he feels he cannot ignore.
"Currently, the government has imposed the night curfew. But I fear that there might be a lockdown again." Working as a driver in Delhi, he says, his income has plunged since the government announced the nightly restrictions. And while the city's chief minister Arvind Kejriwal has ruled out the possibility of another complete lockdown, his words have done little to soothe Kumar's anxiety.
"I cannot describe in words what a nightmare the last lockdown was for people like me. We used to go from counter to counter, wondering if we might get a bus or a train back home," he tells The Independent. "I don't think I will be able to survive the lockdown this time. So, it's better that I leave."
Dinesh Kumar, 25, says he was left stranded in Delhi when the Modi government moved to impose the countrywide lockdown last year.
At the time economic activities came to a standstill and millions were rendered jobless, as factories and businesses shut down and households told domestic workers to stay away. With no prospect of an income in the city, the country descended into chaos as workers went home en masse, some walking hundreds of kilometres as most public transport was suspended.
Dinesh Kumar was one of those who couldn't arrange private transport, and so had no choice but to make the journey on foot.
"When the lockdown was first imposed, my salary was cut to half. And then next month we were neck-deep in debt.  We left for my village on foot. Travelling for days without food, we were also assaulted by the police on the journey back home. I am really not ready to go through it again," he says as he boards a Bihar-bound bus at the interstate bus terminal in Delhi's Anand Vihar. "I have vacated my rented apartment and will not return till things return to normalcy."
Naveen Guha, 40, a tour and travel agent at the bus terminal in Delhi, says they have seen a surge in the number of people travelling on buses bound for the Indian states of Uttar Pradesh and Bihar – which provide many of the capital's workers – since the government moved to announce a curfew in Delhi.
"There is at least a 30 to 40 per cent increase in the passengers boarding buses to UP and Bihar. And it coincides with the government's announcement of curfew. So I strongly believe they are travelling back due to the fear of Covid-induced lockdown," he says.
Rajesh Kumar, a Delhi-based travel agent, says that although there has been a surge in the number of passengers boarding buses it is not yet anything like the scale of last year's exodus. "There are those who might be travelling due to the fear of lockdown, but it is definitely not happening in large numbers like it did last year," he says. "I have not seen that many people travelling back home under [such] pressure."
Delhi is not the only city that is seeing an increase in reverse migrations as Covid numbers rise. Similar reports have emerged from the western state of Maharashtra as well, which recorded an alarming 63,000 new cases on Monday.
Home to India's financial capital Mumbai, the state has accounted for nearly half of the country's daily infections for the last week, prompting the government to announce a slew of restrictions including weekend lockdowns and a weekday night curfew.
The government-run Indian Railways denied reports of a new mass migration, even as they moved to announce three special trains from Mumbai to northern India to cater to the steady increase in the number of migrants heading back home.
"Some old videos showing crowd at various stations are making rounds in social media. Some news reports also falsely mention that there is mass movement of people. We appeal everyone to avoid sharing such videos. People are requested not to believe in such rumours," said the railways ministry.
Join our new commenting forum
Join thought-provoking conversations, follow other Independent readers and see their replies