Why women in India are flaunting ripped jeans
Indian women respond emphatically to male government minister who said ripped jeans 'pave the way for societal breakdown'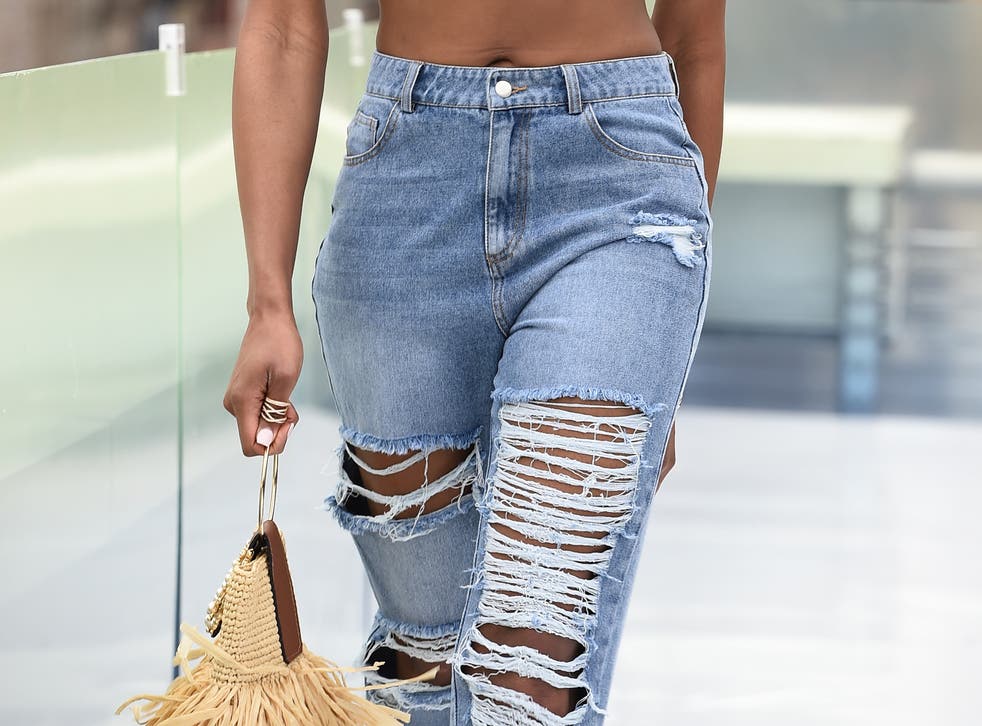 Indian women are flaunting pictures of themselves in ripped jeans on social media in response to a minister who said that wearing them leads to "societal breakdown".
The newly-sworn-in chief minister of Uttarakhand state in northern India, Tirath Singh Rawat, made the controversial comments at a workshop for the protection of child rights in Dehradun.
Rawat said at the workshop: "Ripped jeans pave the way for societal breakdown and is a bad example parents set for children."
The minister's wife, professor Rashmi Tyagi, a professor of psychology at Garhwal University, tried to defend her husband by saying his comments were "wrongly interpreted" and "blown out of proportion".
"He was talking about how we are aping Western culture blindly and not following our own traditions and values which are seeped with thousands of years of cultural wisdom," she told reporters.
Read more:
Rawat's comments drew a massive social media backlash from women, gender rights activists, opposition politicians and others, while the opposition Indian National Congress demanded his resignation or an apology. Jaya Bachchan, a member of the upper house of Parliament (Rajya Sabha) said that "this was the kind of mindset that encourages crimes against women".
Rawat was recalling a time when he met a woman working with a non-governmental organisation wearing ripped jeans. "If this kind of woman goes out in the society to meet people and solve their problems, what kind of message are we giving out to society, to our kids?" he asked. "It all starts at home. What we do, our kids follow."
Since late on Wednesday, Twitter in India has been flooded with photos of women wearing ripped jeans using hashtags like #RippedJeansTwitter.
Priyanka Chaturvedi, another Rajya Sabha member, tweeted: "The country's sanskriti (culture) & sanskaar (traditions) are impacted by men who sit and judge women and their choices."
Swati Malwal, chairperson of the Delhi Commission for Women tweeted: "Rapes happen not because women wear short clothes but because men like Tirath Singh Rawat propagate misogyny and fail to do their duty. Stand in solidarity with the women in #RippedJeansTwitter!"
Randeep Surjewala, Congress's chief spokesperson and general secretary, said Rawat's comments reflect the "anti-women face of the (ruling) Bharatiya Janata Party to which Rawat belongs", calling it "a result of its medieval mindset".
In India, according to the latest available crime records data, at least 88 rapes are recorded per day with a conviction rate below 30 per cent.
Register for free to continue reading
Registration is a free and easy way to support our truly independent journalism
By registering, you will also enjoy limited access to Premium articles, exclusive newsletters, commenting, and virtual events with our leading journalists
Already have an account? sign in
Register for free to continue reading
Registration is a free and easy way to support our truly independent journalism
By registering, you will also enjoy limited access to Premium articles, exclusive newsletters, commenting, and virtual events with our leading journalists
Already have an account? sign in
Join our new commenting forum
Join thought-provoking conversations, follow other Independent readers and see their replies