Stripped, bullied and abused with homophobic slurs: The two-hour ordeal that ended in a student's death
Police have arrested 13 people over the so-called 'hazing' incident that resulted in the death of a 17-year-old first-year student and could bring charges under India's tough child protection laws. Namita Singh reports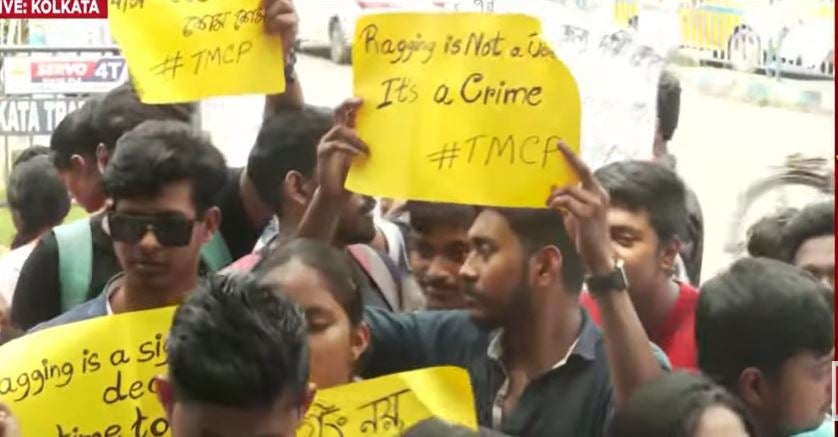 A 17-year-old Indian student whose naked body was found on the premises of a premier university earlier this month was subjected to slurs and had run room-to-room in his hostel to escape being bullied before falling to his death, police investigations have revealed.
The student, who has not been named for legal reasons, had moved 123km away from his home in West Bengal to the eastern state's capital Kolkata, so he could attend the freshman year of college at Jadavpur University (JU).
Getting admitted to a Bengali language undergraduate course at the premier public state university was a matter of great pride for the student's family.
But just three days later, his body was found near the varsity's boys' hostel.
Now state investigators are trying to piece together the events leading to the teen's death, amid claims he was a victim of "ragging" and was sexually assaulted minutes before his fall.
Ragging or hazing are terms used in India to describe bullying treatment meted out to first-year students by those in senior years, which can last the full year and ranges from performing menial chores to being subjected to physical abuse. The practice has long been outlawed, yet remains widespread.
The night of 9 August was a two-hour-long ordeal for the student. Stripped and paraded naked, he ran from room-to-room to escape bullying, before falling to his death at 11.45pm, reported several Indian outlets, citing police sources.
Police have so far arrested 13 people in the matter, including present and former students, and are considering invoking India's stringent Protection of Children from Sexual Offences law.
According to the investigators, only one of the 13 arrested did not play an active role.
The teen was "disrobed, bullied and abused with homosexual slurs", reported the Indian Express.
Police have carried out several reconstructions of the events on the night of 9 August in the JU main hostel, which ultimately led to the death of the student.
The teen – residing in room no 68 – was summoned to room no 70 of the hostel by a senior, police were quoted as saying. There, he was stripped naked. He tried to escape the harassment and lock himself in room no 65, but was unable to do so.
He was chased from one room to another, with the seniors allegedly throwing homophobic slurs at him.
"Some residents of the hostel have said that the 17-year-old told them that he was not gay. What provoked him to say so is now the focus of our investigation," a senior police officer monitoring the investigation told the outlet.
"The teen was definitely ragged and sexually molested. He was paraded naked in the corridor after he was forced to undress in room no 70. We have evidence. Those 12 arrested have played some role in the whole episode," an officer told the Press Trust of India on the condition of anonymity.
The victim eventually fell from the second floor of the balcony just before midnight. The investigators have so far not been able to establish if it was an accident, a premeditated act or death by suicide.
The teen was taken to a private hospital with multiple wounds, where he succumbed to his injuries about five hours later. An initial postmortem revealed he suffered a fracture on his spine, as well as injuries to the left side of his head, rib and pelvis, reported The Times of India.
"I want those who are behind the death of my son to face hell. He was murdered. He kept telling us that he was not well and was scared, and I should have brought him back home that same day," the father of the student told The Indian Express.
"Senior students at the hostel are responsible for my son's death. They must have been scared that he would tell us the entire story of ragging if he returned home.
"My son going to Jadavpur University was like a dream. Ever since he secured a seat there, we have been telling everyone with pride. Little did we know that this is what happens in big universities.
"Many of my friends and others from my social circle are from JU, so I was very sure that he would be fine. My son was a very decent boy, he was every teacher's favourite."
The incident has received national attention and is now the subject of a range of separate investigations, including by the West Bengal Human Rights Commission (WBHRC), the University Grants Commission, the National Human Rights Commission, the state's child rights body, a state fact-finding committee and two of the university's internal committees.
The WBHRC's report was the first to have indicated that the death was a result of ragging. The university administration has said it was not aware of the bullying beforehand while declining to comment further on the case.
The university has seen a change of leadership since the incident, with state governor CV Ananda Bose appointing Buddhadeb Sau, a professor of mathematics at the university, as its interim vice chancellor on Monday.
Several anti-ragging measures in the university have also been announced, including the installation of CCTV cameras at hostel gates, the segregation of first-year students from seniors and an increase in hostel security staffing, reported The Quint.
If you are experiencing feelings of distress, or are struggling to cope, you can speak to the Samaritans, in confidence, on 116 123 (UK and ROI), email jo@samaritans.org, or visit the Samaritans website to find details of your nearest branch.If you are based in the USA, and you or someone you know needs mental health assistance right now, call the National Suicide Prevention Helpline on 1-800-273-TALK (8255). This is a free, confidential crisis hotline that is available to everyone 24 hours a day, seven days a week.If you are in another country, you can go to www.befrienders.org to find a helpline near you.
Join our commenting forum
Join thought-provoking conversations, follow other Independent readers and see their replies