Experts call on UK to donate vaccines to India as Covid situation deteriorates
Not donating spare doses 'will come back to haunt us', warns Jeremy Farrar
Rory Sullivan
Friday 23 April 2021 12:19 Comments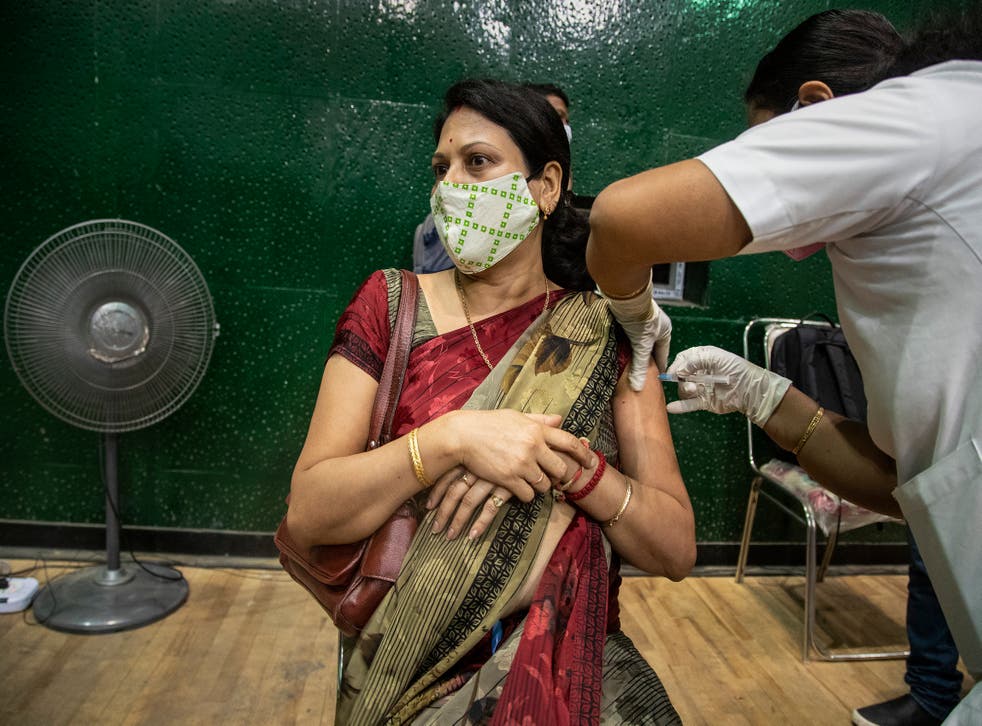 The UK should donate spare coronavirus vaccine doses to India or else it "will come back to haunt us", a British medical expert has warned.
Jeremy Farrar, director of the Wellcome Trust, made the comment on Friday after India recorded 332,730 new daily infections, the highest number seen in any country over a 24-hour period.
The epidemiologist described the UK's vaccine rollout as "phenomenal", as more than 60 per cent of adults have now received a jab. However, he reiterated that the country is not safe while Covid-19 cases soar elsewhere, facilitating the potential emergence of new variants.
He told BBC Radio 4's Today programme: "The UK has done an absolutely phenomenal job with vaccine rollout.
"I think now is the time to donate the vaccines that we have available. Yes, it will delay the vaccine rollout in this country by a little bit. But the transmission is so low in the UK that we're in a position to do that.
"And we would be better advised to prevent variants arising in the rest of the world, which will come back to haunt us if we don't drive down transmission everywhere."
His comments echo calls by former political leaders including Gordon Brown for wealthier countries to share their excess doses with lower income nations.
Writing in The Guardian earlier this month, the former prime minister said: "Immunising the west but only a fraction of the developing world is already fuelling allegations of  'vaccine apartheid' and will leave Covid-19 spreading, mutating and threatening the lives and livelihoods of us all for years to come." 
A case in point is the Indian variant - known as B.1.617 - which has spread rapidly around the subcontinent since it was first detected in October. This "double mutation" variant has also been identified in many other countries, including the UK, where a further 55 cases were found this week.
India is now in the grips of its worst coronavirus wave, with a record 2,263 deaths in a single day announced on Friday, bringing its death toll to 186,920.
Amid shortages of oxygen, the Indian government has set up special express trains to bring oxygen tankers to hospitals in New Delhi.
Saket Tiku, president of the All India Industrial Gases Manufacturers Association, said that it is "a challenge" to deliver oxygen from far-away plants to where it is most needed.
"We have ramped up the production as oxygen consumption is rising through the roof. But we have limitations and the biggest challenge right now is transporting it to where it's urgently needed," he said.
The country's escalating crisis comes amid a slow vaccine rollout, which has seen only 1.3 per cent of India's 1.3 billion people vaccinated.
Kaushik Basu, a professor at Cornell University and a former Indian government economic adviser, pointed out the irony of the situation on Twitter.
"It is tragic, the mismanagement. For a country known to be the pharmacy of the world, to have less than 1.5% of the population vaccinated is a failure difficult to fathom," he wrote.
Additional reporting from AP
Register for free to continue reading
Registration is a free and easy way to support our truly independent journalism
By registering, you will also enjoy limited access to Premium articles, exclusive newsletters, commenting, and virtual events with our leading journalists
Already have an account? sign in
Register for free to continue reading
Registration is a free and easy way to support our truly independent journalism
By registering, you will also enjoy limited access to Premium articles, exclusive newsletters, commenting, and virtual events with our leading journalists
Already have an account? sign in
Join our new commenting forum
Join thought-provoking conversations, follow other Independent readers and see their replies