Couple face huge public backlash for using sedated lion cub as 'prop' in wedding photo shoot
Animal welfare groups call for change to way licences are given to private individuals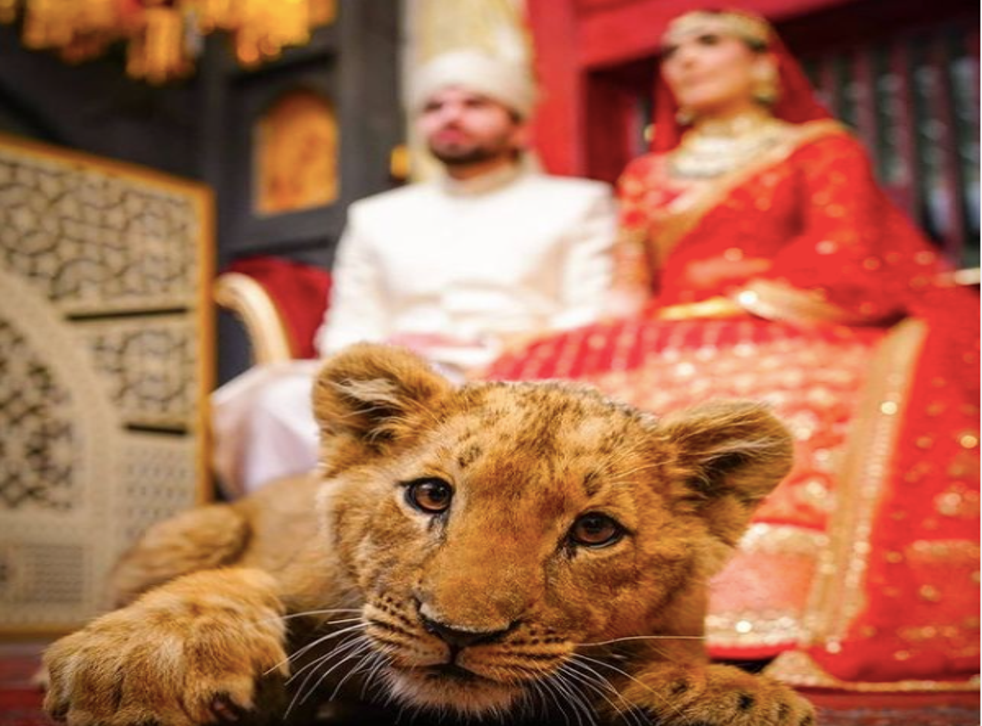 Animal rights activists have raised concerns after a sedated lion cub was apparently used as a prop during a wedding photoshoot in Lahore, Pakistan, prompting a major public outcry.
Video and stills from the shoot were shared online by the events and bridal photography studio Studio Afzl, which has a following of almost 120,000 on Instagram. The posts were accompanied by the hashtag #SherdiRani (Lioness Queen), highlighting the exotic animal's presence.
The posts, which have now been deleted, quickly backfired after they were shared by a number of wildlife groups, prompting an online backlash against the studio and the couple in equal measure.
Pakistan's Save the Wild, a non-profit that works to protect the country's wildlife from "threats of hunting and loss of habitat", tweeted that this was a case of animal cruelty.
Alerting Punjab state's Wildlife & Parks Department, it said: "@PunjabWildlife does your permit allow for a lion cub to be rented out for ceremonies? Look at this poor cub sedated and being used as a prop. This studio is in Lahore where this cub is being kept. Rescue him please."
JFK Animal Rescue and Shelter, another group which recorded and shared the footage on its own social media profiles, said it had learned that the cub was being kept at the photography studio itself. The shelter, according to local news reports, is considering legal action against the studio.
Zulfishan Anushay, the founder of JFK (the name stands for Justice for Kiki, a dog belonging to its founder) told The Independent: "The studio's management told us that the lion cub was brought [to the studio] by a friend of theirs that owned it, and according to them it was a plain coincidence that the couple was also present, so they decided to take a few pictures with the lion cub."
Reacting to the viral photos of the cub at the shoot, Twitter user Faisal Amin Khan wrote: "What's wrong with people, a sedated lion cub as 'prop'. The couple starting a new life & the studio who did that should be ashamed, it's about time @GovtofPunjabPK must rethink their 'captive breeding' policy, from political rallies to wedding shoots, animals as props, it's sick." 
Syed Hasnain Raza, wildlife and conservation filmmaker, wrote: "I need details of this #animalcruelty. Where did it take place. Who are bride and grooms. Who was the wedding photographer. Most importantly who provided this Lion cub, We need to expose this underground Mafia breed Lions in captivity (sic)."
The Independent has contacted Studio Afzl, as well as Punjab's wildlife department, but had not received a response at the time of publication.
WWF Pakistan said the prospect of wildlife groups rescuing the cub in question was unlikely. "The lion is an exotic species and is not protected under the relevant wildlife acts," Hammad Naqi Khan, the charity's director general, told The Independent .
"There are numerous, unaccounted lions in private ownership and unfortunately, it is legal to buy and sell exotic species bred within the country and lion is one of them. Therefore it is not difficult to get a cub for a shoot."
While this instance has provoked an outcry on social media, Pakistan's illegal trade in wildlife and "personal zoos" is very much thriving online with almost no regulation against it.
The non-profit JFK said that "from peacocks and exotic birds kept amid loud music at weddings to now this cub", the use of such animals is seen as a signifier of wealth and class in Pakistani society. Anushay said that it was possible to acquire a licence to own a tiger or lion as a pet for just 100,000 Pakistani rupees (about £460).
"The problem starts with the wildlife trade and these government licences to own them," the NGO said. "Wildlife animals belong in the wild! These photoshoots have become a new trend unfortunately."
It called on the government to stop issuing such licences to private individuals. "Once you get a licence in Pakistan you can treat these poor cubs as you want."
WWF Pakistan has, Khan said "called for a ban on wildlife in individual ownership", saying there were also concerns about such animals' parts being used in the illegal wildlife trade. For now, wildlife breeding farms are allowed in Pakistan and there are no protections under their licences for individual animals, once sold.
"There is no legal clause to rescue the cub, which is extremely unfortunate and we need legislative changes in the Wildlife acts to do so," Khan said.
Join our new commenting forum
Join thought-provoking conversations, follow other Independent readers and see their replies