Aung San Suu Kyi faces 14-year prison sentence amid charges of breaking official secrets law
Move comes as junta this week ordered internet service providers to shut down wireless broadband services
Tom Batchelor
Friday 02 April 2021 14:59 Comments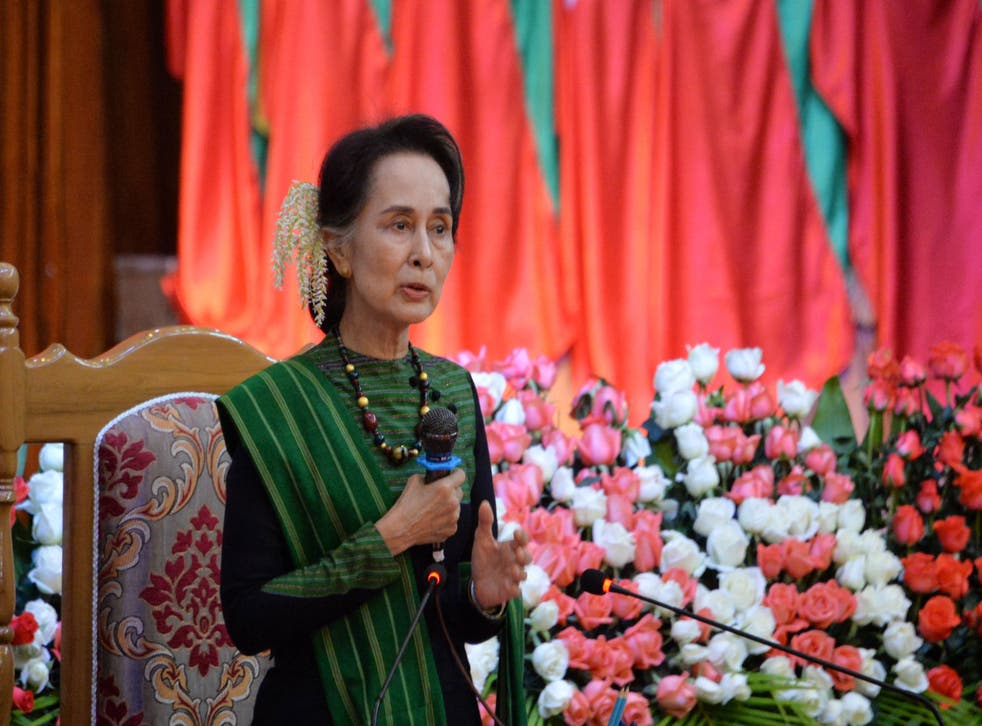 Aung San Suu Kyi, the deposed leader of Myanmar, has been charged with breaking an official secrets law – the most serious accusation yet to be filed against her.
Having been detained since the military coup in February, Ms Suu Kyi could face up to 14 years in prison if convicted of the latest charges.
Myanmar has been rocked by protests since the army overthrew the elected government amid unsubstantiated claims of fraud in November's election, which her party won with a majority.
Ms Suu Kyi's lawyer, Khin Maung Zaw, told Reuters that she and three deposed cabinet ministers, as well as detained Australian economic adviser Sean Turnell, were charged a week ago under the colonial-era official secrets law.
The army had earlier charged her with several lesser offences, including illegally importing six handheld radios and breaching Covid rules.
Read more:
Ms Suu Kyi, 75, is said to be in good health and has contested the charges.
Myanmar's junta this week ordered internet service providers to shut down wireless broadband services until further notice in a move aimed at stifling dissent.
Anti-coup groups have instead turned to radio frequencies, offline internet resources and providers of text message news alerts to try to circumvent the internet curbs, which limit access to fixed-line services only.
Protesters have called for a "flower strike" at bus stops where demonstrators killed by security forces had departed on their last journeys.
"We will leave flowers at bus stops tomorrow ... That's what I want to tell you guys before the internet is down," Khin Sadar, a protest leader, posted on Facebook.
"In the following days, there are street protests. Do as many guerrilla strikes as you can. Please join."
"Let's listen to the radio again. Let's make phone calls to each other too."
At least 538 civilians have been killed in protests against the coup, 141 of them on Saturday, the bloodiest day of the unrest, according to the Assistance Association for Political Prisoners activist group.
Protesters were out on the streets again on Thursday and two more people were reportedly killed.
Activists burned copies of a military-framed constitution and called for unity among all those opposed to army rule.
On Thursday, the UK sanctioned one of the military's biggest companies following a similar move by several western countries.
Clothing brand Next became the latest high-street brand to suspend orders from Myanmar's factories.
"The Myanmar military has sunk to a new low with the wanton killing of innocent people, including children," said the British foreign secretary, Dominic Raab.
Additional reporting by Reuters
Register for free to continue reading
Registration is a free and easy way to support our truly independent journalism
By registering, you will also enjoy limited access to Premium articles, exclusive newsletters, commenting, and virtual events with our leading journalists
Already have an account? sign in
Join our new commenting forum
Join thought-provoking conversations, follow other Independent readers and see their replies