Indonesia earthquake: At least seven dead and country 'on alert' after powerful 6.2-magnitude quake
The quake struck Sumatra and tremors were felt in nearby cities of Padang in West Sumatra province and in Pekanbaru in Riau Province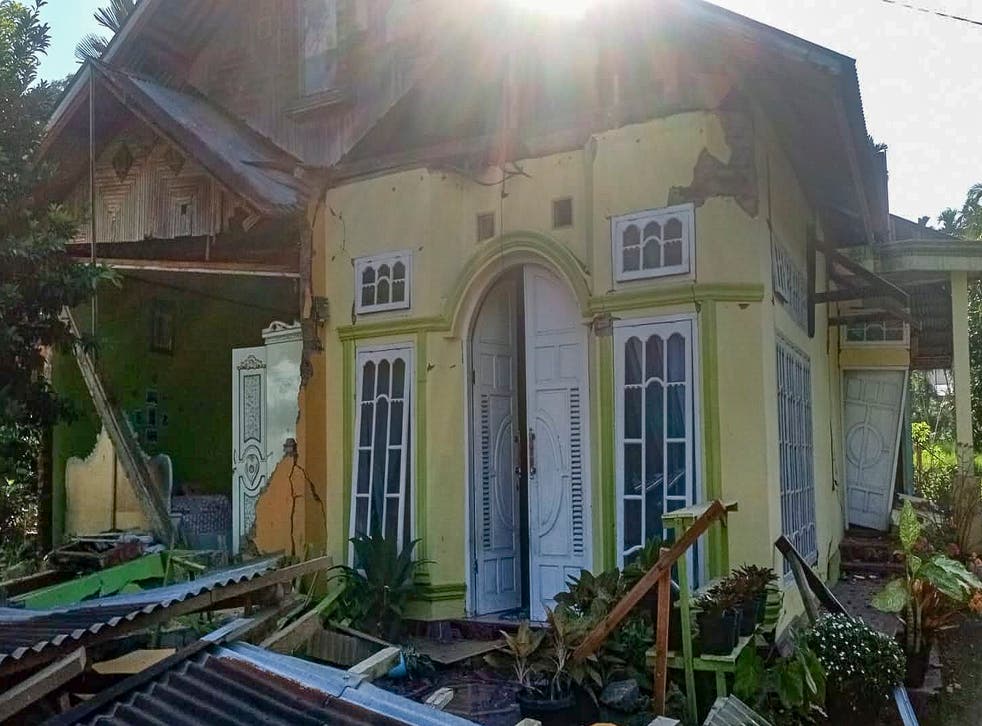 Seven people have been killed and at least 85 injured after an earthquake of 6.2 magnitude struck Indonesia's Sumatra island on Friday morning.
Tremors were felt in neighbouring countries including Malaysia and Singapore, and strongly shook the nearby cities of Padang in Indonesia's West Sumatra province and Pekanbaru in Riau Province.
At least four people, including two children, were killed in Pasaman district and three people died in the neighbouring district of West Pasaman.
At least 410 houses and buildings were damaged, the National Disaster Mitigation Agency (BNPB) said.
More than 5,000 people fled their homes to temporary shelters, mostly in devastated areas of Pasaman and West Pasaman districts, agency spokesperson Abdul Muhari said in a statement.
He added that the quake had triggered a landslide in the district and caused dozens of houses and buildings to collapse.
According to Indonesia's geophysics agency BMKG, the quake occurred on land at a depth of 10km (6.2 miles).
The US Geological Survey said the earthquake struck north-northwest of Bukittinggi, a hilly town in West Sumatra province.
"We continue to monitor and advise people to remain on alert," Dwikorita Karnawati, head of BMKG, told Metro TV.
"Because this is on land, and the scale is above six we are concerned that it could cause some damage."
The authorities nonetheless said that there was no risk of a tsunami.
Patients in a hospital in West Pasaman were evacuated from the building.
West Pasaman district head Hamsuardi told the Associated Press that along with dozens of buildings and houses, his office had also incurred some damage in the quake. The full scale of damage is still being assessed by authorities in the area.
Mr Alim Bazar, head of the disaster mitigation agency of Pasaman city near the quake's epicentre, said some buildings in the area had suffered cracks.
"The mayor ordered all second and third floors in every building to be vacated," he said.
Residents in Pasaman told local television channels that people started fleeing when the tremors started.
"At first, the quake only lasted for a few seconds. People fled their homes and buildings nearby were swaying," said Irpanda, a resident of Pasaman city, to Metro TV.
"But then another quake happened and it was so strong. More people fled their houses," he said.
Videos on local television channels and social media showed people running out of buildings in panic in Padang, the capital of the West Sumatra province.
Witnesses also reported seeing their doors and chairs shaking and photos and paintings fixed to the walls trembling.
Residents in Malaysia and Singapore also said that they felt strong tremors from the earthquake.
Lynn Chua, 44, a resident of Singapore, told The Straits Times that she was having her breakfast on Friday morning when the table started shaking around 9.45am.
"I felt two rounds of tremors, which both lasted for about five seconds. This all happened within a minute," she said.
"My husband, who also felt the tremors, later checked and told me that an earthquake had occurred."
In a statement the Singapore Civil Defence Force (SCDF) said they received several calls from the public reporting the tremors.
No injuries had been reported, the SCDF added.
The Malaysian Meteorological Department (MetMalaysia) also issued an alert on Twitter.
"Tremors from the quake could be felt in the western part of Peninsular Malaysia, especially Selangor, Perak, Negri Sembilan, Melaka and Johor," the statement said.
Due to its location on the Pacific Ring of Fire, Indonesia is prone to high seismic activity.
In January the country's Java island was struck by a powerful 6.7-magnitude earthquake.
And in December an undersea earthquake of magnitude 7.3 struck off the coast of Indonesia's Flores Island, prompting the country's monitoring agency to issue a tsunami warning, which was later called off.
Register for free to continue reading
Registration is a free and easy way to support our truly independent journalism
By registering, you will also enjoy limited access to Premium articles, exclusive newsletters, commenting, and virtual events with our leading journalists
Already have an account? sign in
Register for free to continue reading
Registration is a free and easy way to support our truly independent journalism
By registering, you will also enjoy limited access to Premium articles, exclusive newsletters, commenting, and virtual events with our leading journalists
Already have an account? sign in
Join our new commenting forum
Join thought-provoking conversations, follow other Independent readers and see their replies