Ismail Sabri Yaakob: Malaysia appoints third prime minister in as many years
Sabri replaces Muhyiddin Yassin who stepped down this week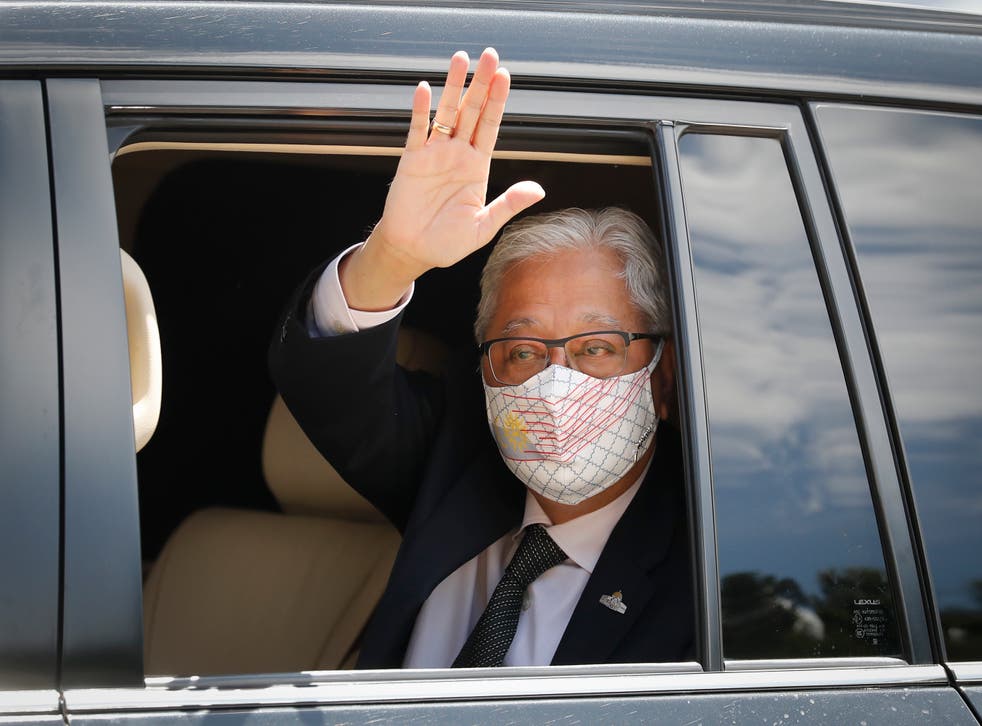 Malaysia's king on Friday appointed Ismail Sabri Yaakob as the new prime minister of the country, making him the country's third prime minister in three years.
Mr Ismail Sabri, who previously served as deputy prime minister, succeeds Muhyiddin Yassin after he lost his parliamentary majority, steeping down after a little over 17 months in power.
The appointment comes as the Southeast Asian nation grapples with a surge of Covid infections and a growing public discontent over an economic slump and the handling of the pandemic.
Mr Ismail Sabri, 61, achieved a slim majority after receiving the support of 114 members of parliament out of a total of 222, the palace said in a statement.
His appointment marked the return to the top post of the country's "grand old party", United Malays National Organisation (UMNO), which had ruled Malaysia since the country gained independence from Britain in 1957 until it was voted out in 2018 over accusations of graft.
"The king hopes the political crisis ends immediately and members of parliament can put aside their political agenda ... the people should not be burdened by unending political crisis at this time," the palace said in a statement.
Mr Ismail Sabri has become Malaysia's third prime minister since the 2018 election.
The UMNO had withdraw their support for Mr Muhyiddin last month over his failure to manage the pandemic. Malaysia has seen almost 1.5 million Covid cases and more than 13,400 deaths.
The country recorded the highest daily surge of Covid-19 cases for a third consecutive day on Friday despite a seven-month state of emergency and multiple lockdowns. More than 22,000 new Covid cases were reported on Wednesday, a record high since the beginning of pandemic.
UMNO has ruled Malaysia for over 60 years, remaining the dominant party in a coalition. After its shock defeat following the multibillion-dollar 1MDB scandal, the party returned to power in 2020 after then-prime minister Mahathir Mohamad's sudden resignation.
Mr Ismail Sabri's appointment comes with several UMNO politicians facing corruption charges.
King Al-Sultan Abdullah met the country's other senior royals on Friday and announced the decision. The King plays a ceremonial role in Malaysia but has the authority to appoint prime ministers based on parliamentary majority. He said that once the new prime minister is appointed that person will have to prove their support in a confidence vote in parliament.
Mr Ismail Sabri has studied law and has remained a member of parliament since 2004 in various portfolios. He served as a cabinet minister under two other prime ministers before Mr Muhyiddin and held various portfolios such as rural and regional development, agriculture and domestic trade.
Register for free to continue reading
Registration is a free and easy way to support our truly independent journalism
By registering, you will also enjoy limited access to Premium articles, exclusive newsletters, commenting, and virtual events with our leading journalists
Already have an account? sign in
Register for free to continue reading
Registration is a free and easy way to support our truly independent journalism
By registering, you will also enjoy limited access to Premium articles, exclusive newsletters, commenting, and virtual events with our leading journalists
Already have an account? sign in
Join our new commenting forum
Join thought-provoking conversations, follow other Independent readers and see their replies