Comedian Jocelyn Chia's MH370 joke sparks outrage in Malaysia and Singapore
Malaysia says Jocelyn Chia's MH370 joke 'showed a total lack of sensitivity' toward victims' families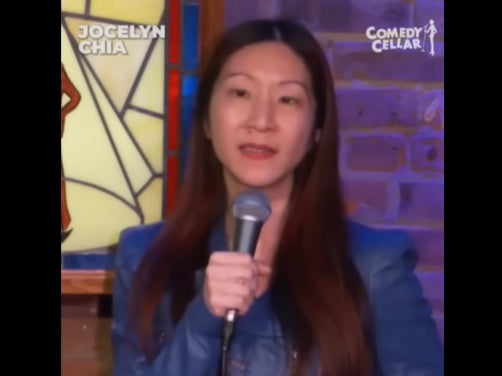 A comedian's joke about the disappearance of Malaysia Airlines flight MH370 has sparked furore in Malaysia and Singapore.
The foreign ministers of both countries condemned comedian Jocelyn Chia's joke that was made at the Comedy Cellar Club in New York recently.
Singapore-born Chia posted an 89-second clip of her comedy act on her TikTok and Instagram pages, sparking outrage among Malaysians. It also led Singapore's officials to apologise.
Singapore's foreign affairs minister Vivian Balakrishnan on Thursday apologised for offence and hurt caused to Malaysians over Ms Chia's joke.
Vanu Gopala Menon, Singapore's high commissioner to Malaysia also apologised "to all Malaysians for her hurtful remarks".
Mr Menon called her remarks about the missing airliner as well as other comments about Malaysia "gratuitously offensive".
He later clarified Ms Chia was no longer a citizen of Singapore.
"The Singapore government does not condone words or actions that cause harm or hurt to others and Chia, who is no longer Singaporean, does not in any way reflect our views," he said.
Malaysian foreign minister Zambry Abdul Kadir also reacted to the clip and said Ms Chia's act "showed a total lack of sensitivity and empathy" toward Malaysians and the MH370 victims' families.
"This video also clearly depicts behaviour that is contrary to the values of Asian countries that are known for their manners and morals."
Mr Menon said comments like Ms Chia's were "unhelpful and undermine the close trust and friendship that both our countries and peoples enjoy".
Since the outrage, Ms Chia's Twitter has been suspended and reports said she had taken down her Instagram profile, where she had shared the clip from the act. The clip stayed up on her TikTok page, which reports said was also still up.
The Strait Times reported that "lawyer-turned-comedian" Ms Chia is now a US citizen and is a regular performer in New York at the Comedy Cellar and Gotham Comedy Club.
The Star reported, citing screenshots shared by social media users, that Ms Chia had replied to a comment by local stand-up comedian Jason Leong who appeared to endorse her performance by stating "I love this bit".
"Geez people take jokes way too seriously," she reportedly replied to him on Instagram before her page was taken down.
The outlet reported that "an Instagram user @suhvrv86 commented on Jocelyn's stand-up video saying that tragedy should not be made a joke to which Jocelyn replied otherwise".
Ms Chia reportedly responded: "Tragedy plus time = comedy. It's been long enough man." She reportedly also claimed on her Instagram that people have the right to joke about tragic events if they can make it funny.
Kudsia Kahar, a former Malaysian radio announcer who shared the video on Twitter, said Ms Chia had crossed the line. "I draw the line at turning MH370 into a joke. A good stand-up never turns tragedy and deaths into a joke."
A user wrote: "It's not funny at all", adding "I lost an auntie and two cousins due to the MH370. It will never be funny".
Tiz Zaqyah, a popular Malaysian actress, tweeted: "I think she needs major nature therapy, [but] not here."
Local reports said there is also a demonstration planned for Friday in front of the US Embassy in Kuala Lumpur to protest Ms Chia. There are also calls from certain groups in Malaysia to ban her from entering the country.
Meanwhile in New York, the Comedy Cellar Club's Twitter handle wrote that they were "experiencing a significant and damaging online attack" over the comedian's show.
"In the first now-deleted version of this tweet, we used the word 'cancelled'. We were being tongue-in-cheek. We are not cancelled. But we are experiencing a significant and damaging online attack."
Popular Malaysian actor and comedian Datuk Afdlin Shauki told the Berita Harian Online newspaper that if Ms Chia were Malaysian, "I would have told her that it was too much".
"However, she is from Singapore where comedians are known to poke fun at us. That is okay because we do the same, but we generally avoid sensitive topics such as tragedies".
He added that comedians have to be mindful of the pain suffered by families of the victims.
"As a comedian, I respect the freedom of expression we comedians require to do our job," said another popular Malaysian stand-up comedian Harith Iskander.
"But it is equally important to exercise some level of sensitivity and empathy when doing certain material, especially deeply personal or tragic topics. Comedians, as artistes, need to be aware of the potential impact our words can have."
A Malaysian member of parliament referred to Ms Chia as a "bad seed".
"I must say that turning a tragedy into a source of entertainment is just 'bad taste'. But I have good faith in my fellow Singaporean friends, and I'm sure we all deeply cherish our close relations as nations," tweeted Syed Saddiq.
"Whatever it is, let's not allow one bad seed to tarnish our outlook to our neighbour. Take it as a lesson by not taking lightly other people's misfortunes."
Join our commenting forum
Join thought-provoking conversations, follow other Independent readers and see their replies