Malaysian woman, 62, marries 27-year-old man in wedding she 'hopes will be her last'
She was married twice before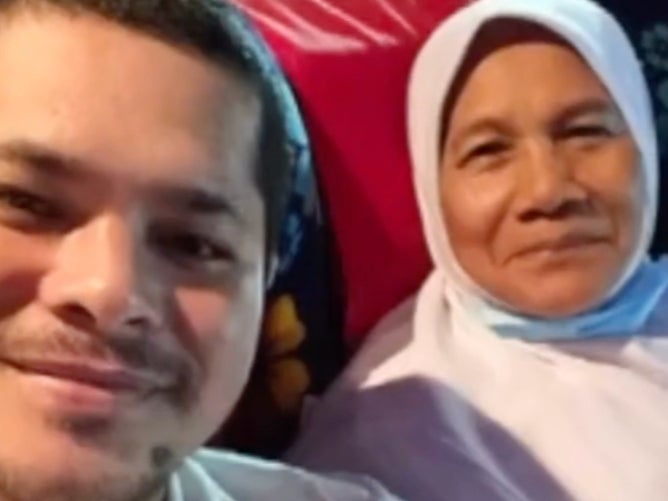 A 62-year-old Malaysian woman and her 28-year-old husband are receiving an outpouring of support on TikTok after the couple shared their love story on the platform.
Rokiah Samat married Sabahan Muhamad Amin Jumdail last year after they met for the first time on TikTok in 2021.
Now after sharing their story on the platform, they have been receiving a barrage of messages from followers who found their story cute and unusual. They have become darlings of the local media as well.
A screengrab from the video showed the birth years of both husband and wife. It read: "Wife 1961. Husband 1995" – attempting to show the age difference between the two.
"Even though he is much younger, I am confident that my husband will be able to take care of me until the end of my life, and I hope this is my last marriage," a local daily Harian Metro quoted her as saying.
Ms Samat has been married twice before. Her first marriage in 1977 lasted for 40 years. And the second one lasted two years.
"I believe she's my jodoh (match) as intended by Allah," the husband was quoted as saying.
A TikTok video of their union was viewed more than 2.4 million times after it was posted a few days ago.
Mr Amin had wanted to stay friends, local reports said after finding Ms Samat's profile on the social platform. But feelings came in the way.
The 62-year-old has ten children and 22 grandchildren and one great-grandchild.
The two decided to tie the knot last year. "I finally met her on my birthday, which was on 10 January last year, at her house," Mr Amin told mStar Online.
They got engaged on 6 June 2022 and married on 9 September.
Both told the local media that they were grateful to their families for accepting their marriage. Ms Samat also said her new husband got along well with her family.
Join our commenting forum
Join thought-provoking conversations, follow other Independent readers and see their replies