Activists launch unprecedented mass hunger strike over arrest of Vietnam climate advocate
Over 80 rights groups release letter demanding Dang Dinh Bach's release from prison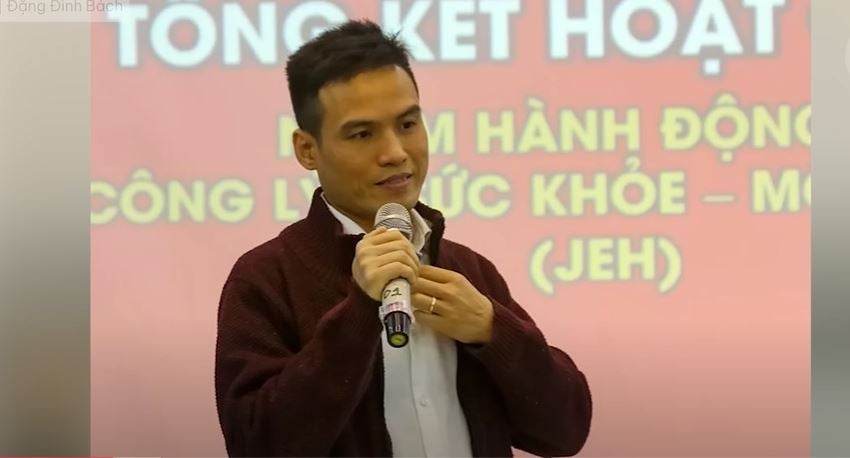 Climate justice and rights organisations across the globe began an unprecedented month-long hunger strike demanding the release of Vietnamese environmental lawyer Dang Dinh Bach.
The 44-year-old activist, who had campaigned to reduce Vietnam's reliance on coal, was arrested on 24 June 2021 and sentenced to five years in prison on "trumped up" tax evasion charges.
Bach was director of the Law and Policy of Sustainable Development Research Center, which worked with communities affected by the dumping of industrial waste, rubber plantations and coal-fired power plants. Prior to his arrest, he was designated to monitor the implementation of the European Union-Vietnam Free Trade Agreement (EVFTA).
The Communist government accused him of not paying taxes for sponsorships his organisation received from foreign donors between 2016 and 2020.
On Wednesday, over 80 rights groups across the globe published a letter calling for Bach's immediate release.
Bach had declared that he would begin a hunger strike to death on the second anniversary of his arrest in "defence of his innocence".
"In his own spirit of nonviolent and peaceful protest, we are launching in solidarity with him a relay hunger strike" through 24 May to 24 June in order to raise awareness about this extreme injustice," the letter read.
At least one participating organisation from across the world, including the US, Indonesia, Brazil and South Korea, will each day strike in solidarity with the climate advocate.
"Bach is a climate champion and should not be punished for his participation in Vietnam's clean energy transition," said Meena Jagannath, coordinator of the Global Network of Movement Lawyers at Movement Law Lab.
"It's crucial for human rights lawyers and environmental defenders to stand up worldwide for our colleague in Vietnam. ...Right now, we are all concerned for his life."
Bach is one of the four Vietnamese environmental activists sentenced for tax evasion, a charge that rights groups say is politically motivated. The others were Nguy Thi Khanh, Mai Phan Loi and Bach Hung Duong.
Khanh, an anti-coal activist, who was incarcerated for allegedly not paying tax on her winnings from the 2018 Goldman Environmental Prize, was released earlier in May after she served 16 months in prison.
According to Bach's wife, Tran Phuong Thao, he has been eating only one meal a day since 17 March.
"I have witnessed so many painful stories of poverty and terrible diseases that weigh on abused communities in Vietnam," he said in a recent statement from prison.
"They are deprived of their land and livelihoods and do not have opportunities to speak out for justice and the right to be human in the face of environmental pollution, especially in places with coal-fired power plants across the country.
"In order to conceal the truth and threaten the voices of people, the Vietnamese authorities have arrested, convicted and unjustly detained environmental and human rights activists in defiance of national and international law."
Bach was held incommunicado without access to a lawyer for at least seven months and his sentence reportedly exceeded what was asked by the prosecutor by two years.
Most people indicted on a charge of tax evasion in Vietnam are placed under house arrest or released on bail. However, all the climate activists were held for months in pretrial detention.
The imprisonment of the Vietnamese climate activists took place in the wake of the Communist government's commitment to net zero emissions by 2050 and the $15.5bn deal announced in December support for a Just Energy Transition Partnership (JETP).
The deal is supposed to help bring forward the target year for Vietnam to peak its greenhouse gas to 2030, from a previous 2035 projection. It also aims to limit its peak coal capacity to 30.2 gigawatts (GW) instead of an initially planned 37 GW, and source 47 per cent of its power from renewable energy by 2030.
The coalition supporting Bach has urged the decision-makers to ensure civil society's meaningful participation "without any threat of arrests" as they develop a plan to implement the JETP.
"A just energy transition cannot be successful with people like Bach in jail," said Maureen Harris, Senior Advisory from International Rivers.
"The result of such a repressive environment is that civil society is effectively excluded from negotiating spaces and deliberations around energy transition partnerships, programs, and projects, even as they proclaim to be 'just'".
Last week, the UN Rights Council Working Group on Arbitrary Detention found Bach's imprisonment to be a "violation of international law" and expressed concerns about a "systemic problem with arbitrary detention" of environmental defenders in Vietnam.
Join our commenting forum
Join thought-provoking conversations, follow other Independent readers and see their replies