Amazon: 69% of people think trillion-dollar company is 'too powerful'
Exclusive: Eight out of 10 of people think Amazon needs to 'listen to worker concerns about safety and workloads'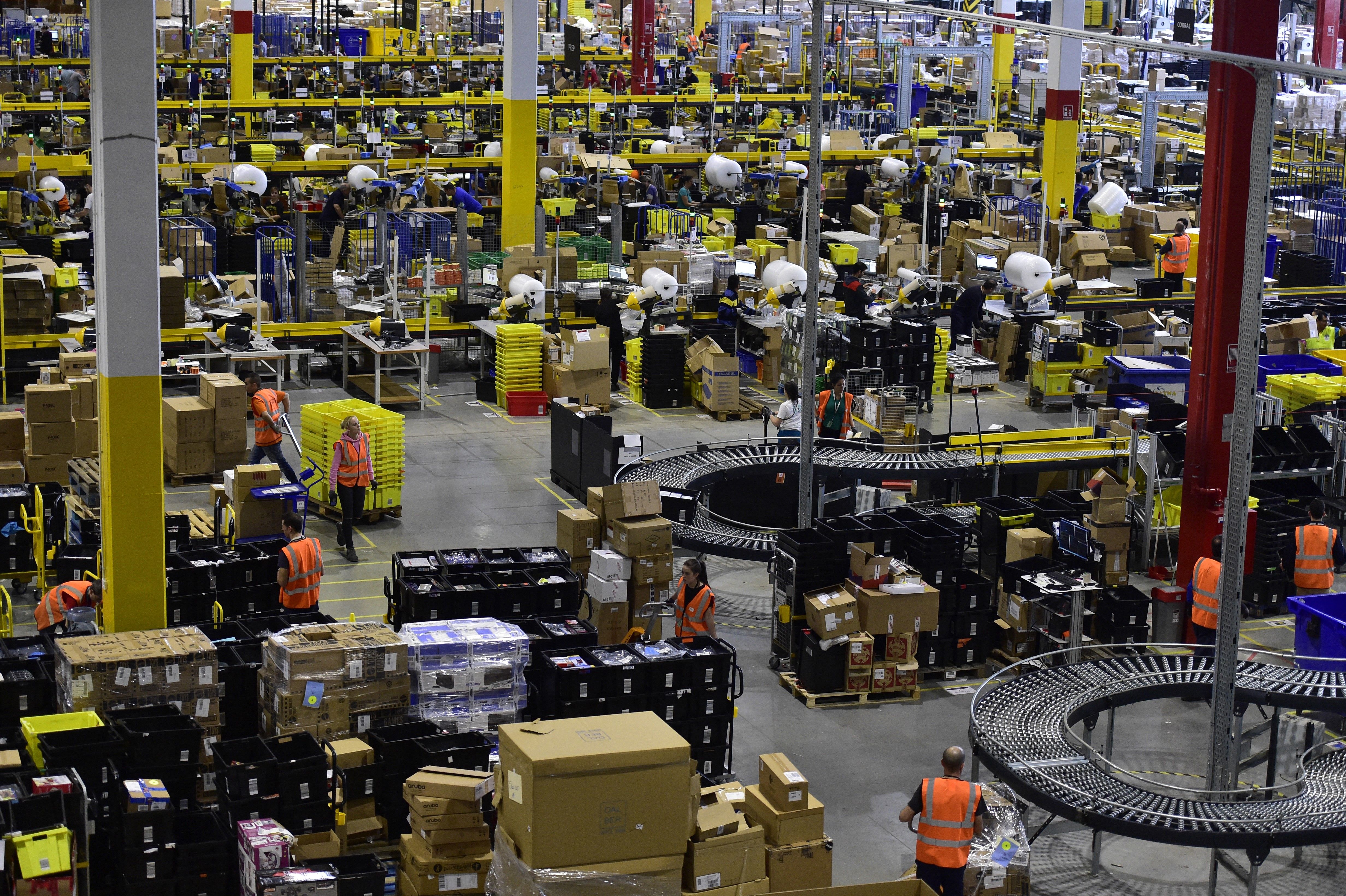 The majority of people believe that Amazon needs to do more to address the concerns of its workers and think that the shopping site has become "too powerful", according to a poll shared exclusively with The Independent.
In a nationally representative poll of over 1,000 people, 80 per cent said the shopping giant needed to "listen to worker concerns about safety and workloads", according to research conducted by polling agency Survation for Progressive International, a worldwide anti-capitalist organisation.
The poll, of 1,003 people between 15-16 September, also showed that 43 per cent of people believed that Amazon had not treated its workers fairly during the pandemic, compared to under a quarter (24 per cent) who believed the company had and 33 per cent who did not know.
In March, during the coronavirus pandemic, Amazon warehouse workers in the US and across Europe said that their workplaces were not safe enough. 
Over 1,500 employees signed a petition that called on the company to take greater steps to prevent the spread of the virus, saying that there was an "atmosphere of fear" in their facilities.
Between 2015 and 2019, more than 600 reports were made from Amazon warehouses to the Health and Safety Executive, a UK regulatory body, with some alleging that workers had to urinate in plastic bottles rather than go to the toilet during their shifts for fear of dismissal. 
In April this year, contractors at an Amazon warehouse in Darlington walked out over a lack of personal protective equipment, with builders saying that they faced unemployment over their concerns.
In the US during the pandemic, Christian Smalls, a supervisor at Amazon's Staten Island warehouse in New York, said that he raised concerns for weeks about sick staff but management refused to temporarily shut down the warehouse. Smalls organised a walkout, and was fired on the same day.
A leaked email from an internal meeting of Amazon executives, including CEO Jeff Bezos, in April showed that the company intended to attack Smalls' character, saying that Smalls was "not smart, or articulate", according to Amazon General Counsel David Zapolsky.
In May, a worker at its New York distribution centre died of Covid-19. Two months later, Amazon was accused of using surveillance technology on workers to stop them forming unions and to boost their productivity, according to a research paper released by the Open Markets Institute. 
"Like most companies, we have performance expectations for every Amazonian – be it corporate employee or fulfilment centre associate and we measure actual performance against those expectations," Amazon said in response to the accusation. 
"Associate performance is measured and evaluated over a long period of time as we know that a variety of things could impact the ability to meet expectations in any given day or hour. We support people who are not performing to the levels expected with dedicated coaching to help them improve."
When asked whether "trillion dollar corporations, like Amazon, [are] too powerful", 69 per cent of people said that they were. During the coronavirus pandemic, the total net worth of America's 644 billionaires grew by almost $1 trillion (£760bn) while eight million US residents were forced into poverty.
Amazon founder and CEO Jeff Bezos saw the biggest increase in personal wealth. His total net worth rose from $90.1bn (£68.5bn) in March to $203.1bn (£154.4bn) by October, according to Americans for Tax Fairness and the Institute for Policy Studies.
The company has been the subject of numerous anti-trust debates in Europe and the US. European Union regulators filed antitrust charges against Amazon, accusing it of using data to gain an unfair advantage over merchants using its platform.
"We have a policy against using seller-specific data to aid our private label business," said Mr Bezos, when questioned about the matter by the US Congress, "but I can't guarantee you that that policy has never been violated," Mr Bezos said.
In the UK, a digital services tax started by the government – which it says focuses on addressing "misalignment between the place where profits are taxed and the place where value is created" – and aimed at companies including Amazon, Apple, and Google can be avoided by said companies by passing the cost onto small businesses. 
Amazon's digital services are not the issue, but rather the "broader structure that allows it to shift most of its taxable profits out of the UK", Philip Hammond said when introducing the tax in 2018.
However, as the tax is levied on services, not sales, Amazon can pass the fees onto the businesses which use its platform. Apple and Google, have similarly said that they will pass the tax on to developers and advertisers, respectively.
"These findings show that while the public use and enjoy Amazon's services, they don't want to see workers underpaid and in unsafe conditions", said Casper Gelderblom, an organiser from Progressive International.
"Amazon workers make Jeff Bezos his billions. Amazon must listen to workers and their trade unions and clean up its act."
Progressive International is also launching a global campaign to demand that Amazon "reset the balance in favour of workers, the environment and citizens", Gelderblom added.
"This poll shows why workers, civil society and elected officials need to work together to hold Amazon accountable," Christy Hoffman General Secretary of UNI Global Union.
An Amazon spokesperson told The Independent that: "Amazon provides some of the most advanced workplaces of their kind in the world, with industry-leading pay, processes and systems to ensure the wellbeing and safety of all employees. 
"Since March, we've implanted an additional 150 significant process changes including the provision of masks and additional cleaning to ensure the health and safety of our teams. As a next step in the UK, we have started a pilot at a number of sites for testing employees on a voluntary basis, and we've received positive feedback from employees participating."
"As with nearly all companies, we expect a certain level of performance from our associates and we continue to set productivity targets objectively, based on previous performance levels achieved by our workforce. We respect the individual rights of associates and have an open-door policy that encourages associates to bring their comments, questions and concerns directly to their management team.
"Thousands of people have taken a tour at one of our UK fulfilment centres so they could see first-hand what it's really like to work for Amazon. Due to the pandemic we've had to temporarily restrict visitors, but people can still see our safe, modern workplaces by taking a virtual tour here".
Join our commenting forum
Join thought-provoking conversations, follow other Independent readers and see their replies