Heathrow passengers report delays of up to four hours as e-gates fail
It comes less than a fortnight after e-gates failed at airports across the UK.
Neil Lancefield
Wednesday 06 October 2021 09:41 Comments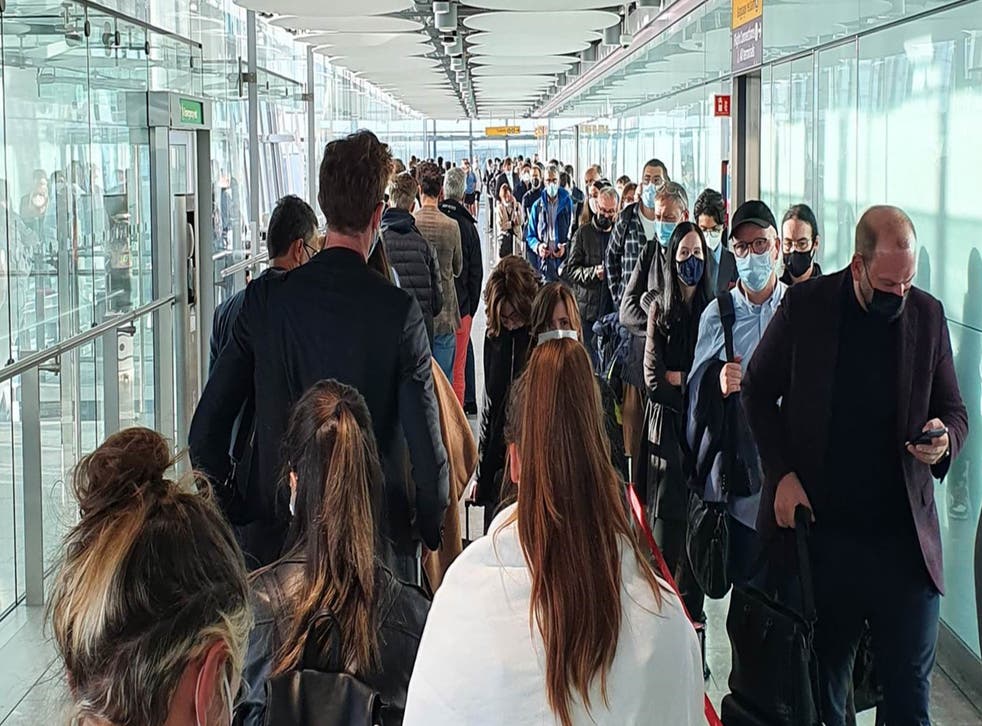 Passengers arriving at Heathrow are being delayed for several hours due to a problem with self-service passport gates.
Some travellers at Terminal 5 posted images of long queues on social media on Wednesday morning, while others were being held on planes due to the congestion.
George Zarkadakis, an artificial intelligence engineer, wrote on Twitter: "System for scanning passports is down (again). Expected time of waiting for arriving passengers: 2-4 hours.
"I think I'll stay home next time… and stick to Zoom calls."
Another passenger, Thomas de Lucy, tweeted: "Not only are we waiting for two hours at passport control but Heathrow staff are all incredibly rude, shouting at people and ignoring others.
"Maybe a supervisor should be on hand to control staff behaviour."
It is less than a fortnight since a widespread e-gate failure caused delays at airports across the UK.
E-gates – managed by Border Force – allow travellers with biometric passports to pass through border control without a manual inspection.
Heathrow wrote on Twitter: "We're aware of an issue impacting the e-gates, which are staffed and operated by Border Force.
"We apologise for the impact this is having on your journey.
"Our teams are working closely with Border Force to resolve this as quickly as possible."
Register for free to continue reading
Registration is a free and easy way to support our truly independent journalism
By registering, you will also enjoy limited access to Premium articles, exclusive newsletters, commenting, and virtual events with our leading journalists
Already have an account? sign in
Join our new commenting forum
Join thought-provoking conversations, follow other Independent readers and see their replies