The Independent's journalism is supported by our readers. When you purchase through links on our site, we may earn commission.
Suez Canal blockage by Ever Given to cost more than $1bn, say canal authorities
Massive container ship was refloated this week after six days preventing traffic through key global trade route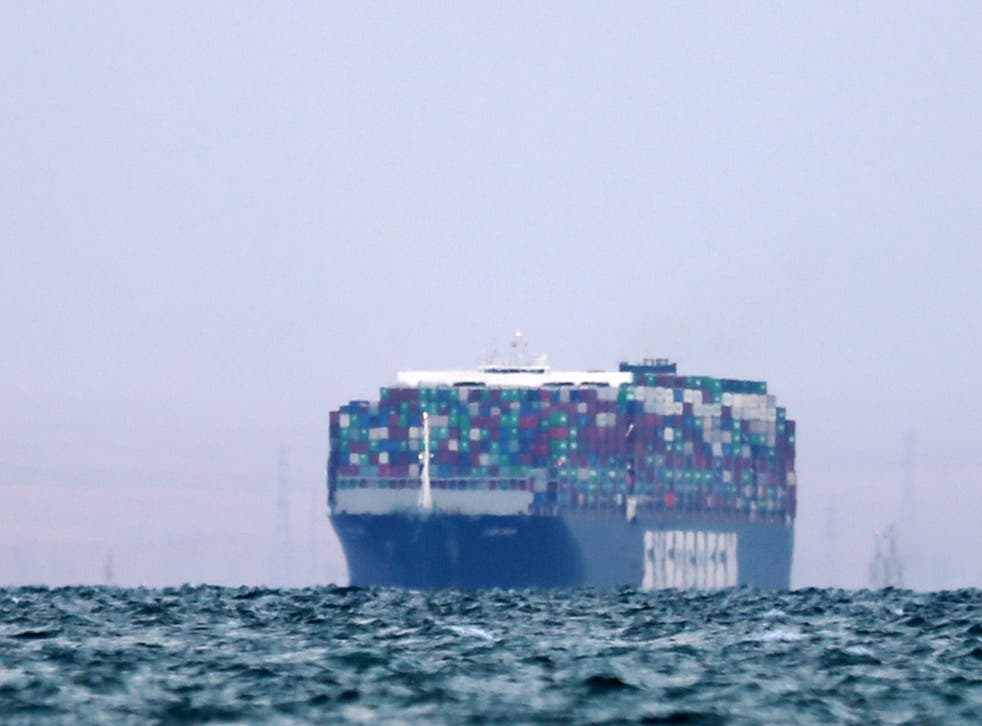 Leer en Español
The cost of losses and damages resulting from the Ever Given's blockage of the Suez Canal is likely to top $1bn (£730m), the authority which manages the waterway has said.
"The amount of damage and losses, and how much the dredgers consumed, will be calculated. Estimates, God willing, will reach a billion dollars and a little bit more," said Suez Canal Authority's chairman Osama Rabie, according to Reuters. 
The Ever Given was refloated on Monday after almost a week stuck in the Suez Canal blocking shipping traffic through the vital globe trade route. An investigation into how the massive container ship was grounded began on Tuesday. 
After the ship was freed, Mr Rabie said the disruption cost Egypt between $12m (£8.7m) and $15m (£10.9m) a day, and an investigation would determine who was responsible for paying it. 
Traffic resumed in both directions of the passageway about three hours after the Ever Given was refloated. Authorities are planning to double the number of vessels passing through the canal to clear a backlog of more than 400 ships, but experts have warned that the disruptions to global trade could last for months.   
Suez Canal is one of the busiest trade routes in the world, with about 12 per cent of global trade passes through it.  
According to shipping data and news company Lloyd's List, the Ever Given blockage was holding up an estimated $400m (£290m) an hour in trade, or $9.6bn (£7bn) of goods each day. 
Stephen Flynn, professor of political science at Northeastern University, told CNBC this scale of disruption would have cascading effects. Knock-on disruptions include congestion at ports and vessels being delayed for their next scheduled journey.
"It's got to be at least 60 days before things get sorted out and appear to be a bit back to normal," Prof Flynn said.
Insurers will pick up much of the tab for the losses of the Ever Given's cargo holders, then are likely to spend years in courts to claim back as much as they can from ship owners and carriers.
For the ships which had to take a detour around the Cape of Good Hope, the likelihood of recovering any losses is low. It may also be difficult to recover money for businesses whose goods were delayed.
Register for free to continue reading
Registration is a free and easy way to support our truly independent journalism
By registering, you will also enjoy limited access to Premium articles, exclusive newsletters, commenting, and virtual events with our leading journalists
Already have an account? sign in
Register for free to continue reading
Registration is a free and easy way to support our truly independent journalism
By registering, you will also enjoy limited access to Premium articles, exclusive newsletters, commenting, and virtual events with our leading journalists
Already have an account? sign in
Join our new commenting forum
Join thought-provoking conversations, follow other Independent readers and see their replies