Why the fallout from the Suez Canal blockage will take years to resolve
Catastrophe has been averted with the re-floating of the Ever Given but its grounding will result in years of legal claims and has raised further questions about the benefits of increasingly vast mega-ships, writes Ben Chapman
Monday 29 March 2021 21:23 Comments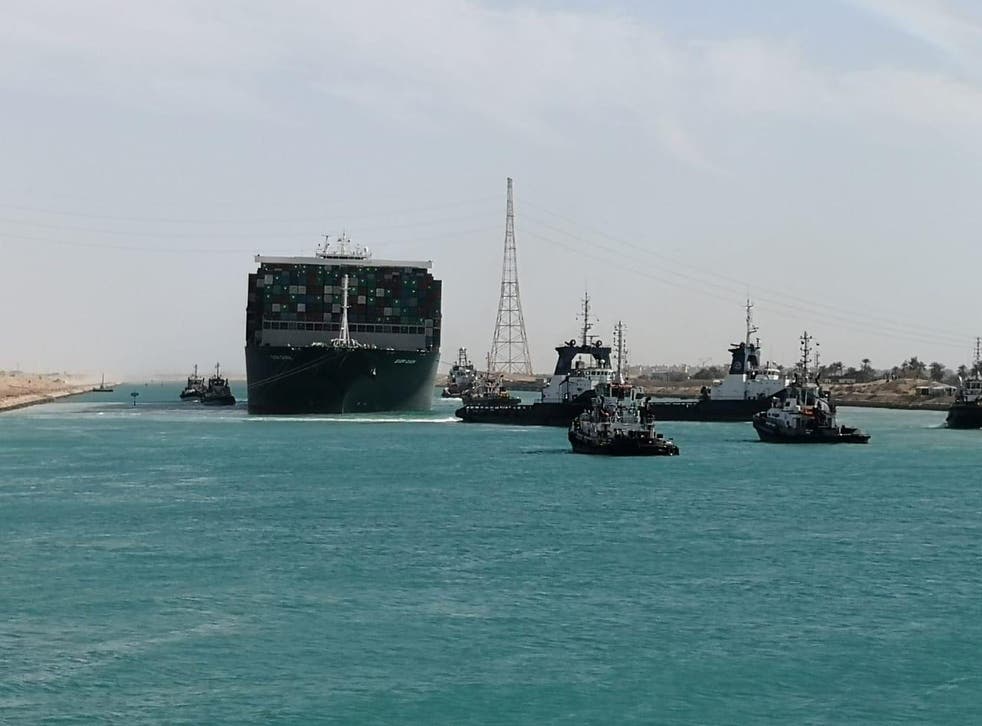 Leer en Español
It has become the most famous boat of the modern age; the ship that launched a thousand memes. The Ever Given, a stricken, 200,000-tonne mega-ship has – after six anxious days – been re-floated in the Suez Canal but in its wake lies a giant flotilla filled with everything from livestock to oil and flat-pack furniture to erotic toys.
The fallout has just begun. Shipping giant Maersk forecasts the impact of the backlog will take months to work through global supply chains.
Beyond that, a multi-million-pound legal battle will soon kick off. Experts say it could easily take five years to resolve.
All of which raises questions about how sustainable it is for global trade to be so reliant on boats as long as the Empire State Building being steered down a narrow man-made trench hundreds of times a year.
Among some shipping analysts, the initial reaction to news of the stranded vessel was concern tempered with optimism. Dredgers and salvage experts would quickly descend on the canal, refloat the vessel and be on their way within a day or two – so the theory went.
Read more:
But what wasn't fully factored into this was the additional problem posed by the Ever Given's sheer size.
To satisfy the world's ever-growing global demand to buy more things at cheaper prices, shipping companies have been engaged in a nautical "arms race" to build ever-bigger boats.
In the past 20 years, the industry has engaged in, "a masculine game; a Tower of Babel-like quest for mastery of the ocean", as Charmaine Chua, assistant professor in the Department of Global Studies at the University of California has described it.
The aim of the game is to cram as many 20ft or 40ft containers as possible on to a floating platform.
It was Egypt's closure of the Suez Canal during the Six Days War in 1967 that catalysed the quest for mega-ships. It remained shut for eight years, forcing companies to take longer routes and to secure economies of scale with more bulk.
In Gamal Abdel Nasser's day, the biggest container ship carried 736 containers, or twenty-foot equivalent units (TEUs). By 2003, the container ship broke the 10,000 TEU barrier. Fifteen years later, the Ever Given set sail at twice that size.
If you were to lay its cargo end-to-end it would stretch from the outskirts of London, down through Kent and most of the way through the Channel Tunnel to Calais. Despite this size, the Ever Given is crewed by just 25 people.
The Suez Canal has been expanded over the years but not to the same degree as the ships that use it.
The Ever Given's 20,000 TEUs were about to be unceremoniously lifted off and dumped on to the Egyptian sand before rescue teams made the vital breakthrough on Monday morning. Things could have been much worse.
"It's got to be hard to move such a large ship in such a restricted space," says Jai Sharma, of law firm Clyde & Co. "People have talked for a long time about there being a big casualty involving one of these ships."
If the cargo had needed to be offloaded where it ran aground it would have been "very difficult" to find cranes with enough reach, says Sharma. If it had been badly damaged, only a few ports are big enough to provide refuge.
When a solitary digger was pictured trying to fix the mess on Tuesday, it became apparent that contingency plans may not have kept up with the massive expansion of shipping bulk. Cue thousands of memes about tools that are woefully inadequate for the job at hand.
Read more:
The digger has provided some much-needed light relief and, thankfully, the response from salvage teams rapidly moved up through the gears. A cavalry of tugboats and dredgers arrived to vacuum up thousands of tonnes of sand and slowly drag the Ever Given to safety.
That team's work may have saved billions of pounds in costs to global trade but it will leave a big bill for the owners of the Ever Given and its cargo.
Typically, rescue crews work on a "no cure, no fee" basis, explains Sharma. There is a negotiation process for deciding how much their efforts are worth.
The scale of the operation means the rescuers are in line for a bounty of several million pounds and the Suez Canal Authority is likely to charge a similarly hefty fee for its services.
Insurers will pick up much of the tab for cargo holders' losses, then spend years in courts and arbitration claiming back as much as they can from ship owners and carriers.
For the businesses whose goods have been delayed in hundreds of boats queued up behind the Ever Given, it may be difficult to recover money for loss, according to Sharma.
For those who took a 6,000 km detour around the Cape of Good Hope, the likelihood of recovering any losses is more remote.
Sharma says: "From an English law perspective, I don't think the Ever Given would owe a duty of care to them. There will be massive losses but spread very thinly and difficult to recover for that reason."
Delivery company ParcelHero estimates e-commerce firms globally will suffer a £4bn hit from disruption to supply chains and increased shipping costs.
Will all of these losses sound the death knell of the mega ship? Probably not. The handful of companies which dominate global shipping can still borrow billions at extremely low interest rates to build more behemoths. But the economics of making vessels much bigger than the Ever Given appear doubtful.
The very largest container ships need to be 91 per cent full to save money over smaller vessels. Insurers have shown some hesitance to provide cover for mega-ships, fearing heavy losses in the event of a serious incident.
Half a century on from the Suez Canal closure that began the quest for ever-increasing size in global shipping, the fallout from last week's closure may add to those concerns.
Register for free to continue reading
Registration is a free and easy way to support our truly independent journalism
By registering, you will also enjoy limited access to Premium articles, exclusive newsletters, commenting, and virtual events with our leading journalists
Already have an account? sign in
Join our new commenting forum
Join thought-provoking conversations, follow other Independent readers and see their replies