How Vistaprint can help your small business stand out from the crowd
Give your brand image a refresh with these affordable essentials
Monday 27 September 2021 17:15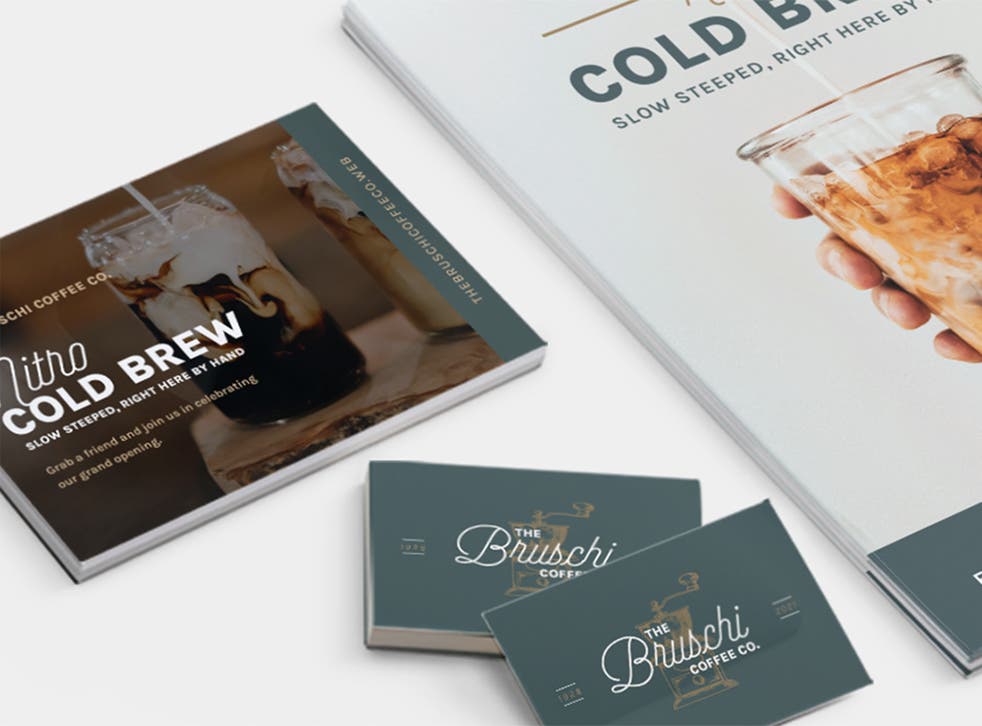 One of the most challenging parts of being a small business owner is making your company memorable. Even if you've got a snappy, clever name and a bright, attention-grabbing logo, you still need to get your branding in front of the right people to cement your reputation in your industry – and their minds.
Business cards are a great place to start – whether you hand one over at a networking event, share a handful at the end of a meeting or leave them in a prominent place in your store or reception area, they're an excellent way of disseminating all of the key info your contacts need in one handy package.
But that's just the tip of the promotional iceberg. You can shout about how brilliant your business is on a bigger scale with postcards and flyers, stickers and banners, and then, of course, there's the website. For any organisation, an online presence is crucial, as no other tool allows you to grow at such scale and get your message out there to so many people at once.
If preparing (or reinventing) all of this sounds overwhelming rather than exciting, fear not – Vistaprint is here to help. Its extensive range of products – from velvety soft-touch business cards that leave a lasting impression, to bright, bold signage for display at your next exhibition – is available to order in just a few clicks. And with pre-existing templates and a video graphic design service that includes three rounds of revisions to help you find your signature style, it couldn't be simpler to make a fresh statement and take your small business to the next level.
If it's your first time shopping with Vistaprint, place an order now and you can even get 10 per cent off by using the coupon code FIRSTORDER at the checkout.
To get your creative juices flowing, we've whittled down just some of the best bits to buy now, whether you want to impress a brand new customer or those wonderful ones that keep coming back for more.
Business cards
There's nothing more frustrating than getting to the end of an amazing conversation with a potential client and realising you don't have a card to give them. Keep your supply topped up with Vistaprint's amazingly broad range, which has something to suit every aesthetic. It's the little details that make all the difference – the choice of standard or rounded, or different paper stocks, from matte to pearl, and the option of recycled card for a more eco-friendly approach. There's even a contemporary square style for something that feels super modern and unique, and raised 3D designs for a more tactile experience. Once you've got the base in place, the design is all up to you – a vast range of fonts, colours and templates allow you to add so much more than a basic name, number and email address. Prices start at £10.48 for a pack of 100.
Flyers and leaflets
These slightly larger items allow you to tell an entire story at a glance – their sleek shape and size make them ideal for everything from menus to invitations or service lists at a glance, in a format that's still portable and compact enough for those you share it with to keep. With eight size options and a choice of flat or folded styles (which come pre-folded for you, FYI), invest in 5,000 or more and they work out at as little a penny per print – a small price to pay for such effortlessly effective outreach.
Postcards
Postcards are fantastic for slotting into mailers or bags, or dishing out to drum up interest in passers-by, and the better yours look, the better the chances are of your recipient really engaging with them. Enter Vistaprint's personalised service, which gives you five size options, five paper stock options and bright, high definition full colour printing to showcase your offering in all of its glory. Make the most of the space by keeping the wording simple and using your very best imagery – Vistaprint will send you a PDF proof before you buy so you can ensure everything is exactly how you envisioned it before the print run begins.
Banners
Got a big event coming up in the diary? Or perhaps your showroom, store or market space needs an eyecatching upgrade – either way, head to Vistaprint's personalised banners section. There's a choice of dozens of designs for indoor or outdoor use – select its wind resistant polyester mesh to battle the elements, or go for a lightweight fabric option that can display the details in even the highest resolution images for inside areas. Large roller banners, starting from £74.99, are another fab pick if you're short on space – you can pop them up in seconds when the doors are open, then roll them back down to tuck away when they're not needed.
Roll labels and stickers
From personalising coffee cups and carrier bags to sticking down the tissue on a hand-wrapped item, there are very few places an extra sticker or roll label bearing your logo won't be welcome. Vistaprint will whip them up for you in sizes ranging from 3 x 3cm to 9.5 x 9.5cm to suit a broad array of items, and allows you to go for a circular, square or a quirkier custom shape. There's also sheet stickers with an equally vast line-up of options to keep your marketing materials consistent across even the smallest of areas.
Websites
By now you're probably sorted for the practical paper goods – but what about your virtual presence? Vistaprint will help you to sort a custom domain, design a website whether it's for personal, professional or e-commerce use, and gives you the option of either monthly or annual payment so that you can select the method that best suits your cash flow. The website builder service, which starts from just £4.99 per month including VAT, includes chat and phone support to help your site stay up and running and user-friendly around the clock, all year round, no HTML or CSS skills required.
Discover how Vistaprint can make your business stand out from the crowd this Black Friday.
To read Vistaprint's November Christmas marketing tips for your business, head here.
Register for free to continue reading
Registration is a free and easy way to support our truly independent journalism
By registering, you will also enjoy limited access to Premium articles, exclusive newsletters, commenting, and virtual events with our leading journalists
Already have an account? sign in