47 per cent of London is green space: Is it time for our capital to become a national park?
Daniel Raven-Ellison: 'We have eight million trees in London; the world's largest urban forest'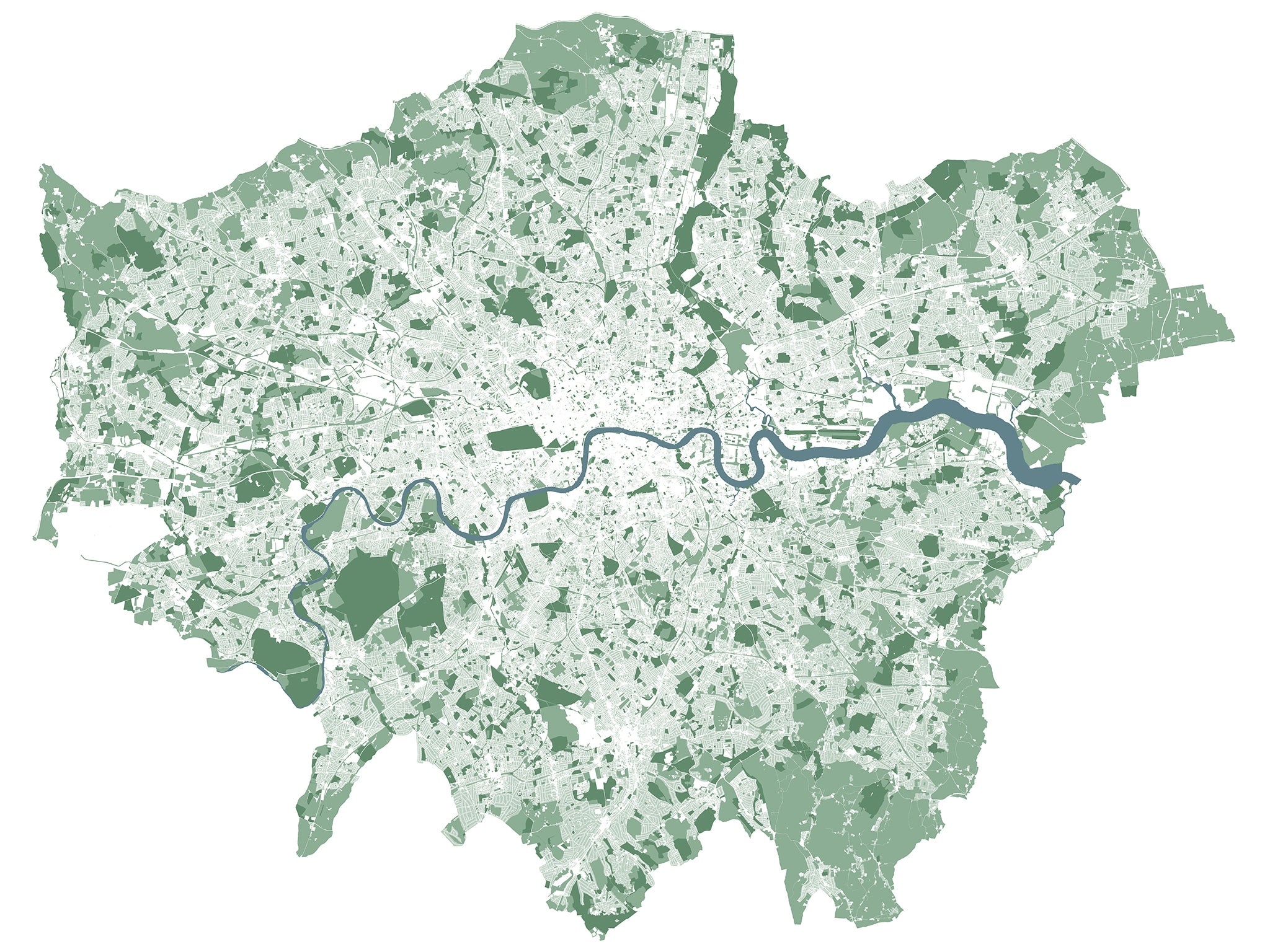 High up on a grassy hillock alive with wild flowers, a man wearing a beard and sturdy shoes addresses more than 100 young explorers.
The sun strikes their faces and the surrounding landscape. It would be a scene of bucolic wonder were it not for the bottle tops and fag ends at their feet, the concrete and glass blocks that dominate the skyline, and the rumble of flight paths, railways and the frantic Mile End road.
Yet former geography teacher Daniel Raven-Ellison, who has to shout to be heard, has come to an oasis of green in what feels like East London's grey desert to present a radical vision for the capital. He believes passionately that the eight million people inside the city – and everyone outside it – should change the way they see it. As part of an unlikely but rapidly growing new campaign that is as simple as it is ambitious, he is trying to turn London into Britain's newest national park.
"We have eight million trees in London; the world's largest urban forest," he tells geography students from Queen Mary University, which sits just across the Regent's Canal. They wear lanyards that mark them out as the first Greater London National Park rangers. "A few weeks ago I walked from Croydon to High Barnet, south to north, through as much woodland as I could. I saw foxes, I saw deer, grass snakes and woodpeckers. Guess how many children I saw?"
The first-year students, who are mostly strangers to each other, are quiet. A few suggest low numbers. "Zero!" Raven-Ellison answers.
"It was the Friday of half-term and I did not see a single child." He adds, plaintively: "Did you know that in High Barnet there is a tree that's 2,000 years old?"
As the 34-year-old makes his case for the world's first urban national park, where children would not only play in the woods but also reimagine them, the initially bemused students almost visibly lean towards his argument. They then range out from Mile End Park across the city's 33 boroughs. Their mission: to explore and photograph London's great outdoors, to create an exhibition that will be displayed next month inside City Hall. Statistics that reveal the startling extent of London's greenness feature heavily in Raven-Ellison's campaign, which he started quietly in April with a Greater London National Park website (only a footnote points out that it is, for now, "officially a Notional Park"). The city covers more than 1,500 square kilometres, an area about the size of Surrey or South Yorkshire. More than 13,000 species, including humans, inhabit 3,000 parks, 30,000 allotments, three million gardens and two National Nature Reserves. Overall, 47 per cent of London is green space, and 60 per cent is classified as open space.
That green comes into glorious focus in a new map of the city made for the campaign by Greenspace Information for Greater London, a group that keeps environmental records. It excludes what we expect in a city map – roads, buildings, car parks, railways. The only things marked against a white background, apart from the Thames and its tributaries, are the green spaces. Yet thanks to their great spread, the map looks exactly like the London we think we know.
"Lots of us take the same routes through cities, day-in day-out," Raven-Ellison says as he walks along the busy A11 to Mile End station. After a look around the park with the students assigned to this borough (Tower Hamlets) we are heading west to the City of London with Catherine Nash, professor of human geography at Queen Mary, to document green spaces there. "You're alienated because you are surrounded by concrete, but that's not the experience of the majority of life in the city."
The daily view most of us have, of buildings and ways to get between them, dramatically skews our perceptions of geography. In 2011, the UK National Ecosystem Assessment, the first comprehensive study of its kind, revealed that just 6.8 per cent of the UK's land area is urban, including roads and rural development. But, as the 47 per cent figure shows in London, not all that land is built on. In England, the proportion of land that has been covered by concrete, asphalt or anything that can be classified as "built" is, wait for it... 2.27 per cent.
After an itinerant upbringing (his father was in the Royal Logistic Corps) Raven-Ellison settled in London to study and then teach geography. He is never happier than when exploring the other 97.73 per cent of England, not least inside city limits. His favourite green space? Boston Manor Park, a former country estate near his home in Northfields that is now constrained by offices, housing and the M4 flyover. "You come down the motorway and see treetops but your vision is of concrete and signage," he says. "But just beneath you there is this hive of wilder space, a wilderness where kingfishers and herons hang out. I love that mix."
Raven-Ellison escaped the confines of the classroom three years ago. He is now part of the Geography Collective of "guerrilla geographers" who want us all to reimagine the space around us. Last year, as part of a project for National Geographic, he and his now 11-year-old son visited all 15 national parks in the UK, from the Cairngorms in Scotland to Dartmoor in south-west England. The experience partly inspired his latest big idea.
"A city park or garden can be more ecologically diverse and rich, and provide more pleasure to a community, than a much wider area of land somewhere more remote," he says. "What is it about our prejudice that means we value that space less, despite the fact we know it is even more important because of the benefits to our health and productivity, as well as the economy and business? Why would we deprive a major city of those benefits?"
National parks, which are managed by independent park authorities using central government funds, were a late arrival in Britain. Not long after Wordsworth described the Lake District as "a sort of national property, in which every man has a right and interest who has an eye to perceive and a heart to enjoy", the US led the way by establishing Yellowstone National Park, in 1872. It was not until 1951 that the Peak District became Britain's first national park, thanks to post-war legislation.
Their popular image has become, perhaps, one of mountains, moors, forest or heath. But Britain's 15 designated national parks already take in towns, villages and houses that are home to almost 450,000 people, about the population of Cardiff. Ever wandered the bustling streets of Lewes in East Sussex? You were in the South Downs, home to 120,000 people and, since 2010, the latest addition to the parks family.
According to National Parks UK, the government's umbrella body, their purpose is "to conserve and enhance the natural beauty, wildlife and cultural heritage; and promote opportunities for the understanding and enjoyment of [their] special qualities". Raven-Ellison sees no reason why this could not apply in a city. "A national park is a social construct," he explains. "It's traditionally applied to remote or rural settings but what if we flipped it and applied it to an urban setting… you can say that nature might be a smaller concern but that raises the question, what is nature, and the boundaries between it and people?"
We emerge from St Paul's underground station to a familiar scene of traffic and stone. In front of the cathedral, London doesn't feel very green. Five plane trees are reaching maturity as part of a new development. An older tree peeks out from down a side road, between branches of Strada and Yo Sushi. But that's it for nature, at least to my eyes. "Look at these pigeons," Raven-Ellison says. "We talk about them being feral but as far as they're concerned they're wild. Their distant relative is the rock dove, which lives on cliffs. Well, look around you. London is a cliff landscape, and that's why these pigeons are really awesome at living here."
These are the kinds of small shifts in focus that Raven-Ellison wants to inspire. And while he can come across as a geographical evangelist – an idealist with a fancy website – he's serious about making the park real. In November, he will take the campaign to Sydney for the once-a-decade World Parks Congress. Official supporters at home include the Royal Society for the Protection of Birds and the London Wildlife Trust. An online petition is gathering pace, and has already earned a response from the Mayor. Boris Johnson "welcomes the call for more recognition of the importance and value of London's... natural environment" and "commends the campaign organisers for their inventiveness". Sir Terry Farrell, the architect and a key design advisor to Boris, says the park "could be a powerful vision that could spawn a million projects". He adds: "I intend to make the case to the Mayor."
Natural England is the body that designates parks under the law passed after the war. A spokesperson says it is "supportive of the principle" of a London park, adding in a statement: "We note that the proposition would have the ethos, but not the traditional legal designation, of existing national parks." The Mayor added doubt about the law in his response, but Raven-Ellison insists he or his successor could make it work. "We've had a very clear steer that because the idea of a city national park doesn't exist yet, it's something we can just do," he explains. "And if we create a blueprint that works, the legislation could come later."
As we approach Christ Church Greyfriars, a dazzling public garden planted in the ruin of a Sir Christopher Wren church that was destroyed in the Blitz, Raven-Ellison adds: "The point is, we wouldn't want the park city to be the same as a national park anyway. Clearly it wouldn't have the same planning regulations, for example."
So what would it actually do?
"It's about inspiring individuals to do small things, from the top down and the bottom up," he says. "Imagine if Transport for London worked with the Greater London National Park and gave 5 per cent of advertising to a specific campaign each month looking at, say, song birds. Simple, strategic campaigns that could make an enormous difference to wildlife but also people's consciousness of the benefits of green space.
"Forget HS2, let's have HS3, a high-speed network for hedgehogs," he adds. "They need about six gardens as territory. If we all put hedgehog-size holes in our fences, we'd have more in our gardens, and they'd eat the slugs and snails so many people dislike."
Raven-Ellison says the park would be a "no-brainer" for corporations. The benefits to tourism are even clearer. He hopes also to talk to the group, led by Joanna Lumley and the designer Thomas Heatherwick, which is planning a "garden bridge" across the Thames between the South Bank and Temple. "The northern end has been calculated as the new geographic centre of London," he says. "You could cross this urban gateway into the middle of the world's first national park city."
We walk down the aisle of what was the nave at Greyfriars. On either side, beds burst with roses, hydrangeas and purple penstemons. Besuited city workers sit on benches in the sun, juggling their phones and salad boxes. Raven-Ellison turns to his own phone to check the photos he has asked his student rangers to share as they explore his vision of the city. There are parks, canals, woods. Many could be mistaken for scenes of existing national parks.
"What really excites me is to think about children born in London now," he says. "In five years' time when they start school, imagine their teachers know that they're in a Greater London National Park, and teach them differently about green space and nature. Then imagine them in 20 years, as they grow up to become architects or designers or planners. What ideas and solutions might they have to make us even healthier, even happier, and make this city even better?"
"To so support or find out more about the Greater London National Park campaign, go to http://www.greaterlondonnationalpark.org.uk/
Join our commenting forum
Join thought-provoking conversations, follow other Independent readers and see their replies