A bird on the brink of extinction, the Tahiti monarch has one hope – you
It's not a king's ransom; what is needed is about £33,000
Michael McCarthy
Monday 24 February 2014 18:29 Comments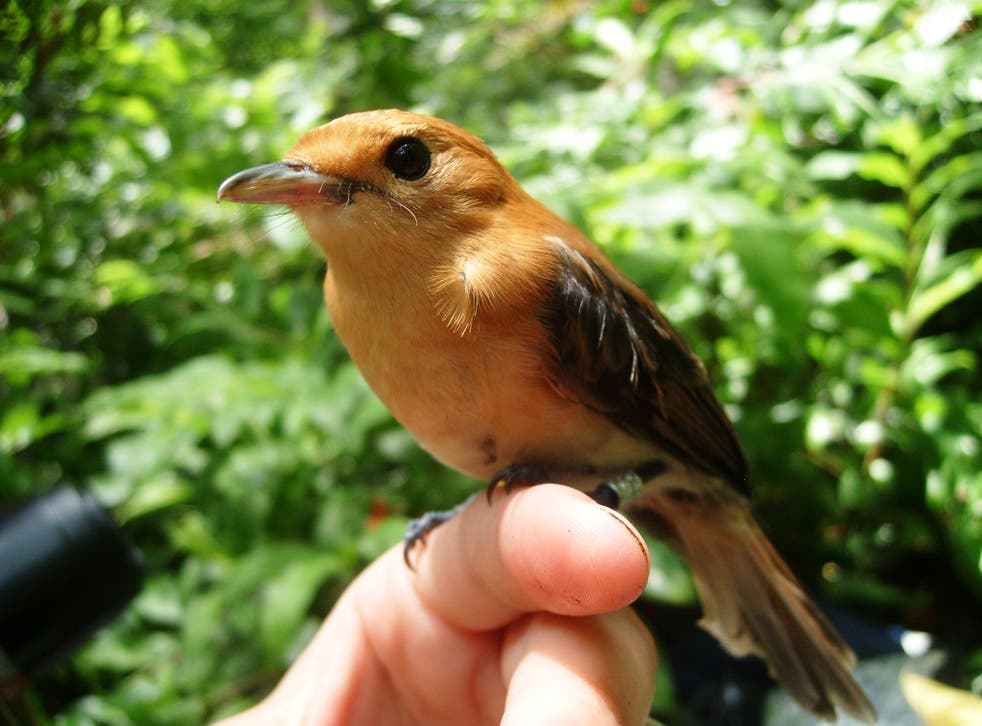 You may think it's curious, but at the moment no one can tell you which is the rarest bird in the world. Not precisely, anyway. A decade ago, there was no doubt – it was the po'ouli, one of a family of small songbirds on Hawaii known as honeycreepers. Only discovered in 1973, the po'ouli's already tiny population went into a rapid decline after an invasion of its forest habitat by wild pigs. By 2004 there was only one po'ouli left, which was taken into captivity while a frantic and fruitless search went on for a mate; it died in November that year.
Today the picture is more blurred. There are a handful of bird species whose numbers are microscopically tiny, such as the Madagascar pochard, a duck believed extinct which was rediscovered on a remote Madagascan lake in 2006; the black stilt of New Zealand; the Sulu hornbill and the caerulean paradise flycatcher, both found on remote Indonesian islands; and in French Polynesia, the Tahiti monarch.
The last named, an attractive and friendly bird the size of a sparrow, with a jet-black body and a bright metallic-blue bill, is down to 10 breeding pairs – just 10 nests a year– in a high, wooded valley of the Pacific island paradise of Tahiti. The total number of individuals in existence is currently believed to be 46. Consider: an entire world population the size of a primary school class (an unacceptably crowded class, admittedly).
But it is only as many as that because of a Herculean effort over recent years by Manu, the Polynesian Ornithological Society, to defend the monarchs from degradation of their forest habitat, and most of all from predation by introduced black rats.
Rats – and cats and snakes – all brought from elsewhere, have been the bane of the birdlife of the world's islands. Over the past 500 years, about 140 bird species are known to have gone extinct across the globe, and 90 per cent of them lived on islands where they were wiped out when such new predators, against which the native birds had evolved no defences, were brought in by ship.
In Polynesia itself, 10 species have been driven to extinction in this way, and the Tahiti monarch is very much in danger of following them, not least because Manu, for some time now its doughty defender, has a particular problem: its money has run out.
At the moment, for a bundle of bureaucratic reasons involving the fact that because of its close connection to its French motherland, Polynesia is seen as a developed rather than a developing country and so is ineligible for various grants from international bodies, the funding for Manu's monarch conservation project for 2014 is just not there.
It's not a king's ransom; what is needed is about £33,000, and so BirdLife International, the global partnership of bird conservation organisations based in Cambridge, has launched an urgent appeal to raise it. Without the money, Manu will not be able to carry out the rat control which is essential to allow the monarchs to breed successfully, and which has already proved its worth: the present population has been brought up from the truly critical level of only four breeding pairs and 21 individual birds in 1998, when Manu began its operations. And last year was the most successful breeding year ever.
''2013 was fantastic," said Caroline Blanvillain, Manu's Head of Land Birds. "Monarch chicks are very curious, they want to investigate everything. When I monitored the valley they followed me around, it felt like being with a friend. But 2014 is not looking good."
It's an unusual situation, is it not? On the one hand, it seems wrong that there isn't official funding to save one of the very rarest bird species on the planet; on the other hand, people may take pleasure in contributing to a cause which can do such tangible, practical good, especially if they're bird lovers.
Donate at: www.justgiving.com/BirdLife-International
Vastly learned but highly entertaining
Something else for bird lovers: Tomorrow sees the publication of a remarkable new book, Ten Thousand Birds: Ornithology Since Darwin by Tim Birkhead, Jo Wimpenny and Bob Montgomerie (Princeton University Press, £29.95).
On the surface a history of modern ornithology, this is actually a riveting review of all the ways in which the study of birds has contributed to science in general over the past century and a half.
Vastly learned but entertainingly written, it focuses not only on ornithological developments but also on the scientists who made and are still making them, telling their stories in detail. There's never been anything quite like it, and the illustrations are exquisite.
Twiter: @mjpmccartthy
Register for free to continue reading
Registration is a free and easy way to support our truly independent journalism
By registering, you will also enjoy limited access to Premium articles, exclusive newsletters, commenting, and virtual events with our leading journalists
Already have an account? sign in
Join our new commenting forum
Join thought-provoking conversations, follow other Independent readers and see their replies