African wildcat caught on camera riding on the back of rhino in rare footage
The 'world-first' video was captured by animal conservationists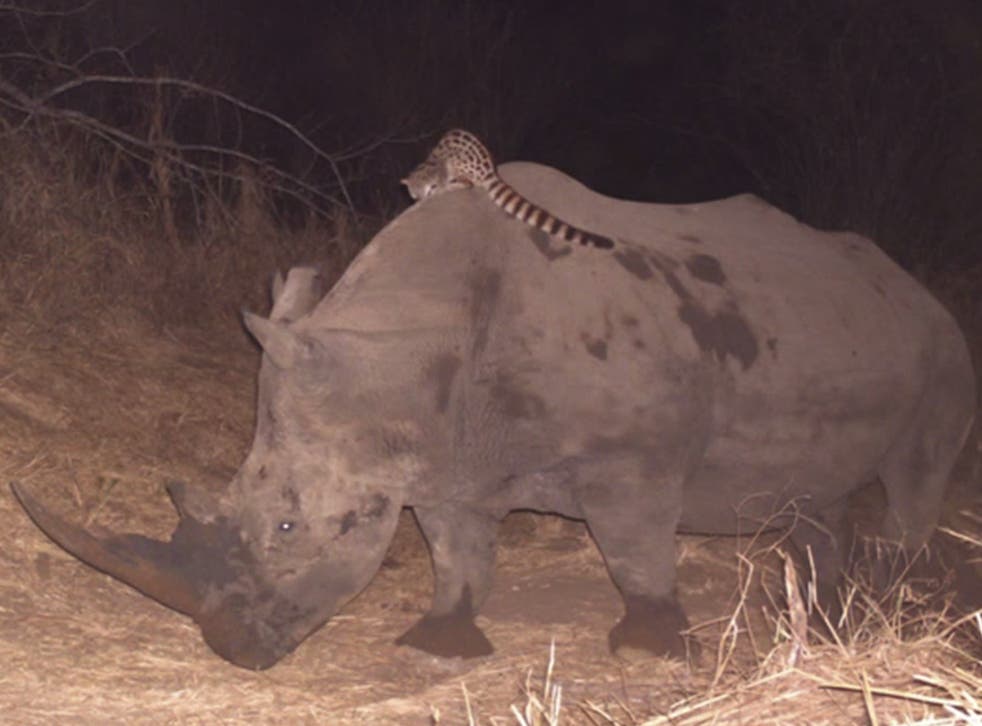 A genet cat has been filmed riding the back of a rhino on a nature reserve in South Africa.
The genet, a cat-like animal with a long tail and spotted coat, was seen sitting on top of buffalo and rhinos in photographs last year but the act has now been caught on video for the first time.
In the surprising footage, the cat sits on the rhino's back and swats at creatures as they fly past.
The conservationists called the footage a discovery of a new and rare "mammal symbiotic relationship" and have speculated that the cat may have been using the larger animals as a vantage point for hunting its prey.
The rhino gets fed up with being the genet's taxi, it seems, and stampedes off as the cat shrieks and clings on.
It is unclear who wins the tussle as the rhino runs from view.
Wildlife ACT, which focuses on the protection of rhinos, lions, elephants, leopards, cheetahs, wild dogs, vultures and turtles, was astonished to see the cat's behaviour in photos and planned to capture the incident on film.
The conservationists uses camera traps as a non-invasive form of wildlife monitoring.
Critically endengered around the world, rhinos are solitary animals which feed at night and before dawn.
Poaching has driven rhinos to the edge of extinction in Africa. Its horn is revered for medicinal uses in China, Taiwan, Hong Kong, and Singapore.
The most incredible nature moments ever caught on camera

Show all 6
The horns are also valued in North Africa and the Middle East as ornamental dagger handles.
Genets usually live in trees and hunt insects, birds, frogs, and rodents, but there have been recordings of the cats killing prey as big as baby antelopes.
The rhino-riding cat, nicknamed Genet Jackson has been given its own Twitter account.
Join our new commenting forum
Join thought-provoking conversations, follow other Independent readers and see their replies