Air pollution limits are not strict enough to tackle public health dangers, scientists warn
Breathing in high levels of soot and other tiny particles from fossil fuels may have a similar effect on blood pressure as being overweight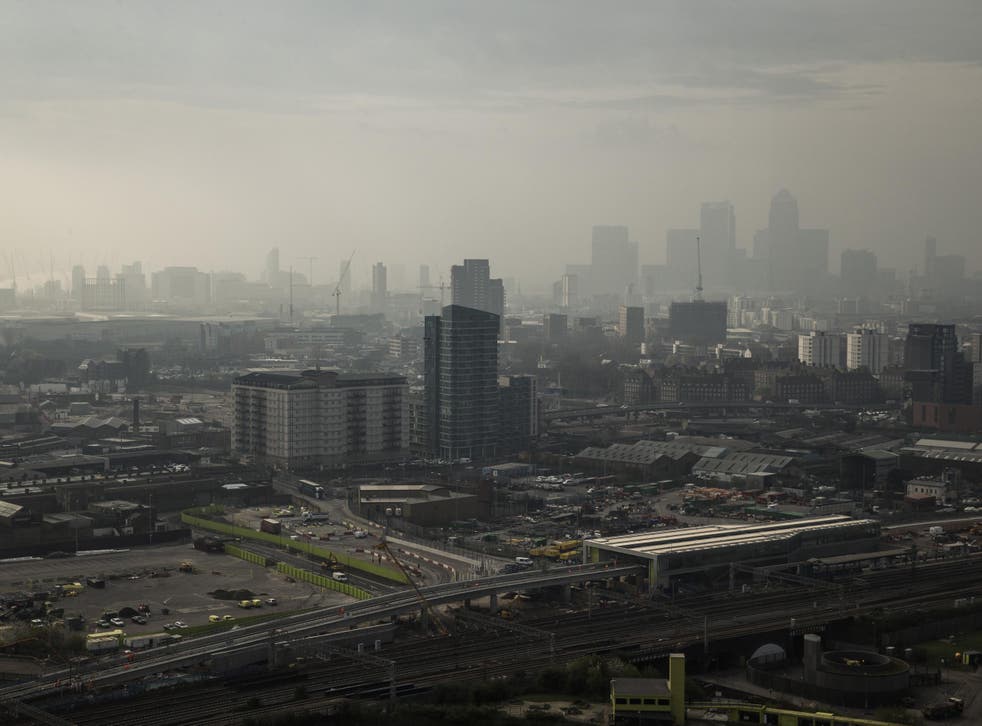 Living in the most polluted parts of a city appears to have a similar effect on your blood pressure as becoming overweight, according to the world's largest ever study of the effects of fossil fuel emission on human health.
Researchers warned their findings showed that current European Union limits on air pollution were not low enough to adequately protect people.
Those limits are regularly breached in parts of the UK and the Government has been taken to court in order to force it to introduce measures to address the problem.
According to official figures, an estimated 40,000 people a year die prematurely in the UK because of the air they breathe. The World Health Organization has warned air pollution is "wreaking havoc on human health", while campaigners have described diesel fumes as the "biggest public health catastrophe since the Black Death".
The new study investigated the effects of air pollution and traffic noise on 41,000 people in five different countries, Spain, Germany, Norway, Sweden and Denmark, for up to nine years.
When the research began, none of the participants had high blood pressure, but more than 6,200 reported they had developed the disease or had started taking drugs to lower their blood pressure during the period.
The researchers found that those living in the most polluted parts of a city had a higher chance of developing it than people in less polluted urban areas. They said the risk was similar to someone with a normal body mass index becoming officially overweight.
Traffic noise was also a factor: people living in areas where the average night-time noise level was 50 decibels – about the same level as a conversation at home – had a six per cent higher change of high blood pressure compared to those where the average level was 40 decibels, which is like a library.
Professor Barbara Hoffmann, of Heinrich-Heine-University in Düsseldorf, who led the study, said: "As virtually everybody is exposed to air pollution for all of their lives, this leads to a high number of hypertension cases, posing a great burden on the individual and on society.
"One very important aspect is that these associations can be seen in people living well below current European air pollution standards.
"This means the current legislation does not protect the European population adequately from adverse effects of air pollution.
"Given the ubiquitous presence of air pollution and the importance of hypertension as the most important risk factor for cardiovascular disease, these results have important public health consequences and call for more stringent air quality regulations."
The researchers said they had been able to show that traffic noise and air pollution were both independently linked to high blood pressure.
They added it was possible that they affected the body in different ways. Air pollution may affect the heart and blood vessels by causing inflammation, a build-up of damaging molecules in the body, and disruption of the nervous system. Noise is believed to affect the nervous and hormonal systems.
The worst countries in the world for air pollution deaths

Show all 10
Commenting on the research, described in the European Heart Journal, Jenny Bates, a Friends of the Earth air pollution campaigner, said the evidence about the impact of air pollution on people's health was clearly increasing.
"Crucially, this study shows that there are health risks, even when levels of fine particles of air pollution are below EU legal limits – and in fact the World Health Organisation say there is no known safe limit for this pollution," she said.
"Air pollution leads to 40,000 early deaths in the UK every year. It causes lung cancer, contributes to respiratory disease including worsening of asthma, and to heart disease with this latest study linking it to high blood pressure.
"Urgent action is needed to get dirty diesel vehicles off our roads, and to reduce road traffic. The UK Government must be bold and put in place a plan to phase out diesel, support Clean Air Zones across the country and offer people real alternatives to driving, in order to save lives and improve health."
Science news in pictures

Show all 20
Greenpeace senior campaigner Areeba Hamid said: "The UK is facing a public health emergency due to air pollution, mainly caused by diesel cars.
"Even though the list of symptoms is worryingly long, the Government's plan to bring safe air to all Britons is conspicuous by its absence. As we begin the process to exit the EU, any legislation around air quality should take the best of the current EU standards and make them even better.
Three of the five countries where this study was undertaken are already seeing cities moving to cleaner technologies and transport systems. It is time for the UK to decide if it wants to join that shift, or continue spending billions on NHS resources to treat conditions linked to air pollution."
However Professor Francesco Cappuccio, who is vice-president of the British & Irish Hypertension Society, said there should be a "big note of caution" about the research.
"The present aggregate analysis suggests that whilst measures of air pollution across different European countries are associated with a greater risk of 'self-reported' hypertension, there is no evidence of such an association with the incidence of 'measured' hypertension," he said.
"It is well recognised that the awareness of hypertension in the general population is weakly correlated with its presence when measured, and the lack of symptoms or signs often associated with it makes self-reported estimates unreliable, often biasing population hypertension estimates.
"In the future, similar population studies should only rely on objective, direct and valid measures of blood pressure in the community to estimate prevalence or incidence of hypertension."
Join our new commenting forum
Join thought-provoking conversations, follow other Independent readers and see their replies