Air pollution: Michael Gove summoned by EU to explain UK's illegal levels
Environment Secretary invited along with eight other European ministers from countries that have violated legal limits for pollutants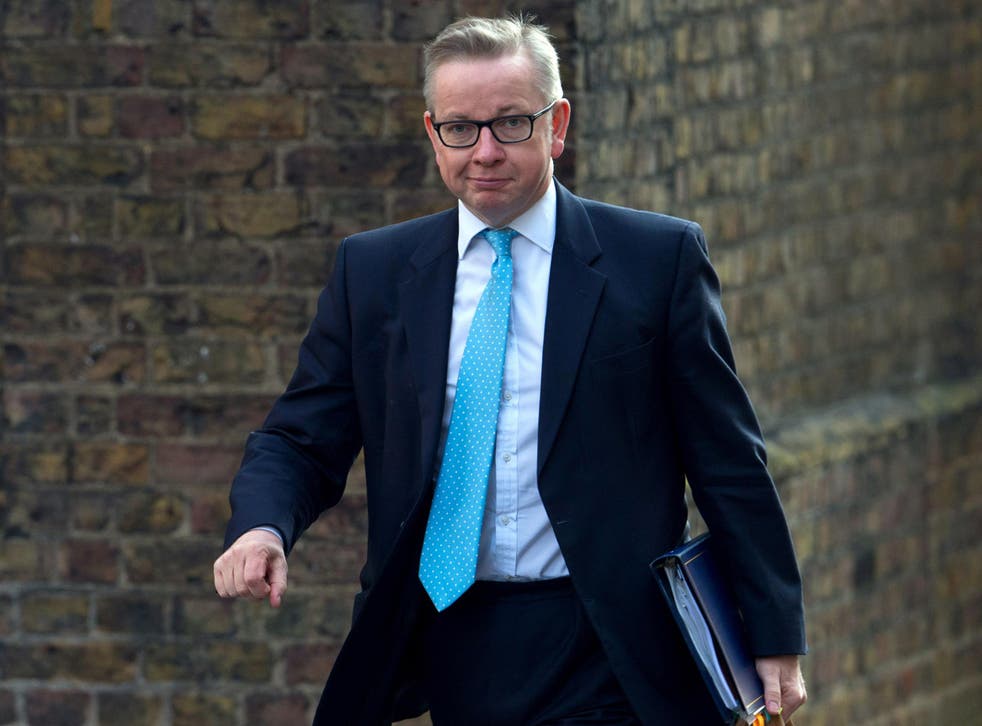 Environment Secretary Michael Gove has been asked to attend a meeting of the European Commission in Brussels, to explain why the UK still breaches legal air pollution limits.
Britain is one of the five member states that have received a "final warning" from the commission after persistently surpassing limits for nitrogen dioxide levels.
The meeting which is set to take place at the end of the month, will be an opportunity for Mr Gove and other European politicians to discuss air quality and how to protect "a basic quality of life" for European citizens.
Poor air quality resulting from pollutants including nitrogen dioxide have been linked with deadly health conditions such as heart disease and lung cancer.
Experts have estimated air pollution kills 50,000 people annually in the UK alone.
Last year the nation was warned it would face a European Court of Justice case if the nitrogen dioxide problem was not dealt with.
Environment ministers from Germany, France, Italy, Spain, Romania, Hungary, the Czech Republic and Slovakia were also called to attend the meeting on 30 January.
All the invited ministers represent countries that have been violating air quality limits for key pollutants.
The invitations came from EU environment commissioner Karmenu Vella, who will chair the meeting.
"Every year, more than 400,000 Europeans die prematurely as a consequence of poor air quality," Mr Vella wrote in a blog post explaining his decision to call the ministers to Brussels. "Our job is simple. It is to help reduce and ultimately do away with these numbers."
Sadiq Khan calls air pollution in London a killer
Mr Vella emphasised the importance of EU member states sticking to the limits they have agreed to and stated the measures already in place in those states will not be enough to meet existing targets.
"It is the improvements, not the process, that interests Europeans," he wrote. "It is no use telling the parent of a 7-year-old child with chronic bronchitis that things will improve by 2030. Much less telling the daughter of a 70-year-old woman with COPD [chronic obstructive pulmonary disease] that the air quality will be better in 10 years' time."
The EU provides funding to its member states to help tackle air pollution, and has implemented a number of measures to deal with emissions from power plants and vehicles.
"It's not a good look when a government that promised environmental leadership has to be chivvied by Brussels into doing something about illegal air pollution," said Rosie Rogers, head of Greenpeace UK's clean air campaign.
Thick smog engulfs New Delhi as air pollution peaks in the city

Show all 10
"Michael Gove promised to make cleaning up our cities' air a top priority but has little to show for it as yet."
Ms Rogers added that diesel vehicles were responsible for the vast majority of air pollution from road transport, so bringing the proposed ban on the sale of new diesel cars forward from 2040 to 2030 would be an effective strategy.
This chimed with a report released earlier this week by the Committee on Climate Change that called for most new car and van sales to be electric by 2030.
Ms Rogers also recommended that the Government support local authorities with the introduction of clean air zones in the areas of the UK worst affected by air pollution.
Next week the Government will appear in court as part of case brought by legal activist group ClientEarth.
The group has previously stated there were "major flaws" in the UK's plans to tackle air pollution.
A spokesperson for the Department for Environment, Food and Rural Affairs said it would respond to Mr Gove's invitation in due course.
"Air pollution has improved significantly since 2010, but we recognise there is more to do which is why we have put in place a £3.5bn plan to improve air quality and reduce harmful emissions," the department said.
It also noted that the majority of air pollutants in the UK are currently below the legal limits, and said a key reason the nation missed targets was the failure of European emission standards for diesel cars to deliver the expected emission reductions of nitrogen oxides.
"We are at the forefront of calls for the EU to introduce real driving emissions testing which is essential in meeting our air-quality goals, the first stage of which came in for new models of vehicles in September 2017," it added. "We continue to actively engage at a European and international level to tackle air pollution."
Join our new commenting forum
Join thought-provoking conversations, follow other Independent readers and see their replies