Health of more than 90% of world's population affected by air pollution 'emergency', WHO says
'Air pollution continues to rise at an alarming rate, and affects economies and people's quality of life – it is a public health emergency'
Ian Johnston
Environment Correspondent
Tuesday 27 September 2016 16:57 Comments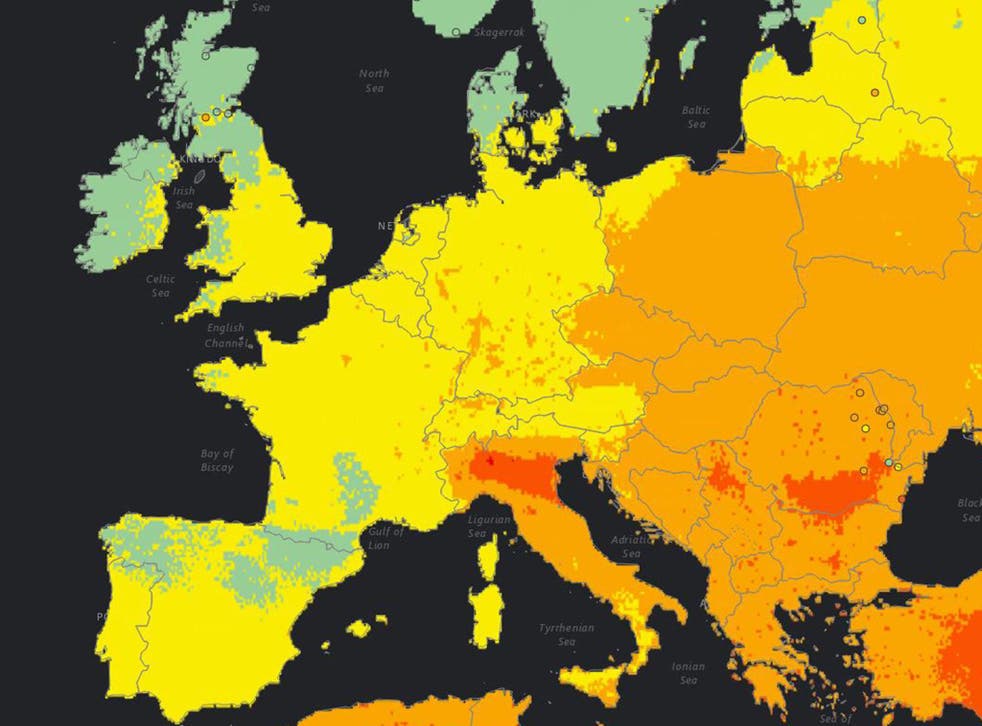 More than nine out of every 10 people on the planet live in areas where air pollution breaches official safety limits – and millions of people are dying as a result, according to new research by the World Health Organisation (WHO).
An interactive map produced by WHO shows vast areas of the world are bathed in tiny particles from pollutants such as sulphate, nitrates and black carbon, which can penetrate deep into the lungs and beyond, leading to an array of deadly diseases. China, India, eastern Europe, the Middle East and Africa are among the worst affected regions.
Heart attacks, strokes and lung cancer can all be caused by the particles, known as PM2.5 and PM10, which also increase the risk of getting an acute respiratory infection.
While some of the dust is natural in places such as the Sahara, much comes from the burning of fossil fuels, also the cause of global warming.
Almost all of England is above the WHO safety limit with places where the air is considered safe to breathe largely confined to the rural north-west and parts of Cornwall and Devon.
By contrast the vast majority of Scotland's air is below the limits, except for the central belt, particularly Glasgow. Northern Ireland is also largely clear, apart from Belfast and a strip down the east coast.
In pictures: High air pollution levels across the UK

Show all 12
Air pollution – indoor and outdoor – was linked to the deaths of some 6.5 million people worldwide in 2012, representing more than 11 per cent of all deaths and making it one of the greatest threats to human health.
Of those, three million were "solely attributable" to the quality of outdoor air. The WHO said an estimated 16,355 British people died in that year as a direct result of outdoor air pollution.
Dr Flavia Bustreo, assistant director general at the WHO, said: "For people to be healthy, they must breathe clean air from their first breath to their last."
The report, Ambient air pollution: A global assessment of exposure and burden of disease, admitted there were "significant uncertainties" in the data about air pollution but said the report represented "the best evidence available to date".
But one thing appears clear – just how bad breathing polluted air is for human health.
Writing in the report, Dr Maria Neira, director of public health at the WHO, said: "Air pollution has become a growing a growing concern in the past few years, with an increasing number of acute air pollution episodes in many cities worldwide.
"To date, air pollution – both ambient (outdoor) and household (indoor) – is the biggest environmental risk to health, carrying responsibility for about one in every nine deaths annually.
China activists call for tough measures against pollution
"Ambient air pollution alone kills around 3 million people each year, mainly from non-communicable diseases. Only one person in 10 lives in a city that complies with the WHO air quality guidelines.
"Air pollution continues to rise at an alarming rate, and affects economies and people's quality of life; it is a public health emergency."
British Lung Foundation chief executive Dr Penny Woods said: "These figures show a depressing picture of deaths due to air pollution exposure, impacting on general respiratory health.
"The fact that so many deaths a year are recorded in the EU shows we need urgent action to improve pollution levels.
"That is why the British Lung Foundation believes we must all play a part in reducing harmful pollution, working with other organisations who also want action to improve air quality now. We can do this by ensuring parliament brings in a new Clean Air Act, and creating carefully designed clean air zones in air pollution hot spots across the UK."
James Thornton, chief executive of ClientEarth, a group of lawyers which campaigns on legal issues, said: "While air pollution is mostly invisible, these figures show that many of us living in Britain are breathing in unhealthy levels of it.
"In the UK and several other European countries we are using the courts to force governments to uphold our right to clean air. Air pollution is causing a public health crisis in many countries across the world. This can only be overcome with swift, strong actions from governments and industry alike."
Register for free to continue reading
Registration is a free and easy way to support our truly independent journalism
By registering, you will also enjoy limited access to Premium articles, exclusive newsletters, commenting, and virtual events with our leading journalists
Already have an account? sign in
Join our new commenting forum
Join thought-provoking conversations, follow other Independent readers and see their replies