Animal sentience: What is really going on with the controversial Brexit amendment?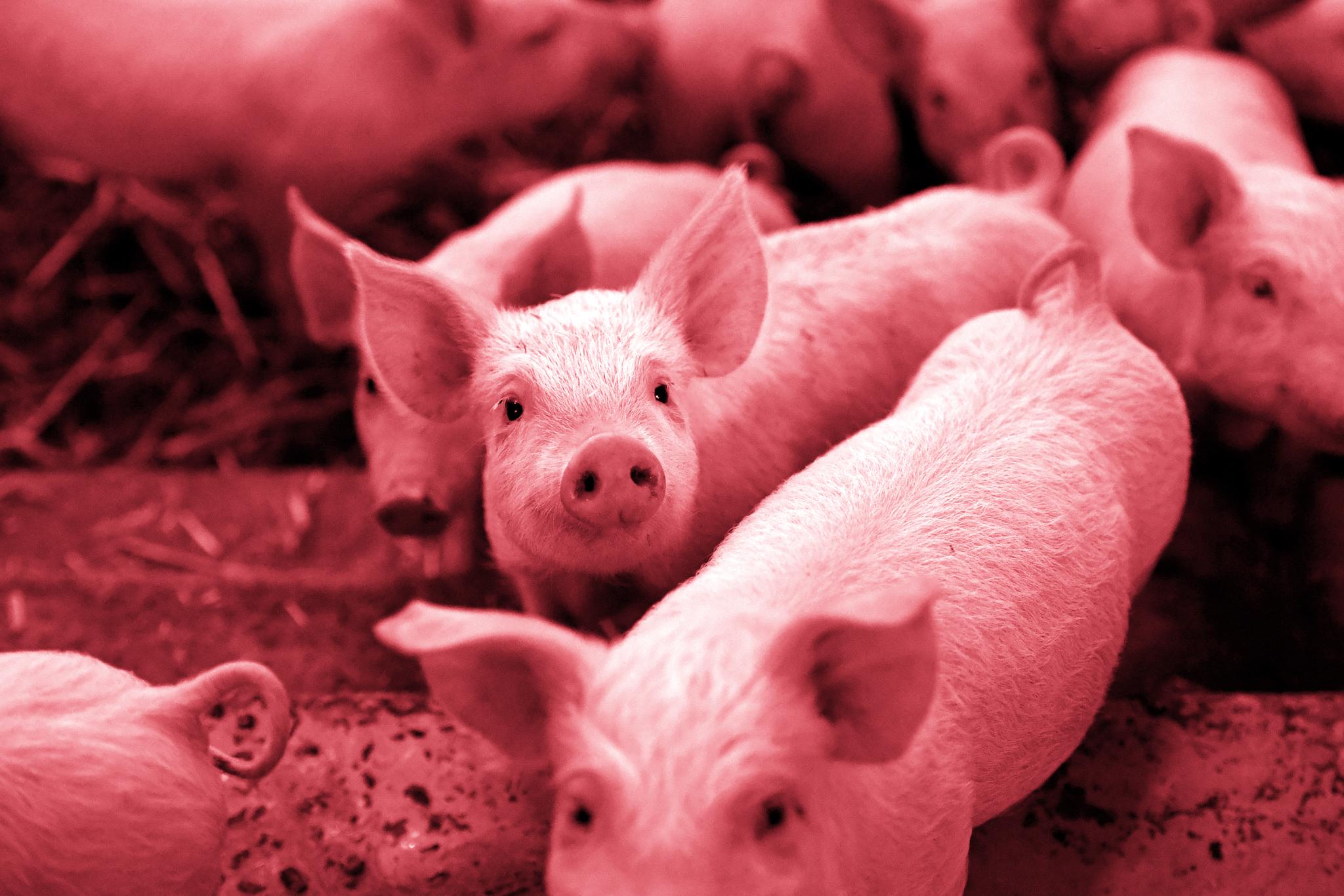 A picture taken in Plelo, western France, on November 10, 2017 shows piglets on straw in a "porc sur paille" sty
(DAMIEN MEYER/AFP/Getty Images)
Animal rights campaigners, politicians and journalists are involved in an argument about whether the Government believes animals are sentient. But what's the truth?
The issue arose after a vote last week as part of the process of bringing EU legislation into UK law. Part of that process included a vote that, if passed, would have officially said that the UK recognises animals can be sentient.
That amendment didn't pass. And it's from that event that the confusion and disputation of this week emerged.
Some claimed the vote showed that the Government didn't care about animals. Supporters of the Government claimed that it was the result of "fake news".
The Government appears concerned that the reports will damage their popularity. Campaigners are worried that the law now protects animals less than it should.
The disagreement takes in specific parts of the law, the Brexit process, and parliamentary procedure. It strikes also at people's most fundamental principles.
Put simply, what happened is this: MPs did not vote that animals are not sentient creatures. But neither did they vote for a law that would have recognised them as such.
That much is confirmed and is fairly clear, but the details around it are more complex.
Why is everyone talking about animal sentience?
The Government is going to have to transfer a lot of EU law into UK law, to ensure that important legislation remains in place. Last week, it was the turn of animal sentience.
The Lisbon Treaty includes the specific recognition that animals are sentient (that's part of article 13 of title II). Because that wording was transferred to UK law as part of being in the EU, the British government also has to act in keeping with that legislation, until Brexit.
But once the UK leaves the EU, that will no longer apply. If it's going to stick around, it will have to be passed again through Parliament – and that's what MPs refused to do this week.
Campaigners argued that the failure to vote for the amendment demonstrated how little the Government cared about animals, who were now being opened up to danger as a result of the Brexit process. It was just a part of the Government's lack of interest in the wellbeing of the vulnerable, campaigners suggested.
The Government had a different view, and claimed that it had voted against the amendment for a number of reasons. None of those reasons were because they didn't believe in animal sentience, they said, and they continued to claim their welfare would be protected after Brexit.
The issue is of particular concern to the British public, and therefore to the Government. Two of the most damaging and widely-read stories of the election campaign were about the Conservatives' failure to support the fox hunting and ivory trade bans – so the Government knows how much damage stories about their lack of commitment to animal welfare can do.
For those reasons, reaction has been quick, intense and loud, on all sides.
What do campaigners say?
Campaigners – and some news coverage – initially said that the Government had voted against recognising sentience.
The Independent was among publishers that reported the story in that way. But it became clear that this claim was not right, even though it had been interpreted by some campaigners in that way. (The Independent updated its coverage to ensure it was accurate). The amendment was voted down by MPs – that is indisputable – but it wasn't necessarily a refusal to recognise sentience.
Despite that, campaigners pointed to the lack of explicit recognition of animal sentience in law as a demonstration that the Government didn't care about animals. That was in keeping with a broader lack of protections for animals in UK law, they said, and without the extra legislation from the EU to back them up animals would be left in danger after Brexit.
Caroline Lucas, who had tabled the original amendment, has maintained that the Government is failing animals and the people by refusing to accept the wording of the Lisbon Treaty.
"The Government's refusal to accept this amendment is simply absurd - and their continued insistence that sentience is covered in Animal Welfare legislation is wrong," she said. "Britain been forward thinking animal welfare over the years, which is why ditching this provision would be such a backwards step. The UK Government led on introducing this EU protocol in the first place, and it's only an obsession with refusing changes to the EU Withdrawal Bill that's stopping Ministers adopting this amendment now.
"The animal sentience protocol is important because it is an instruction to future governments when creating legislation – and it should be the basis of future lawmaking on animal welfare in Britain."
What does the Government say?
Initially, MPs attempted to take on the criticism in a flurry of critical tweets. Zac Goldsmith said that the discussion of the vote was "weird and dishonest", for instance.
Another MP called the reporting fake news and said: "This government, and in fact all governments, are deeply committed to continuing to protect animals as sentient beings. That law is already written into our own law." (That much isn't true: there's no mention of sentience in existing UK law.)
Many of those tweets were written up in articles themselves, which suggested that all of the preceding journalism had been incorrect in their claims about animal sentience.
Apparently flustered by the huge number of stories and the sheer amount of criticism, the Government has taken the unusual step of putting out a written statement that disagrees with the stories.
"This Government is committed to the very highest standards of animal welfare," said Michael Gove in a written statement. "As the Prime Minister has set out, we will make the United Kingdom a world leader in the care and protection of animals."
He went on to explain that the vote was done as a "rejection of a faulty amendment", not because it disagreed with the principle being espoused.
"It has been suggested that the vote last week on New Clause 30 of the EU Withdrawal Bill somehow signalled a weakening in the protection of animals – that is wrong," he wrote. "Voting against the amendment was not a vote against the idea that animals are sentient and feel pain – that is a misconception."
Why are they able to disagree?
The most sensible and reasonable parts of the argument come down to a disagreement about the wording of a couple of very important laws.
Campaigners like Caroline Lucas say that it is important to recognise explicitly that animals are sentient, because that recognition is a principle upon which later laws can be decided. If the text of the Lisbon Treaty isn't integrated into UK law, then that explicit recognition of animals as sentient beings will disappear.
The Government and some of its supporters say that doesn't matter, because there are plenty of protections already in place. They point particularly to the Animal Welfare Act 2006, which contains laws about animals in distress.
It was that law that Theresa May pointed to during Prime Minister's Questions this week. She said that the UK law had enough protections because of the 2006 act.
Ms Lucas says that law is problematic because it doesn't contain the guarantee about sentience, and it is limited only to companion animals or pets – not farm animals, lab animals or wild animals.
So what's the situation?
Some of the Government's attempts to dismiss the controversy have been overly extreme, apparently in an attempt to write-off the entire discussion. Despite claims about fake news, it's not definitive why exactly MPs voted against the amendment, or that the Government will meaningfully recognise animals as sentient – instead, it relies on people believing the Government's claims that it will guarantee protections.
At the same time, many of the reports did miss a very specific but very important detail of what happened. Nobody voted that animals aren't sentient, because that wasn't ever up for a vote. Instead, they didn't vote that they were. A number of stories gave a misleading impression by eliding that distinction.
With all of that out of the way, what you feel about all of this ultimately comes down to the issues above: whether you think it's important that animal sentience is specifically recognised in law, whether you think the 2006 act goes far enough, and whether you believe the Government that it is going to guarantee similar protections in its own time.
Join our commenting forum
Join thought-provoking conversations, follow other Independent readers and see their replies