Asda bans single-use bags in blitz aimed at cutting 10 per cent of plastics from products in next year
Single-use bags will be gone from supermarket by end of 2018, and remaining packaging will be made 'as recyclable as possible'
Josh Gabbatiss
Science Correspondent
Tuesday 06 February 2018 13:18 Comments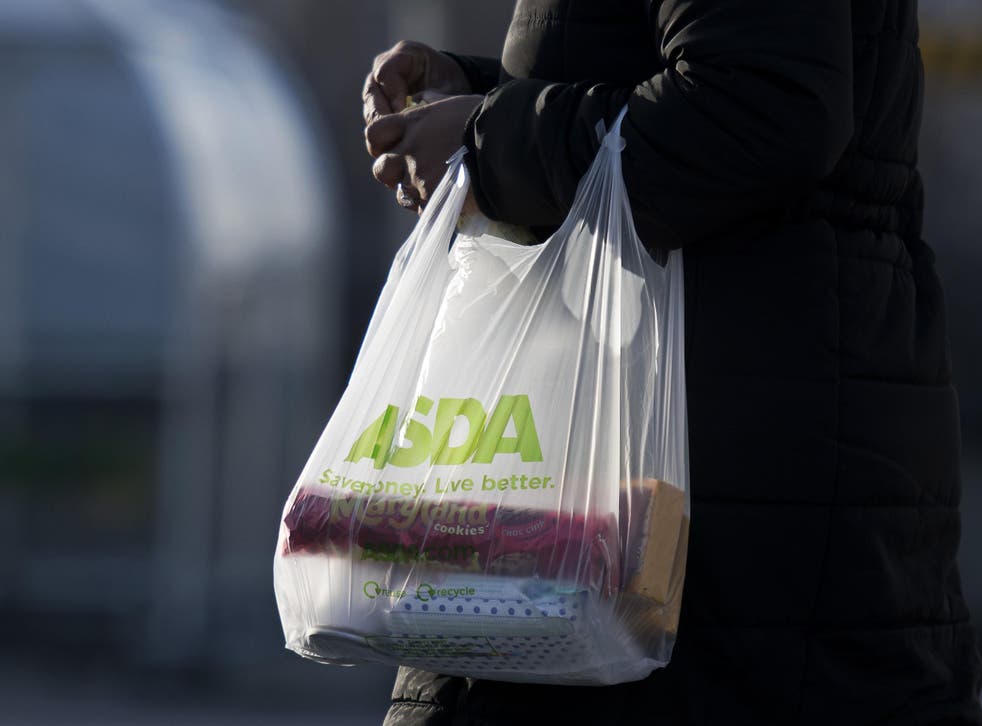 Asda has pledged to remove plastic "wherever it can" from its supermarkets, as well as making any remaining plastic "as recyclable as possible".
The supermarket has announced a raft of measures ranging from phasing out plastic bags by the end of the year to replacing plastic cups and straws with paper alternatives in its cafes.
In the supermarket's own brand products, Asda has stated it will reduce the amount of plastic used by "at least 10 per cent" in the coming 12 months.
Tesco and Sainsbury's have made similar pledges to ban single-use plastic bags, and in January Iceland became the first supermarket to go "plastic-free" for own brand products.
Ways to reduce your single-use plastic

Show all 6
"Where we are able to go faster and harder to remove avoidable plastics from our products, we will," said Asda chief executive Roger Burnley, stating that "we have an established track record in this area already."
"Our logic is to remove plastic wherever we can, and where it is required, to make it as recyclable as possible."
Other changes being implemented include replacing polystyrene pizza bases with cardboard, and changing coloured drinks bottles to clear plastic, a move that could lead to 500 more tonnes of plastic being recycled.
Single-use bags will be gone from stores by the end of 2018 in favour of Asda's bags for life.
"These aren't merely long term ambitions – but real, tangible actions we are taking today to reduce our reliance on plastics," said Mr Burnley.
The pledge has come at a time of heightened awareness of plastic pollution among the UK public.
Latte levy: The plastic problem inside your coffee cup
A survey revealed huge public support for a shift away from plastic, with 80 per cent of people polled by Iceland saying they would endorse a supermarket's move to go plastic-free.
MPs have called on the Government to take action on plastic water bottles and disposable coffee cups, and January saw a UK ban on the manufacture of plastic microbeads for use in cosmetics.
The Independent has launched its Cut the Cup Waste campaign to tackle the millions of unrecyclable cups that are thrown away every day.
Meanwhile, communities from Penzance to Shetland are taking matters into their own hands and acting to eradicate single-use plastics in their areas.
"The public has become so repulsed by the problems of plastic that they are actively considering a world without plastic," Professor Richard Thompson, a marine biologist at the University of Plymouth told The Independent.
"That absolutely has to be seen by the industry as a wakeup call for greater producer responsibility."
Though Asda's pledge was welcomed by environmental groups, they said it did not go far enough, citing Iceland's commitment to far greater reductions in plastic used for own-brand products.
"It's good to see Asda taking action to reduce its plastic footprint and other supermarkets should be doing this too, but a 10 per cent reduction in own brand products over one year doesn't beat Iceland's pledge," said Tisha Brown, oceans campaigner at Greenpeace.
"If Asda applied the same tactic to reducing plastics as it does to competing on price, we'd be really impressed. It needs to go further, faster and be clearly focussed on reduction, not recycling, to really impact the amount of plastic ending up in the ocean."
Register for free to continue reading
Registration is a free and easy way to support our truly independent journalism
By registering, you will also enjoy limited access to Premium articles, exclusive newsletters, commenting, and virtual events with our leading journalists
Already have an account? sign in
Join our new commenting forum
Join thought-provoking conversations, follow other Independent readers and see their replies