Frilled shark: Australian fishermen capture terrifying shark from the deep
Local fishermen were left scratching their heads at the sight of the two metre long creature
Roisin O'Connor
Wednesday 21 January 2015 11:22 Comments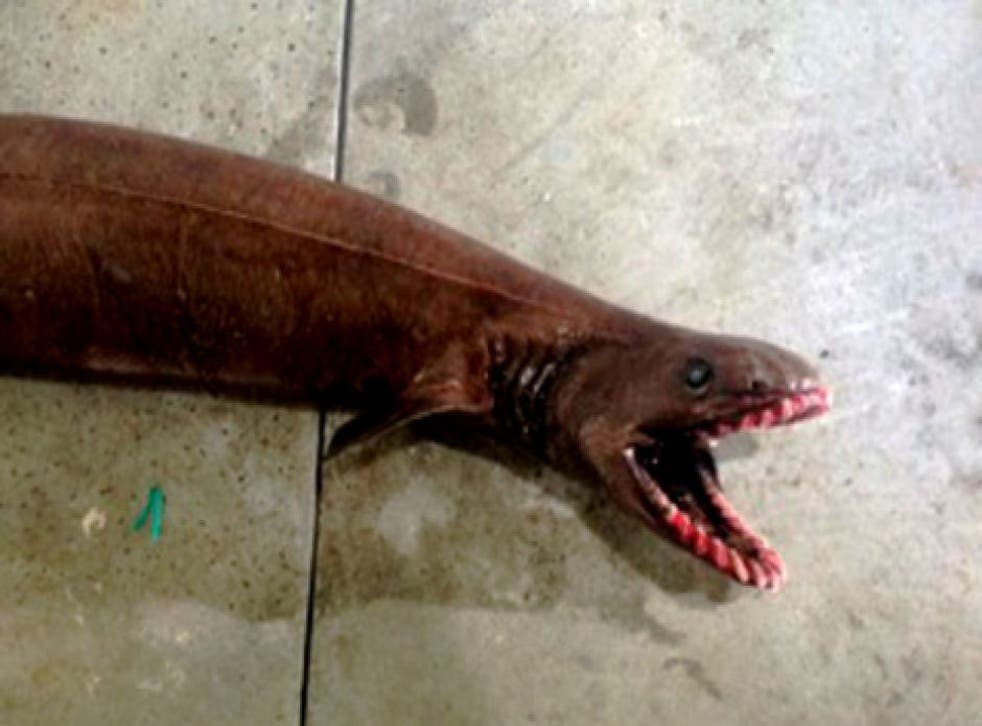 A rare and terrifying frilled shark has been pulled from the water by fishermen near Lakes Entrance in Victoria, Australia.
Also known as the "living fossil", the frilled shark is named for its six pairs of frill-like gills. The shark's origin dates back 80 million years, and is one of two species that is still alive from this period.
South East Trawl Fishing Association (SETFA) chief executive Simon Boag told ABC that this is the first sighting of the species alive by humans.
"It does look 80 million years old. It looks prehistoric... like it's from another time," he said.
He said local fishermen were left scratching their heads at the sight of the two metre long creature, whose head and body resemble an eel.
"It has 300 teeth over 25 rows, so once you're in that mouth, you're not coming out," Mr Boag added. The shark that was pulled from the water was two metres long and found 700 metres under the water.
The rarest animals in the world

Show all 23
Usually the species is found deeper at 1,500 metres but it rare to find them below 1,200 metres, according to the SETFA website.
Its long, flexible jaws enable it to swallow prey whole, while its 300 needle-shaped teeth aligned in 25 rows make it difficult for the prey to escape.
The specimen was offered to the (Commonwealth Scientific and Industrial Research Organisation) CSIRO but was not taken in, and is now believed to have been sold.
Register for free to continue reading
Registration is a free and easy way to support our truly independent journalism
By registering, you will also enjoy limited access to Premium articles, exclusive newsletters, commenting, and virtual events with our leading journalists
Already have an account? sign in
Join our new commenting forum
Join thought-provoking conversations, follow other Independent readers and see their replies