Bees placed on endangered species list for first time in US
The yellow-faced bee is the only species which is native to Hawaii
Caroline Mortimer
Sunday 02 October 2016 20:04 Comments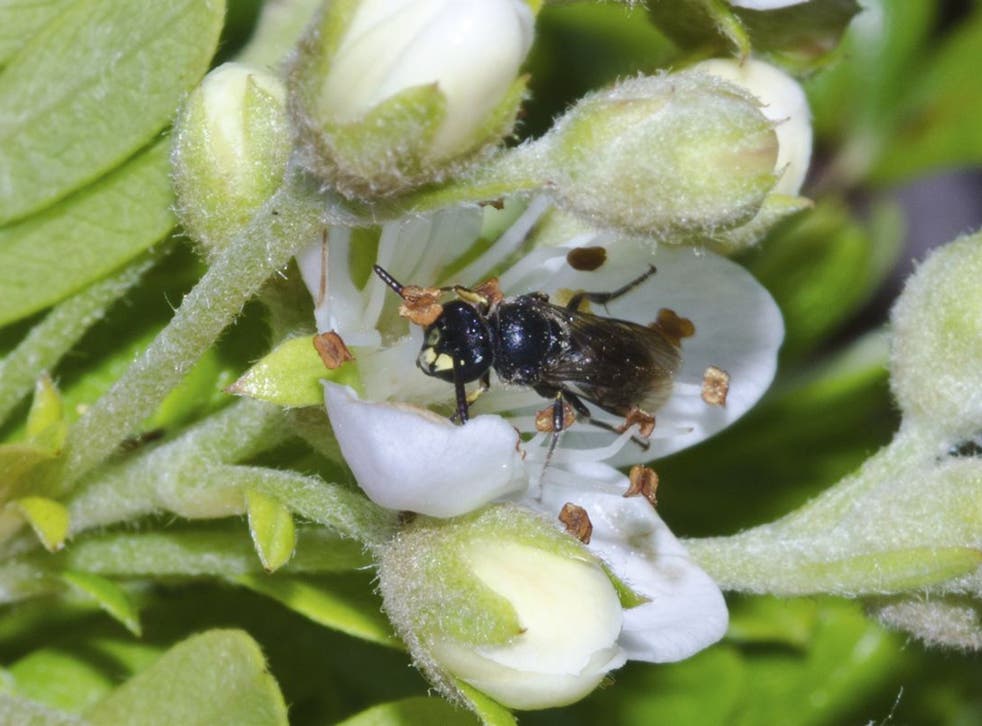 Seven types of bees facing extinction in Hawaii have been placed on the endangered species list for the first time in the US.
The listing of the varieties of yellow-faced or masked fees on the Federal Register came after US wildlife authorities found that their numbers have plunged in recent years.
The bees were once commonly found on the islands of Hawaii and its neighbour Maui but they have become endangered due to habitat loss, wildfires and the invasion of non-native plants and insects.
US officials said pollinators like bees are crucial for the production of fruits, nuts and vegetables.
They represent billions of dollars in value to the American agricultural economy as a whole.
Sarina Jepson, director of endangered species and aquatic programmes for conservation group The Xerces Society, said the bees face threats from "feral pigs, invasive ants, loss of native habitat due to invasive plants, fire, as well as development, especially in some for the coastal areas".
She welcomed the listing saying that although yellow-faced bees can be found elsewhere in the world, these particular species are native only to Hawaii and pollinate native plants.
The bees can be found in a wide variety of habitats in Hawaii, from coastal environments to high-elevation shrub lands, she said.
The 100 species at risk of extinction - because man has no use for them

Show all 4
The yellow-faced bees pollinate some of Hawaii's endangered native plant species. While other bees could potentially pollinate those species, many could become extinct if these bees were to die off entirely.
Hawaii-based entomologist Karl Magnacca worked with Xerces on much of the initial research over the past years.
"It's good to see it finally come to fruition," he said.
The bees "tend to favour the more dominant trees and shrubs we have here," he said.
"People tend to focus on the rare plants, and those are important, that's a big part of the diversity. But the other side is maintaining the common ones as common.
"[The bees] help maintain the structure of the whole forest."
Mr Magnacca added that there are many more rare insects that deserve protection.
"It may not necessarily be appropriate to list them as endangered, but we have this huge diversity that we need to work on and protect here in Hawaii.
"There's a huge amount of work that needs to be done."
Additional reporting by AP
Register for free to continue reading
Registration is a free and easy way to support our truly independent journalism
By registering, you will also enjoy limited access to Premium articles, exclusive newsletters, commenting, and virtual events with our leading journalists
Already have an account? sign in
Join our new commenting forum
Join thought-provoking conversations, follow other Independent readers and see their replies