Bluefin tuna – with a guilt trip thrown in
Nobu refuses to take endangered species off menu – but carries a note advising diners to choose another dish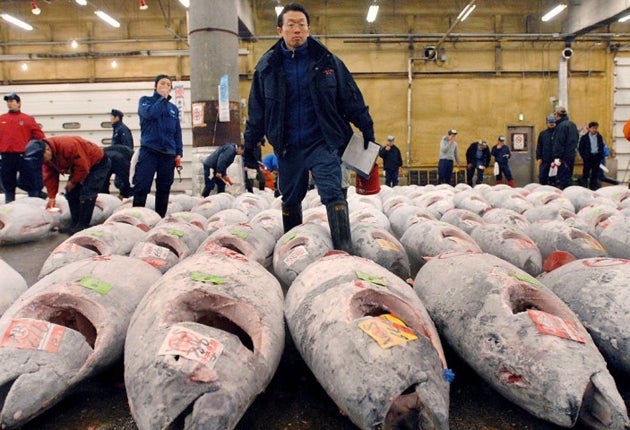 Heard the one about the restaurant that told diners not to eat its food...? Well that would be Nobu, the celebrated sushi restaurant, which is advising diners to avoid ordering an endangered fish.
The chain, whose customers include Brad Pitt and Kate Moss, has put a notice on menus at its London restaurants warning customers that the bluefin tuna served for up to £32 a time is "environmentally challenged", adding: "Please ask your server for an alternative."
The advice is a novel concession to a five-year campaign against Nobu's refusal to stop stocking the bluefin, a fish once so plentiful that it fed Roman legions but which now hovers on the brink of extinction.
Considered a delicacy in Japan, bluefin is allegedly the finest of all tuna species, but its imminent peril is so well publicised that almost no restaurateurs will serve it and Gordon Ramsay withdrew it from the menus of Restaurant Gordon Ramsay and Claridge's the day The Independent questioned its sale.
By contrast, Nobu, named after its founder Japanese chef Nobu Matsuhisa, has repeatedly refused to haul bluefin off the menu of its global chain of fusion restaurants. Last year waiting staff in London told undercover Greenpeace investigators that its tuna dishes, described by their cuts, were not bluefin, but DNA tests proved they came from the threatened Atlantic bluefin.
Nobu's new policy, featured in a new feature film about the destruction of the world's fish stocks released next month, has bemused conservationists. "They shouldn't sell endangered species. They should change their menu to incorporate a fish that's sustainable and not one that's critically endangered," said Giles Bartlett, senior fishers policy officer for WWF, formerly the World Wildlife Fund.
"It's amazing that they're still selling it," added Charles Clover, the environmental journalist whose book, The End of the Line, inspired the film of the same name to be released on June 8. Mr Clover spent five years trying to speak to Nobu about its sourcing but was rebuffed until he made the £1m movie.
One of its most arresting images is the bloody summer hunt in the Mediterranean for the bluefin, a single specimen of which can fetch $100,000 on the Japanese market. According to WWF, breeding stocks will have disappeared by 2012 at current rates of fishing.
Nobu's two restaurants in Mayfair, in Berkeley Street and Old Park Lane, serve a variety of bluefin, including sushi and sashimi dinners for £32.50. Toto tartar with caviar is on the menu for £17.50 and seared toro with yuzo miso and jalapeno salsa costs £19.50. An asterisk by dishes guides diners to the footnote: "Bluefin tuna is an environmentally threatened species – please ask your server for an alternative."
Although Nobu has 24 outlets worldwide from Honolulu to Hong Kong, the advice appears only on the menus of its two London restaurants. Nobu declined to comment to The Independent.
Tom Aikens, the Michelin-starred restaurateur, said bluefin was probably one of Nobu's three best-selling fish and its withdrawal would hit the chain's profits hard.
He described its advice to diners as "very peculiar." "That's insane," said the chef, who stocks environmentally-friendly fish such as line-caught cod, ling and gurnard. "If you're serving it you shouldn't say don't order it. It's contradictory. They should take it off."
Join our commenting forum
Join thought-provoking conversations, follow other Independent readers and see their replies