Farmers will need to 'cut CO2 emissions and wildlife loss' to access funds post Brexit
Campaigners broadly welcomed the changes outlined in the government's new 'agricultural roadmap', but warned that key details still remain 'murky'
Daisy Dunne
Environment Correspondent
Monday 30 November 2020 08:02 Comments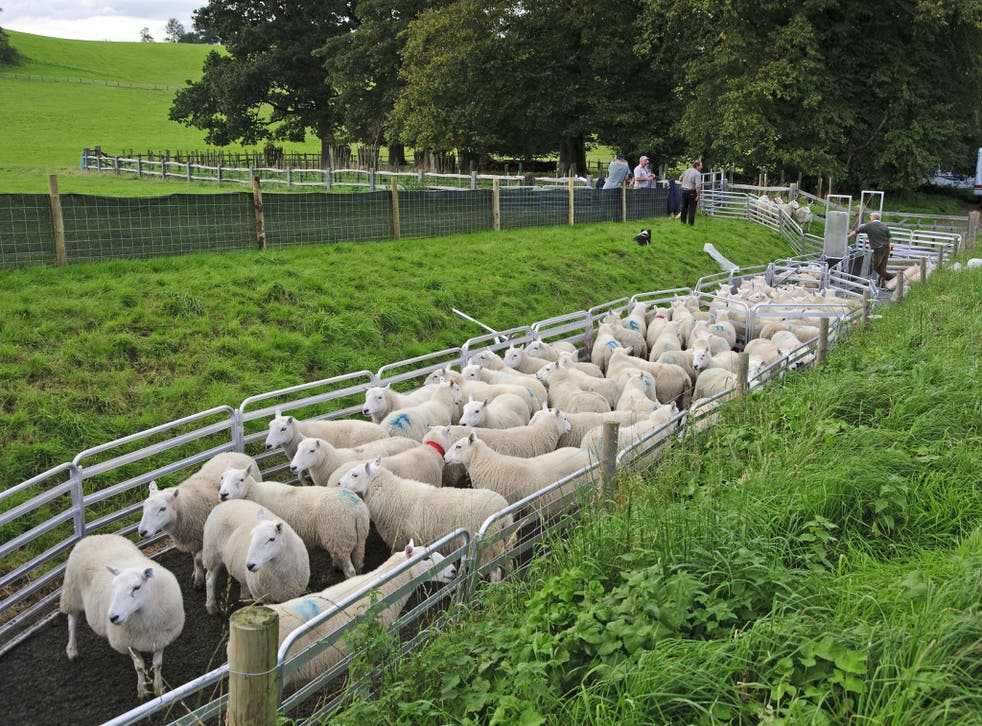 Farmers will need to cut carbon emissions, create more space for wildlife and make improvements to animal welfare in order to access public money post Brexit, the government has said.
As the UK leaves the EU and its common agricultural policy next year, the government will immediately begin phasing out direct payments to farmers in England, with a view of ending them completely by 2027.
The money saved will be redirected to new schemes that will pay farmers to harness their land to protect wildlife and boost carbon stocks through actions such as tree planting and restoring soils, the government says.
Farmers will also be able to access public money to help them improve their profitability or to retire from the industry, according to the new plans.
"We want farmers to access public money to help their businesses become more productive and sustainable, while taking steps to improve the environment and animal welfare, and deliver climate change outcomes on the land they manage," environment secretary George Eustice will say today in a speech to farmers and environmental groups.
"Rather than the prescriptive, top down rules of the EU era, we want to support the choices that farmers and land managers take. If we work together to get this right, then a decade from now the rest of the world will want to follow our lead."
Under the new plans, basic payments of less than £30,000 will be reduced by 5 per cent from next year, and by 50 per cent in 2024. The reduction grows if the amount currently paid is higher. For example, basic payments of more than £150,000 will be reduced by 25 per cent from next year, and by 70 per cent in 2024.
The proportion of funds for "environmental and animal welfare outcomes" will gradually increase over the next few years, going from an estimated 23 per cent in 2021-22 to 57 per cent by 2024-25.
Mr Eustice described the EU's agricultural policy as "draconian", but the farmers' union warned that direct payments have been a "lifeline" for workers facing changing prices and increasingly unpredictable growing conditions.
The announcement comes just one month before the UK exits its transition period with the EU and the new agricultural rules are due to come into force.
Campaigners broadly welcomed the shift towards prioritising the environment, but warned key details still remain "murky" for farmers in England.
Dr Richard Benwell, CEO of Wildlife and Countryside Link, a coalition of 57 wildlife and nature groups in England, said: "The sustainable farming incentive, local nature recovery and landscape recovery components could stack up to be a really effective boost for environmental recovery, so we welcome the Department for Environment, Food and Rural Affairs's (Defra) decisions today.
"Of course, their effectiveness will depend on a clearer direction of travel for farmers and other land managers and a firm foundation of regulation, where Defra's plans still remain murky.
"We urge Defra to publish more detail on higher environmental standards expected during and after the transition period as soon as possible, so that farmers can plan for the future."
Dr Benwell pointed to a recent government report outlining the huge challenges facing the UK's farmland wildlife. The official statistics show that farmland bird numbers have fallen by more than half since 1970 and are still in decline year after year.
"Combined with uncertainty for farmers over exports, tariffs and standards in trade deals post Brexit, there's a foggy future for farming ahead," said Dr Benwell.
"This uncertainty could mean some farmers turn away from greener options or give up on existing environmental choices, but as this week's farmland bird index showed once again, there's no time to lose in investing in a greener farming future. Government should give clarity where it can, and clearly show the path ahead toward a higher-standards future for farming."
Details that appear to be missing from the roadmap include specific targets for how much carbon farmers in England will need to sequester in the coming years.
Agriculture and land use accounted for 12 per cent of the UK's total greenhouse gas emissions in 2017.
The government's independent climate advisors previously said a complete transformation of the agricultural system could see land-based emissions fall by 64 per cent by 2050, when compared to 2017.
Tom Lancaster, head of land use policy at the RSPB said: "This is a make-or-break moment for Defra's farming reforms, which are so important to the both the future of farming and recovery of nature in England.
"Today's announcement provides some welcome clarity, but faster progress is now needed over the coming months as the government sets out its plans in more detail. Crucial to their success will be a clear-eyed focus on the need for high ambition to restore nature, and transform the way that we farm the land."
The government said that more details on the new rules will emerge in the coming months as consultations are held with farmers and environmental groups.
Minette Batters, president of the National Farmers' Union of England and Wales, said: "Defra has embraced many of the industry's ideas for sustainable farming and food production in designing this new agricultural policy for England.
"However, the rate at which direct support reductions will take place, which we understand will not be applied in other parts of the UK, leaves English farmers with significant questions.
"These payments have been a lifeline for many farmers, especially when prices or growing conditions have been volatile, and will be very difficult to replace in the first four years of this transition. Can ministers be sure that new schemes will be available at scale to deliver redirected BPS [basic payment scheme] payments?"
Register for free to continue reading
Registration is a free and easy way to support our truly independent journalism
By registering, you will also enjoy limited access to Premium articles, exclusive newsletters, commenting, and virtual events with our leading journalists
Already have an account? sign in
Join our new commenting forum
Join thought-provoking conversations, follow other Independent readers and see their replies