Bright in winter's depths: why the flawless flower of Candlemas is a joy forever
Our Environment Editor on the enduring beauty of Snowdrops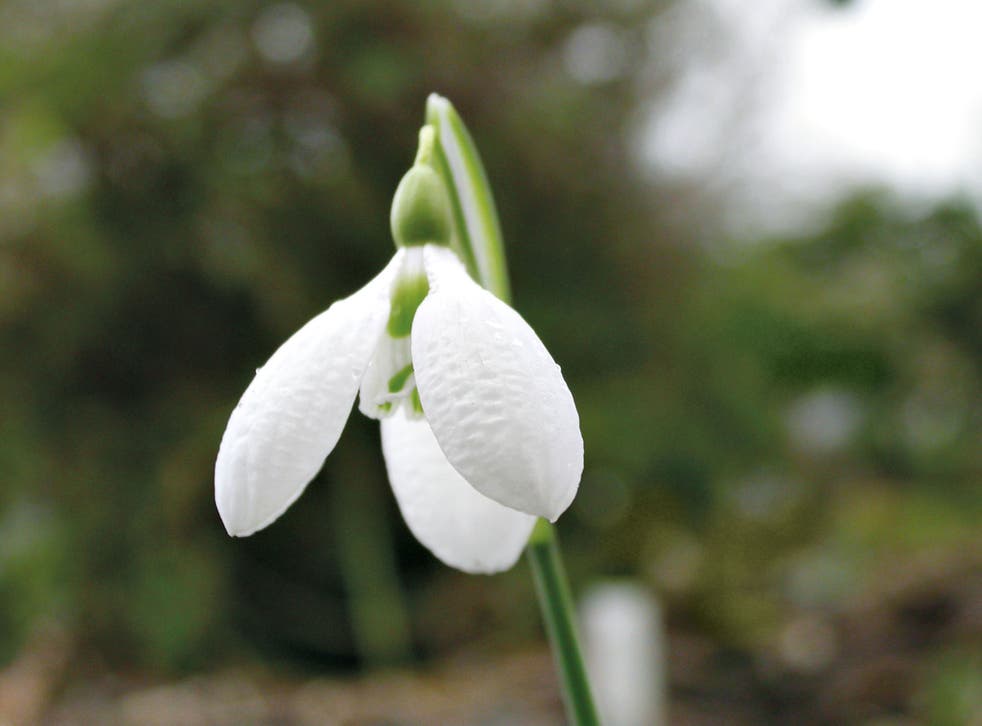 I doubt if one person in a hundred could tell you what Candlemas is these days; indeed, with the steady draining away of Christian tradition, I doubt one person in a thousand now knows. It is a feast of the Church, celebrated on 2 February – last Saturday – and it marks the purification, under Jewish religious law, of the mother of Christ 40 days after his birth; it also commemorates the presentation of the infant Christ in the Temple.
Candlemas long meant something else as well, in practical terms, especially in the Middle Ages: it was the day when everyone in the parish brought their candles to church to be blessed by the priest. This was so that they could become – that splendid word – apotropaic. That is, they could ward off evil spirits. And after a procession, and the blessing, the candles were all lit and set before the statue of the Virgin Mary.
Imagine: on a typically gloomy February day, in a medieval church that was pretty dark anyway, this must have provided a spectacle of brightness that left the deeply religious onlookers quite enthralled; it must have been the brightest moment, quite literally, of the whole year. (You can get a feel for it if you visit Chartres, and come across the flickering candle congregation in front of the Virgin's statue in one of the cathedral's darker corners). But another source of brightness was also closely associated with Candlemas: snowdrops.
Candlemas bells they were once called, and it is easy to see how they were the perfect flowers for the feast – flawless symbols of purity. Nor hard to imagine what pleasure must have been taken in gathering them, or in merely having them growing by the church, on the day itself. And even today many of our best snowdrop displays are associated with the old faith, clustering around churchyards and ancient religious foundations, ruined abbeys and priories, where they were planted with Candlemas in mind.
Next week, I will be making my annual pilgrimage to see one such display – sheets of small white blooms around the thousand-year-old ruins of a nunnery in the loveliest village of the loveliest valley of southern England. They can flower in January or February, but, with the frozen start to this year, they're just coming out now, and not a few people will be making such expeditions over the next month.
For snowdrops have never been more popular, and there is now an official name for an enthusiast for Galanthus nivalis – a galanthophile, which tends to mean an avid collector of different snowdrop varieties for the garden.
Galanthophiles are growing in number, although many of the rest of us are content to feast our eyes on the displays, which in some gardens of great houses can be quite spectacular. Colesbourne Park near Cheltenham is perhaps the most celebrated, but you can find a list of a hundred snowdrop gardens, all over the country, on the Great British Gardens website.
Is Galanthus nivalis a native British plant, though? And another question to go with that: what exactly is its peculiar attraction?
On the first, the jury seems to be out. Some botanists think not, and it is true that snowdrops have been widely planted, yet some of the displays in woodlands and along river banks in western England, where they can turn the ground white over a wide area, seem simply too extensive to have been established by human hand.
On the matter of snowdrops' appeal, which I suspect I am not alone in finding quite intense, I've long thought about this, and I don't think it is simply their pure beauty, affecting though that is. It's to do with their timing, appearing as they do when the earth is still under the lock and key of winter. They're the very first sign of something else, the Candlemas bells, an undeniable signal that the warm days will come again; and I'm sure they fill me with elation because what I am looking at, against the dead tones of the winter earth, is Hope, suddenly and unmistakably manifest in white.
Join our new commenting forum
Join thought-provoking conversations, follow other Independent readers and see their replies