Cambridge University faces growing pressure to divest from fossil fuel companies
Cambridge community joins Glasgow, Edinburgh and Warwick - among others - to turn the heat up on the climate debate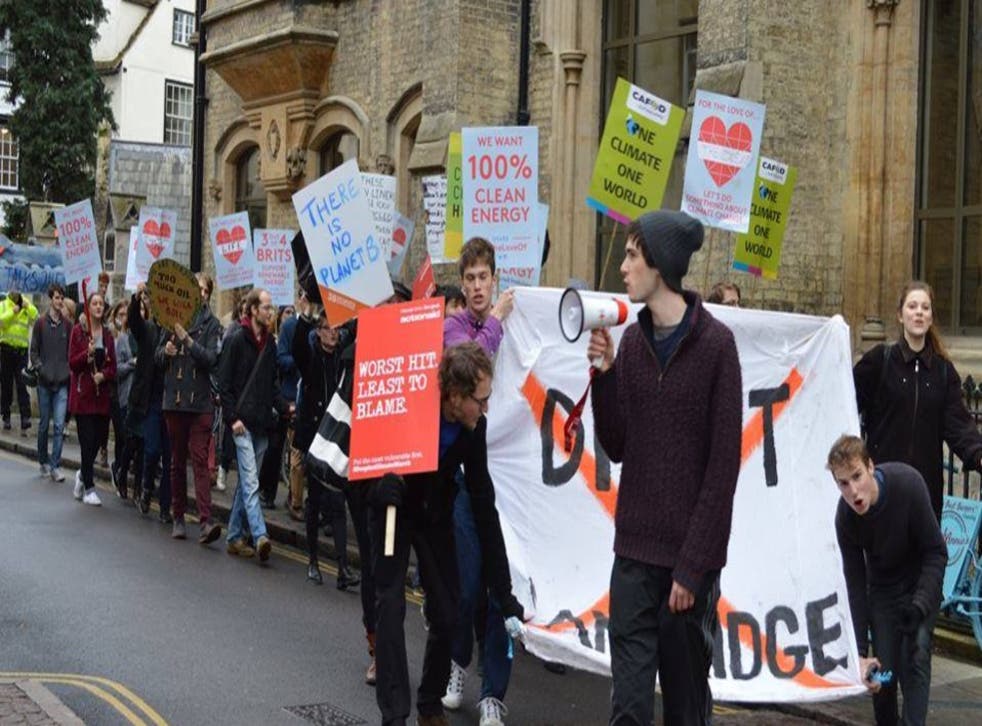 The University of Cambridge has become the latest higher education institution to face growing pressure to withdraw its investments from fossil fuel companies following the launch of a student-led campaign.
More than 100 staff, students, alumni, and others affiliated with the institution have signed an open letter saying the university has always made "a remarkable impact on the world."
However, when it comes to the climate, the signatories say Cambridge is making "exactly the wrong kind of impact."
Urging the university to reinvest its money "more ethically," the letter calls on Cambridge's Investment Office to "immediately freeze" any new investments in fossil fuel companies.
It adds: "Divestment is rapidly eroding the social license of fossil fuel companies, as more and more public institutions shun their industry. Now is the moment for decisive climate change policy, but the cultural and political consensus for strong action does not yet exist - a shift in attitudes is needed."
The group leading the campaign, Cambridge Zero Carbon, says companies like Shell and BP's business practices are "immoral and at odds with global efforts" to halt the rise in global temperatures.
Former Archbishop of Canterbury, Dr Rowan Williams, has also thrown his support behind the campaign to endorse Cambridge Zero Carbon's official report which outlines the case for divestment.
The report claims that, had the university divested three years ago, it could have saved £112 million.
In the report's foreword, Dr Williams writes that climate change is "a life-and-death question for many communities around the world, especially for some of the most economically vulnerable."
He adds: "This document is a very remarkable achievement in itself, representing a fusion of serious and wide-ranging research, lucid argument, and moral passion.
"If we claim, as we rightly do, that a good university is an institution that poses large and serious questions to society overall, and that seeks to shape minds and lives which are not passive, conformist and afraid of responsibility, then the issues raised in these pages are a proper matter for the university and the colleges to consider."
The campaign from Cambridge echoes similar calls being made by student-led campaigns at the universities of Glasgow, Warwick, and Edinburgh which have been urging their own respective institutions to divest as soon as possible.
Speaking to the Independent, a spokesperson for Cambridge said the institution seeks to invest responsibly "for the good of the university" in accordance with its mission to contribute to society, and that its Endowment Fund has been set up to support this.
Student news in pictures

Show all 34
The spokesperson said: "In summer 2015, the university commissioned a thorough and unique review whose broad purpose is to consider socially responsible investment.
"The working group established for this purpose is able to take evidence and call upon expertise beyond its membership as necessary. It will produce a report for publication and presentation to the university council within a year of its establishment."
The findings of this working group will further inform the university decisions, said the spokesperson, adding: "Through the university's Environmental Sustainability Strategy, we are committed to making a positive impact in this area, making sure the university operates sustainably every day."
London demonstrators demand action on climate change
The protesters are demanding that the working group's investigation into investment strategy include full divestment from all companies affiliated with coal, oil, and natural gas.
To date, Cambridge Zero Carbon has gathered 2,100 signatures on a petition, alongside backing from the students' union.
On Saturday, over 200 demonstrators are set to march for divestment through the city, with Labour MP for Cambridge, Daniel Zeichner, due to give a speech.
Campaigns officer with Cambridge Zero Carbon, Angus Satow, told the Independent Saturday's march marks "the culmination of a strong student movement" which has consistently highlighted its serious concerns about fossil fuel investments.
He said: "When students are speaking out with such a strong voice, it would be unacceptable for the university to ignore them, but it isn't just students - this is the entire university community crying out for action."
Register for free to continue reading
Registration is a free and easy way to support our truly independent journalism
By registering, you will also enjoy limited access to Premium articles, exclusive newsletters, commenting, and virtual events with our leading journalists
Already have an account? sign in
Register for free to continue reading
Registration is a free and easy way to support our truly independent journalism
By registering, you will also enjoy limited access to Premium articles, exclusive newsletters, commenting, and virtual events with our leading journalists
Already have an account? sign in
Join our new commenting forum
Join thought-provoking conversations, follow other Independent readers and see their replies